Looking for Korean barbecue in Shanghai and don't know where to start?
Kang Ho Dong Baekjeong is the answer.
What is this Baekjeong you speak of?
Few people know about Baekjeong, a high-functioning Korean barbecue chain, which operates six locations in Shanghai. It also has an international reach of more than 30 locations in hungry cities like LA, NY, Sydney, and Kaohsiung.
It boasts as being the most popular barbecue brand in Korea, specializing in premium char-grilled Korean barbecue.
It's backed by 678 Corp., Korea's leading restaurant group, and Korean wrestler and comedian Kang Ho Dong (he's the life-sized cardboard cutout welcoming you at the entrance and also appears in cartoon form on the menu).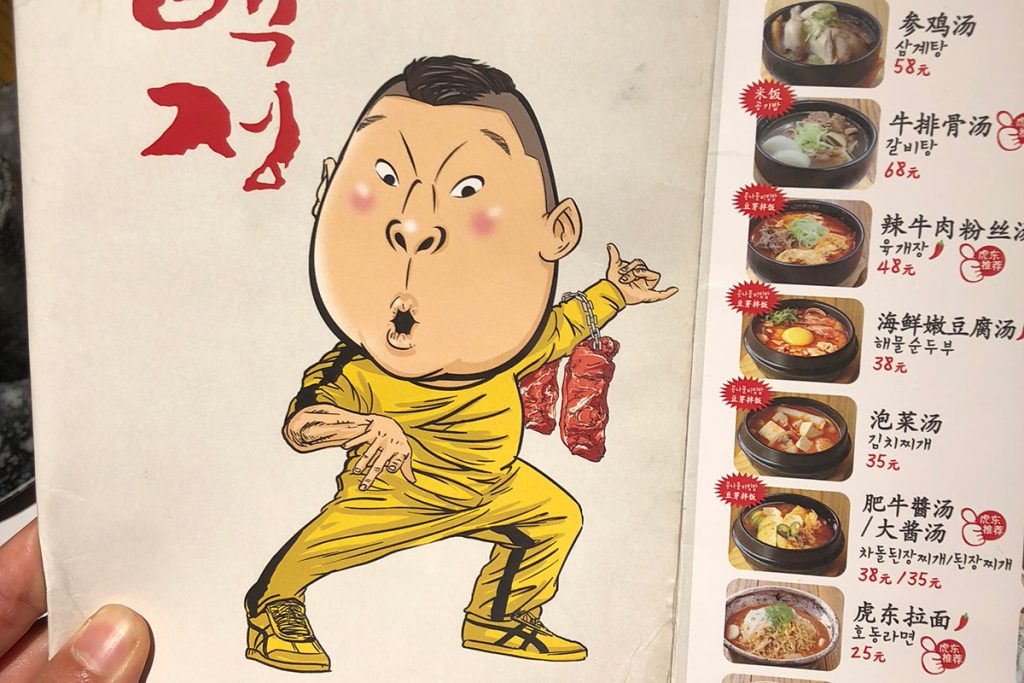 Plus, late culinary critics Jonathan Gold and Anthony Bourdain both approved of Baekjeong. In his glowing review in the Los Angeles Times, Gold wrote, "The food, while basic, is of surprisingly high quality," while Bourdain, also a KBBQ fan, frequented the Baekjeong in NYC.
What you want from a good Korean BBQ restaurant
A relaxed and genial atmosphere with good ventilation.
A myriad of panchan that flows with the steady rhythm of each grill order.
Fresh, good quality beef and pork, cooked over binchotan (white coals) in front of you.
Dipping sauces and fresh crunchy lettuce to wrap your meat in.
Beer and shochu aplenty.
Finally, a cost-effective average check.
Baekjeong ticks all the above boxes
The menu at Baekjeong is uncomplicated, as it should be. I did not ask for an English menu, so I can't attest if there is one. However, armed with the rule of "what's more expensive is generally higher quality," I was not disappointed with my order.
The specialty here is beef and pork. Mostly sliced thin to be grilled, from rib-eye (¥158) and beef tongue (¥78) to pork belly (¥55) and spare rib (¥55).
A mixture of egg is entrenched in the outer circle of the grill, cooking while you first enjoy the meat, and is served as its own dish after.
There are plenty of side dishes and fillers that hit the spot—kimchi soup (¥35), fried dumplings (¥45), seafood-laden scallion pancakes (¥48), kimchi and gochujiang fried rice cake (¥32), and more.
Soju starts at ¥38 per bottle, soft drinks from ¥10.
How does Baekjeong fare in Shanghai?
The most popular location is in Huangpu, inside a mall on Jinling Dong Lu, which has 7,500+ reviews on Dianping that put the "taste" rating at 8.5. Yep, it's pretty darn popular.
Big tables for groups of 10+ available.
Over ordering for a table of eight and numerous bottles of shochu set us back just under ¥250 per person, surprisingly affordable for the amount ordered. (This is where you send this article to a bunch of your friends with a brazen announcement of how many bottles you can down or x-number of plates you can eat.)
Note: Prepare to wait for a table during the dinner rush—the chairs outside are there for that purpose.
---
Kang Ho Dong Baekjeong
姜虎东白丁 (jiang hu dong bai ding)
Luwan
Address: 5/F, SML Mall, 618 Xujiahui Lu, near Ruijin Er Lu徐家汇路618号日月光广场5楼, 近瑞金二路
Tel: 64713557
Huangpu
Address: No. 205, Hui Dou Mall, 569 Jinling Dong Lu, near Xizang Nan Lu金陵东路569号汇都国际广场205, 近西藏南路
Tel: 53513557