Botong Sikdang is a Korean restaurant that is all about grilled pork and banchan. This cozy, lovable slice of Korean hospitality is courtesy of the team behind Jeju Izakaya and Belloco.
The Concept & Ambience
In its opening weeks, Botong Sikdang was rammed. Most definitely from the hordes of hardcore fans from the other two restaurants—Jeju Izakaya, a hard-to-book 10-seater prix-fixe kitchen, and Belloco, beloved contemporary Korean restaurant.
Tightly packed tables fill the small restaurant, illuminated by the warm glow of dim, low hanging lights. At a seat in the back, I'm nearly shoulder-to-shoulder with my dining companions. The constant buzz of customers and chorus of servers joins the sizzle of grills, and it's busy with a constant turn of tables. Its plain storefront conceals the hubbub within—you wouldn't think it's on the side of a mall.
On each table is a makeshift grill, fashioned with an aluminum foil-layered metal pan atop one of those portable gas canister stoves. Trays of pork, black pig sourced from North Korea, are stacked on the table as a cornucopia of housemade banchan sizzle away on the grill.
The atmosphere is unique, and rousing yet comforting.
Pork & Banchan at Botong Sikdang
The menu and pricing is easy—there's like, one page of dishes. Order all of the things!
There is an obligatory ¥15 charge per person for unlimited banchan, and each person is required to order 1 portion of pork. Pork belly is ¥68 for thin slices or ¥88 for thick slices.
Of course, the meal would not be complete without the requisite condiments—pollack powder, chili butter with parsley, and fresh raw egg with wasabi are all part of each diner's table setting.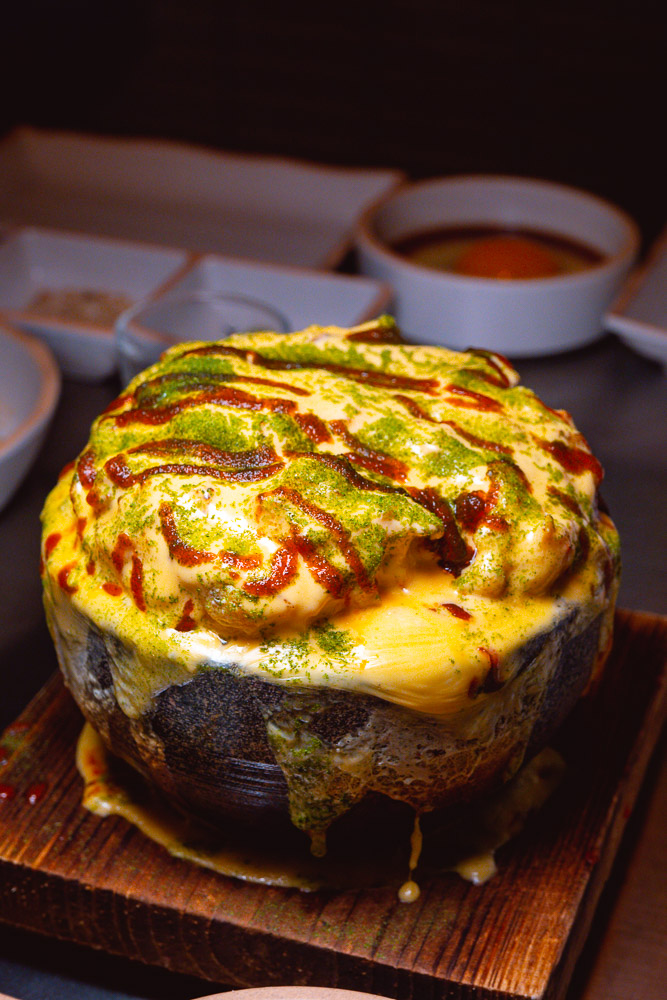 Drinks situation: Sojus from ¥38, Deadonggang Beer (¥48), Hite Beer (¥28), soft drinks (¥15), tea (¥38).
In Summary
I love simple concepts like these. Botong Sikdang is uncomplicated, enjoyable, and straight to the point. It's an easy win for a satisfying meal. The sum of its parts is what keeps people coming back. I highly recommend trying Botong Sikdang.
Here's the catch: No bookings accepted, walk-ins only.
Go early or be prepared to wait a while. (The queue can stretch to three hours. It's a small place, and people like to enjoy their meal.) Or wait until the new opening buzz has simmered down. But definitely go.
Special Deal for Nomfluence Readers
Get 1 complimentary bottle of soju or one beer per table!
Only valid for tables seated after 9pm. Readers just have to show this article or that you're following the Nomfluence official account on WeChat. Valid until the foreseeable future.
---
Botong Sikdang by Belloco (普通食堂)
Address: 101B, 1/F, 660-686 Jiujiang Lu, near Guangxi Bei Lu 九江路660-686号1层101B, 近广西北路
Hours: 4:30pm-11pm