​Garlic Barbecue is an American barbecue restaurant in Xintiandi. It's run by a group of Turkish friends, including the owner of Garlic, a popular Turkish restaurant in Xuhui.
Origin Story & The Space
The inspiration for Garlic Barbecue is a familiar one—the proprietors had an unforgettable barbecue experience in the South and wanted to bring the same joy to others. In this case, it was a trip to Franklin Barbecue, Texas.
They customized and built their own 1,000-gallon wood-fire smokers. These are housed onsite, in a room with glass panes to sate their diners' curiosity. Requests to tour the facilities and see the smokers have been met with proud willingness from the owners—if you ask nicely, you get to check out the heavy-duty equipment.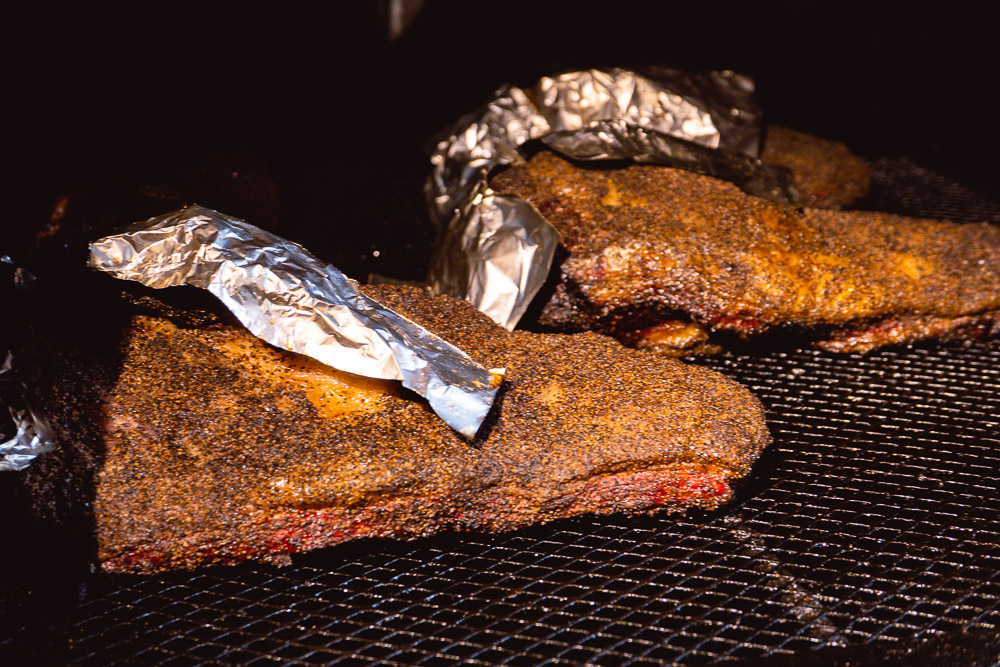 Orders are placed over the counter, where co-owner Emre is often found carving up the meats. The entertainment value of the carving station is endearing—Emre often feeds patrons with a small slice of heaven as they wait in line.
The Food – Worth the Queue
The barbecue is fantastic.
If they can maintain consistency, there will be a constant queue.
The brisket is so beautiful. Smoked for hours, the hunk of fat-rendered meat wobbles on the counter as they cut into it. It's anything but dry. Unless you take a piece of lean meat, I guess. The ribs were bone-tender, flavorful, and juicy.
Sides (¥18/each) are not your typical American barbecue pairings. More leafy offerings and a delicious baba ganoush-like eggplant mash make it to the trays, sans mac n cheese or cornbread. Two ways to see that: One, where's my damn mac n cheese and cornbread? Two, I could use some greens to help with the heartburn.
They have beef brisket, pork ribs, pulled pork, short rib, and sausage for now. You can also opt to get your meats as a sandwich. All come served with gherkins, onions, and pickled garlic.
Drinks are basic—soft drinks ¥18, beer ¥28, and water ¥10—but priced cheaper than the average western restaurant.
You Should Go. It's Worth It.
On my visit, there was a group that arrived when the restaurant opened, ordered seconds, and then took more to go. People go out of their way to make the limited opening hours—Americans, mostly Texans, and a large number of returning Chinese.
One diner kindly asked, "Please don't tell too many people about this place." Sorry dude. I gotta.
One gripe: Garlic Barbecue is only serving from open (11:30am) until they run out, which is around 2:30pm. They could easily move a few more kilos of barbecue and start delivery. People also want to get their food whenever they want it. On the other hand, it does generate some hype.
I do hope they extend their hours soon though. A meal like this during lunch is killer. Brain function zero after a tray of these bad boys.
It's also worth giving Garlic Barbecue a nod for customizing their smokers and navigating the legalese to allow such equipment in a mall compound.
For a barbecue-starved city, it's a welcome addition. Will be back again.
! Special Deal for Nomfluence Readers !
Get a complimentary slice
of brisket with any order!
All you have do is show this article when you make an order at Garlic Barbecue.
Deal is valid from now until December 31.
---
Garlic Barbecue
Address: L107-108, 285 Jianguo Dong Lu, near Madang Lu 建国东路285号L107-108,近马当路
Tel: 13818336837
Hours: 11:30am-3pm