Nepali Kitchen is the only restaurant in Shanghai dedicated to Nepalese food.
It's a modest restaurant that first opened in 2001. Operated by Nepalese locals, the restaurant makes its home in a three-floor lane house on Julu Lu. If you've traveled to Nepal or are looking to live vicariously through food, here's where you should go.
I visited Nepal last October and hiked through the unbridled hills and mountainsides to the vibrant cities of Pokhara, Bhaktapur, and Panauti. The vast, wild ranges, haphazard city lanes, historical Durbar Squares, and venerable stupas are just stupendous. Revisiting the food rekindled those fond memories. Here's what you can try at Nepali Kitchen.
Traditional Nepalese Cuisine in Shanghai
Nepalese cuisine is shaped by the country's terrain and religious beliefs—rice fields extend beyond the horizon in the valleys and a largely Hindu (80%) and Buddhist population. Nepalese cuisine is generally milder than that of its neighbors and has an abundance of vegetables and vegetarian options.
A traditional daily meal is the dal bhat, the ultimate vegetarian Nepalese dish of lentil soup (dal), rice (bhat) and vegetables. Nepali Kitchen has one, traditionally assembled on a thali, a round metal plate, and it's a massive portion. There's one Vegetarian Dal Bhat Set (¥115) for dinner, and a reduced version for lunch that includes selected drinks for ¥75.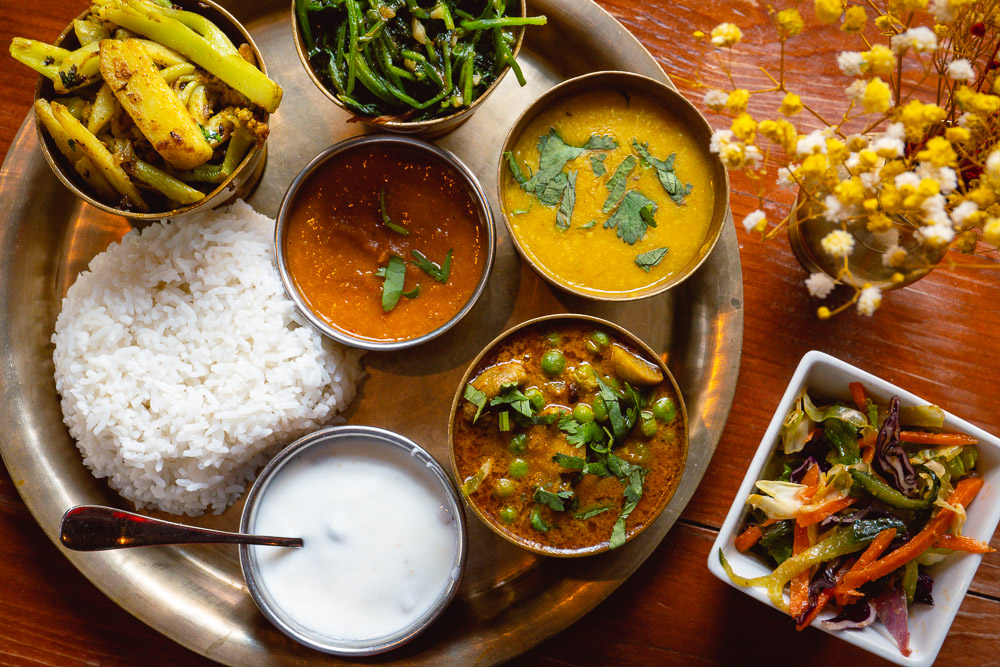 Vegetarian Dal Bhat Set (¥115) – Rice, fried cauliflower, sautéed spinach, lentil soup, pickled tomato sauce, and yogurt. Includes black or jasmine tea, or coffee.
There's also a Non-Vegetarian Dal Bhat Set (¥140) that comes with chicken choila and a mutton, beef, or chicken curry.
The Cheese Balls (¥77) is an unassuming bestseller. It's made of shredded mozzarella, fresh cilantro, potato, and flour, and a variety of typical Nepalese spices. These fried morsels are good for a starter.
I'm more for the exotic experience of Nepalese cuisine, and the Beef Choila (¥76) has a much more colorful backstory and flavor profile. It's a traditional dish of the Newar community from the Kathmandu Valley that involves spicy grilled buffalo meat. They haven't been able to find buffalo, and have instead substituted it with beef. Tenderloin cuts are marinated with a dry rub of garlic, coriander, chili, and cumin, and are pan-fried. Great with rice.
The dry-rub or dry curry is a recurring component, as seen with the Mutton Ribs (¥72/2pc) and the Jhose Chicken (¥69), grilled tandoori chicken legs marinated in rich spices of garam masala, cumin, ginger, and tomato sauce.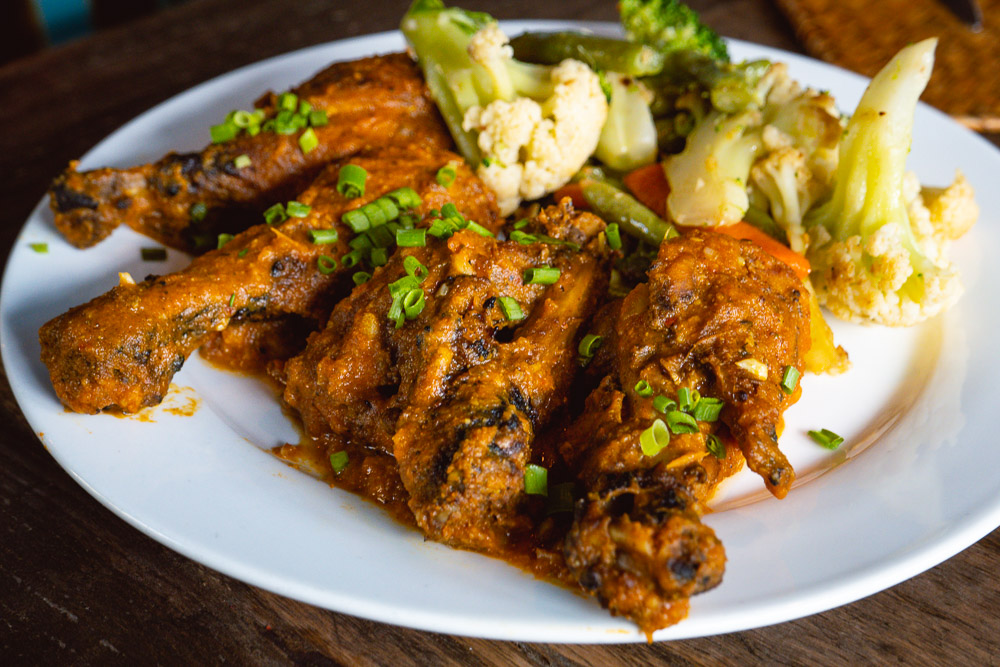 Another marinated special is the Marshyangdi Maccha (¥98), Nepali-style grilled fish, inspired by the raging whitewater Marshyangdi River. The fish is seasoned with a mixture of Nepalese spices then char-grilled, doused again with a semi-sweet tomato sauce. It's a light dish and is not at all spicy.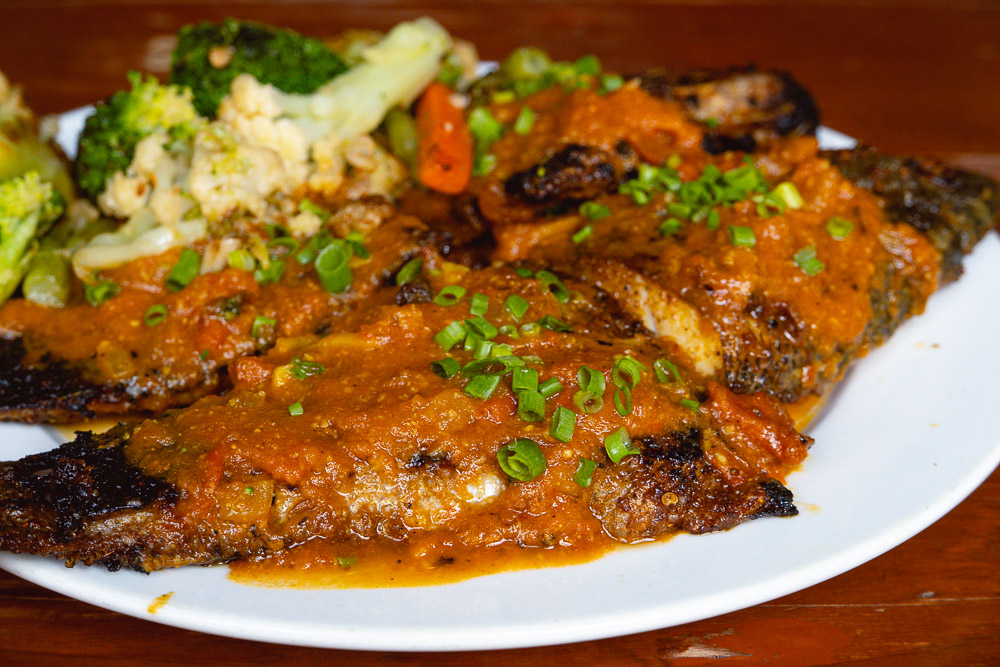 For curries, they provide options of mild, medium, or spicy. I recommend the Thamel Curry (¥56), a hearty serving of mixed vegetables and cottage cheese in a creamy, light curry. One big difference with Indian and Nepalese food is that Nepalese curries do not use cream or ghee (clarified butter). Hence, Nepalese curries are less fiery, and are suitable for vegan diets.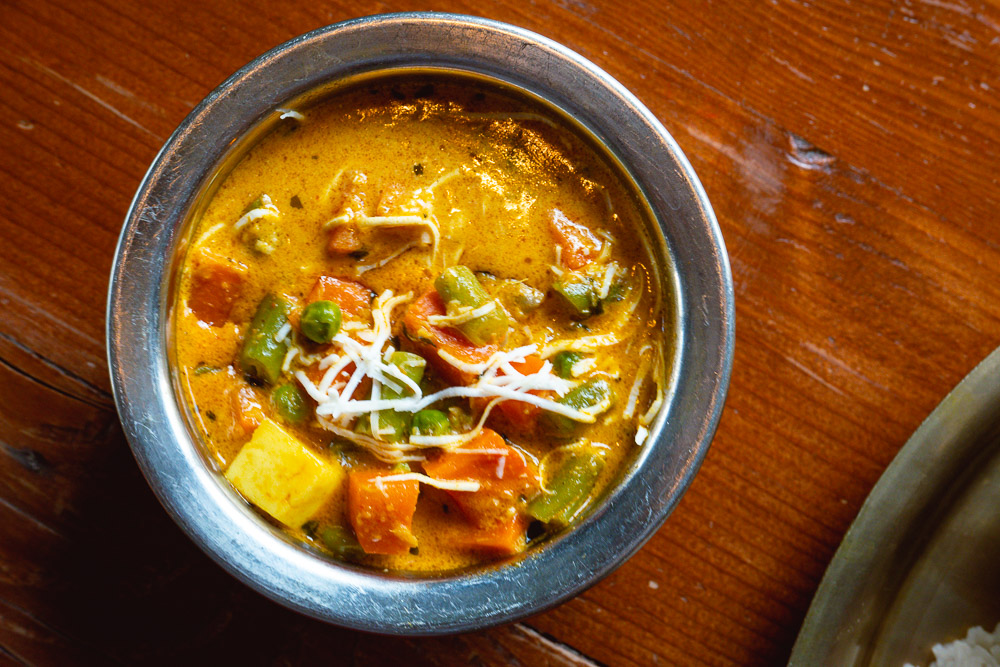 Try It – Explore Nepalese Cuisine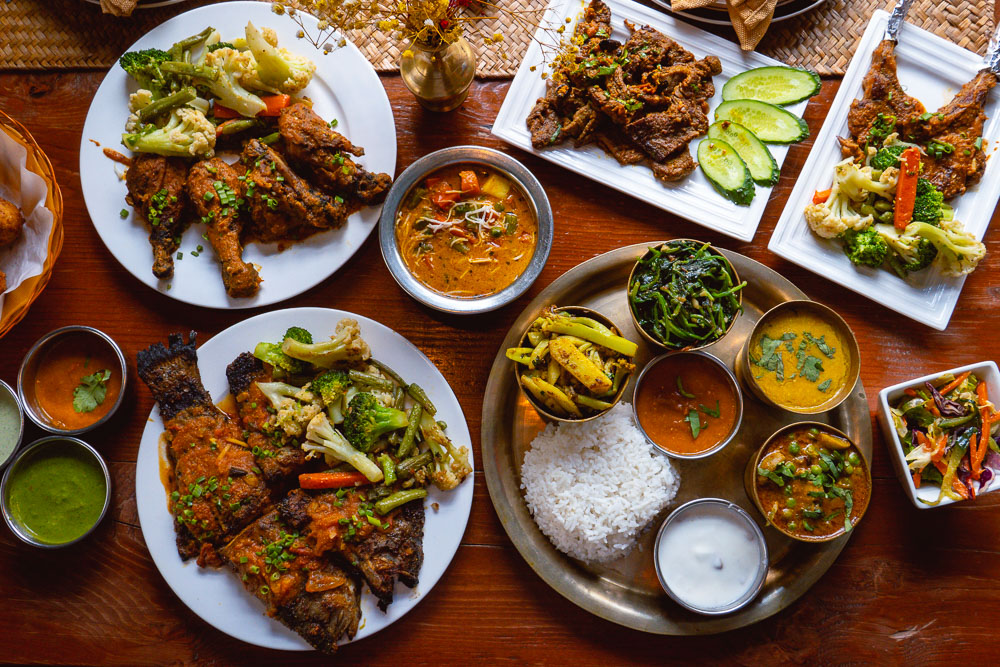 The fact that Nepali Kitchen has thrived for two decades in Shanghai is a feat in itself. Plus, it's good value and is fairly inexpensive.
It's also a great option for vegetarians and for those who favor a lighter flavor of curries and spices.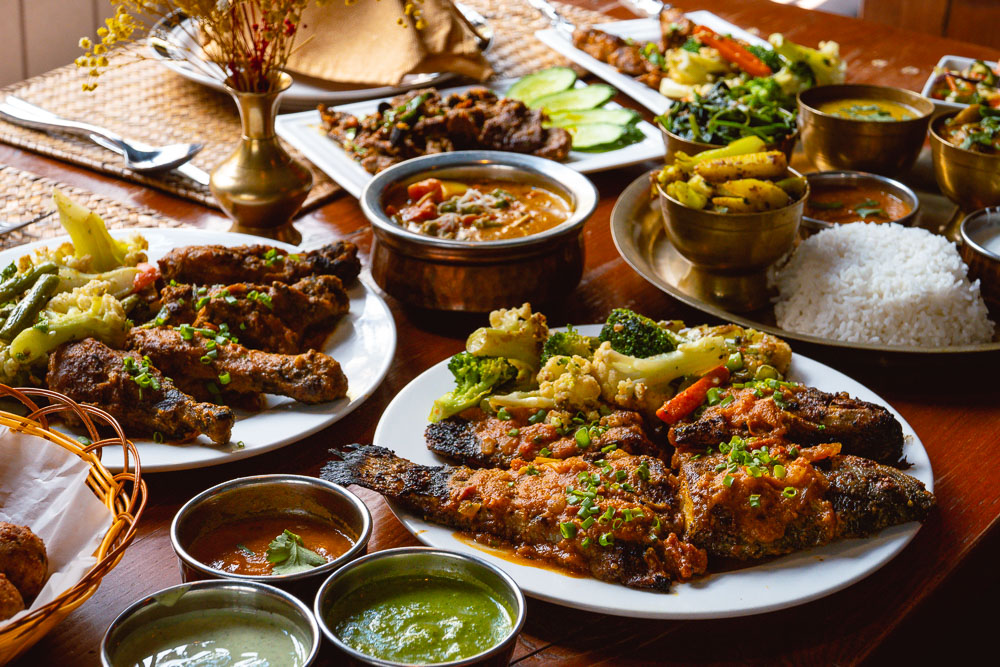 Nomfluence Readers Deal
Order any three dishes mentioned in this article and get a complimentary plain paratha (flatbread). Only applicable for dine-in. Show this article to get your free paratha.
---
Nepali Kitchen
Address: 819-4 Julu Lu, near Fumin Lu 巨鹿路819弄4号, 近富民路
Tel: 54046281
Lunch/Brunch: Tue-Fri 11am-2pm, Sat-Sun 11am-3pm
Dinner: Sun-Thu 5:30-10pm, Fri-Sat 5:30-11pm
Delivery: Eleme, Meituan, Sherpa's