Rui Fu Yuan 瑞福园 is a home-style Shanghainese restaurant. It has more than two decades of local cred (first opened in 1994), and some early accolades deem it the best restaurant in Shanghai for Shanghainese fare.
Dinner starts at 5pm, no reservations from 6:30-8pm, and everything is done by 9:30pm. Despite having three floors of seating (with private rooms), there is always a queue. Due to the current situation, it's pretty easy to get a table now.
Shanghainese Cuisine at Rui Fu Yuan
The menu is large and is only in Chinese. Don't worry if you don't read Chinese—it's a picture book of the highlights. Service is prompt.
Characteristic of Shanghainese food is red-braising, a style of stewing with light and dark soy sauce, and rock sugar. The most famous of these dishes is the Hongshao Rou aka red-braised pork belly, which Rui Fu Yuan does with aplomb. Pieces of pork belly gleaming with sticky-sweet glaze come served in a deep, earthenware pot. (There's more beneath the surface!) What makes this dish excel is that the fat has been sufficiently rendered and the meat is not at all dry.
If there's one other dish you must order, it's the Yellow Croaker Soup with Wontons (¥108), one of Rui Fu Yuan's signatures. Those unaccustomed to eating yellow croaker may find it tiresome to navigate the fine, thin bones found in this river fish, but the soft, flaky flesh is rewarding and worth the effort.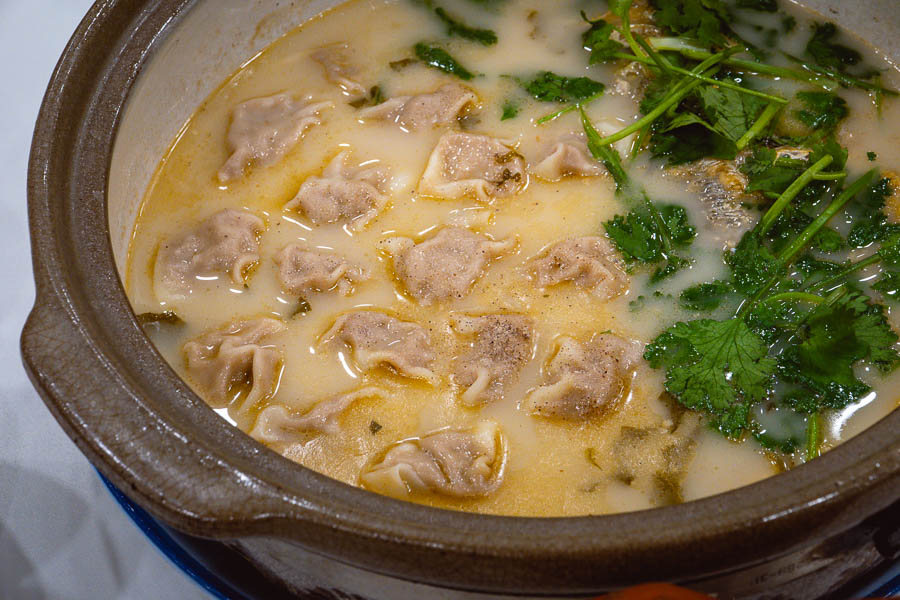 The dish is a massive pot of yellow croaker fillets in a milky-white broth perfumed with white pepper. Small pork and fish-filled dumplings dusted with more white pepper bob above the surface. The stock is good to the last drop—over rice or on its own.
While we're on the subject of Shanghai-native dishes, the Caotou (草头), native to the Yangtze River Delta, is a good example. It's commonly known as clover. The default cooking method is to fry caotou with baijiu, which imparts a "heat" and fragrance to the delicate, seasonal vegetable. It is perhaps the best use of baijiu in cooking, and this dish is one I've replicated at home countless times.
When in season, Rui Fu Yuan serves a plate of Jiu Xiang Caotou (酒香草头) for ¥58. I order the one with braised intestines (¥98)—I'm told this is a hyper-Shanghainese dish.
Another popular dish is the Hua Diao Zui Cao Ji aka Drunken Chicken. This is a cold dish of chicken cooked with Hua Diao, a type of yellow wine (15% alcohol). It's similar to sherry and has a vinegary, caramel-like taste.
In Summary: Eat Shanghainese Classics
I'm all for Shanghainese food, especially Hongshao Rou, and this is a great place to explore Shanghainese classics.
Rui Fu Yuan may have been outshined over the years with new restaurants drawing the spotlight, but there's something about the food, wizened customers, clockwork service, and odd "no photography" signage that makes this unassuming place stand out.
Plus, you know you're in the right place when there are Shanghainese shushus and ayis jostling for a table.
---
Rui Fu Yuan 瑞福园
Address: 132 Maoming Nan Lu, near Fuxing Zhong Lu 茂名南路132号乙, 近复兴中路
Tel: 64458999
Hours: 11am-2pm, 5pm-9:30pm