Sushi Naoki is a high-end Japanese restaurant in Shanghai that does a nigiri-based omakase menu, served over an intimate bar counter.
This is the second outpost of the popular kaiseki restaurant of the same name in Gubei. This location houses two different concepts—the ground floor izakaya and sake bar and the upper floor omakase sushi bar. Both restaurants are run by chef Kevin Lin, a Taiwan-native who spent 20 years honing his craft.
What To Expect
The omakase here is mostly nigiri sushi-based. It's a wide variety of sushi from the usual suspects of mackerel, yellowtail, sea urchin, tuna belly, and squid to the more obscure Triton's trumpet sea snail and puffer fish milt. You'd need to be a sushi enthusiast or bring a Japanese-English-Chinese sushi lexicon if you want to know what you're really eating.
Omakase set is ¥1,600 per person not including drinks.
Here's what to expect from the meal, minus 3-4 more photos of nigiri. You get the idea: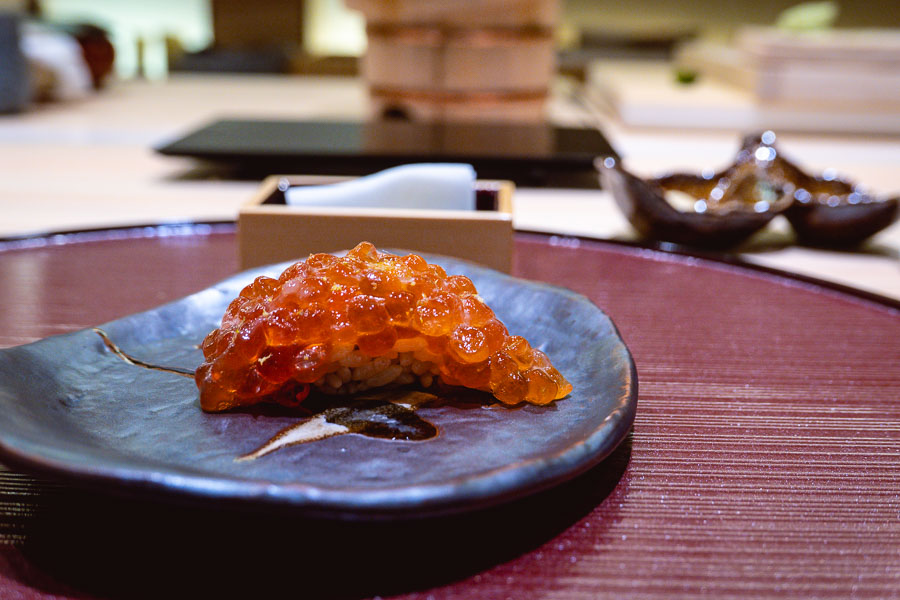 In Summary
Highlights: Conch soup, Triton's trumpet, abalone, shima aji, and sujiko.
The restaurant has a fan following. The sushi quality is one of the best in town, among the top 10 of the lot. Its price tag is not for the faint of heart.
You go for the experience of the novel sushi bar, the personalized service, and quality sushi. It's a great place to impress business clients and for an intimate dinner.
---
Sushi Naoki (Yancheng Lu)
Address: 46 Yancheng Lu, near Xizang Nan Lu 盐城路46号, 近西藏南路
Tel: 63120655
Hours: 6-11pm (Closed Sundays)