The Shanghai Scoop is a monthly column dedicated to the latest food and drink news happening in Shanghai. Here is a round-up of the newest restaurants and bars, hotel news, and upcoming projects.
New Restaurants in Shanghai
Table No. 1 at The Waterhouse is no more. In its place is Oxalis, a modern western restaurant. The chef is Alsace native Jonas Noel, previously at L'Atelier de Joel Robuchon Shanghai. Expect slow food techniques like pickling and smoking.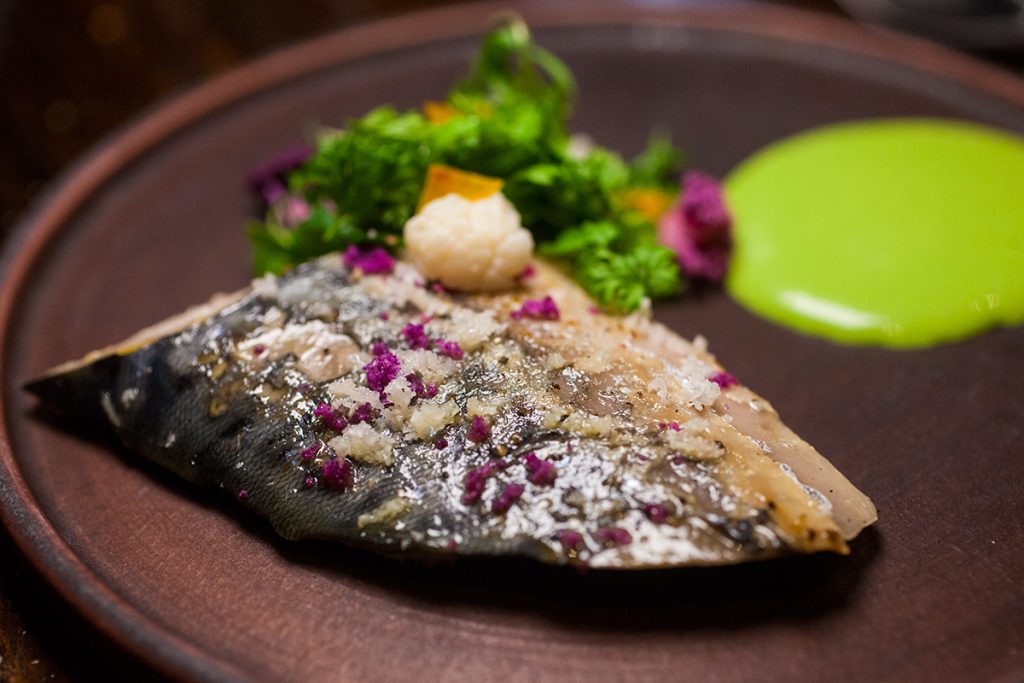 A highlight at Oxalis: A fleshy triangle of Icelandic mackerel is brined and torched, and served at a cool temp, as though it had sprung up from the icy waters from which it came. Pickled cauliflower and spiced yogurt brings it together.
Ekeko is one of my favorite new openings of the month. It's a Peruvian restaurant that serves an 8-course menu that takes you through the highlights of the cuisine. The menus will change every month, too. It's led by Chef Carlos Sotomayor, previously the chef at El Efante (formerly housed in the same space as Ekeko) and had already the habit of changing the menu every four weeks.
In that same building (20 Donghu Lu) is Racines. It's rich French cuisine by chef Kenji Ishibashi.
Again, not new, just relocated (thankfully) and still serving plenty of fan favorites like the Pate de Campagne. It's rustic cuisine that'll put you in a food coma, plus, they have excellent bread.
Apollo is now open.
It's a modern Latin American-inspired casual restaurant at 195 Anfu Road, helmed by Danish Chef Frederik Rasmussen. It's a chef-driven menu that pushes the boundaries of what is perceived to be Latin American fare. In short: Frederik's interpretation of the cuisine and his experience working in similar restaurants in Copenhagen.
In short: Frederik's interpretation of the cuisine and his experience working in similar restaurants in Copenhagen.
And guess what. P.F. Chang's opened in Shanghai. How they managed to make Chinese food taste "American" is quite a feat.
P.F. Chang's is part of a whole floor of restaurants managed by HMSHost, an American highway and airport food-service company, including Jones The Grocer, a popular grocer/restaurant from Australia that's also has a licensed venue in Dubai.
Last month, I mentioned Funkdadelino closing. The group has opened FUNKA del Sur not too far from that venue to retain their stronghold in Jing'an. They've taken over the space where Sailors used to be. The Italian restaurant brand is taking a South American route with Funka del Sur, employing Chef Hugo Rodriguez (previously STYX and Chala) to rep with ceviches, arepas, and more.
The group behind Xixi Bistro and Mito has opened a new bar called "Below" at United Valley.
Not new, but back up is Masse, located at 800 Show.
The food served is primarily Asian, Chris Lin of the former Asian Plus working on the menu and running the restaurant. Beef noodles, pork neck (pictured above), salted egg yolk battered fried chicken, and the like.
Coming Soon
Coming to the former French Concession area is BLANCHE.
Keywords: fine dining, elegant, dynamic, wine, and creative. From the photos we've seen, it's super sleek. It's headed by chef Jerome Tauvron, known for SILEX, a French-Japanese fusion restaurant. (Photos above sourced from a job posting earlier this week.)
"Shanghai's one and only metal bar" Inferno has found a new place to roost. It's on Maoming Lu, near rockabilly bar Hoy Hoy. They've taken away the stage, too. Back to the good ol' days of just metal on play and drinking.
Peet's Coffee is expanding with a second location, taking over the space of the original Farine space in Ferguson Lane. Above, Sichuan Citizen will be moving in, taking over the space formerly housing Coconut Paradise. They'll also be bringing Bar Basil to the compound as well.
The FCC Group (Sense 8, a lavish Cantonese restaurant sporting extravagant décor with three locations, and Peacock Room, fine dining Sichuan in a glittery posh setting) is opening Lion in Xintiandi. Location: facing the fountain. It's to be a Nanyang style or Southeast Asian Chinese restaurant.
And then, there's the first update in weeks about Columbia Circle. Blackbird is repositioning itself as a fine dining restaurant and bar (Table Black and Bar Black). The bar was once an airy cafe with easygoing cocktails and simple European food. It's in a two-story building designed by OMA and will have a rooftop garden. It's by the same group that does OHA Eatery (contemporary Guizhou/Western) and Bar No. 3.
Hotel News
The Sukhothai Shanghai just opened, and it is absolutely exquisite.
Designed by Neri&Hu, it's a new class of boutique hotel. 170 rooms, 31 suites, five F&B, gym, and spa.
Expect plenty of people to snap selfies at this grand staircase.
La Scala, Italian cuisine that aims to source sustainably and to be low waste, helmed by Michelin-starred Chef Theodor Falser and chef de cuisine Stefano Sanna; URBAN Café, Southeast Asian cuisine by Executive Chef Marcus Ng; and Beans & Grapes as the all-day café/grab-and-go.
URBAN Lounge, the all day lounge with a curated gin list of 100 bottles and an equally sophisticated cocktail list, and ZUK Bar, serving Nordic cuisine with experimental cocktails, is master mixologist's Vincenzo Pagliara's area of expertise. He's just come from Connaught Bar, London, World's 50 Best Bars. One to watch.
Restaurant & Bar Closings
All branches of Kaiba have closed. ABin Bev acquired the Belgian beer bar in 2016, and is now taking the opportunity to "reposition the brand".
Cafe Montmarte, one of the longest running French restaurants in Shanghai closed, too. The building is being renovated (apparently there was a bidding war on the space) and something will be in its place soon. Let's just hope it's not another Starbucks, because we definitely need more of those on every street corner.
Indonesian restaurant Bumbu has gone quietly into the night. Most sad. Where are we to get Nasi Goreng now?
Cafe des Stagiaires on Wuding Lu will be replaced by something new soon. Again, mum's the word on what and who.
Kagen at Taojiang Lu has closed (April 27)—let's hope temporarily—due to landlord disputes. Dammit. Why can't we have nice things? Here's to hoping all goes smoothly and that they're back up and running soon. *Update: Kagen is reopening at 758 Julu Lu.
That's all for last month's recap! Stay tuned for the next F&B news column.