The Shanghai Scoop is a monthly column dedicated to the latest food and drink news happening in Shanghai. Four months into 2021 and Shanghai's F&B scene seems to be getting into its groove.
---
Coming Soon: On the Horizon
Kelvin Chai, former executive chef at Mercato, is opening Caminetto, a modern Italian bistrot near Xintiandi. It's due to open early May on the ground floor of a new building called The Roof. (The Roof is that red building on the corner of Madang Lu and Jianguo Dong Lu.)
Chef-patron Kelvin will be focusing on "farm to plate," sourcing fresh ingredients from local farms on a daily basis. Fresh pastas, modern Italian classics, and a curated fine wine selection.
A high-profile development: luxury car brand Genesis is launching in China—wait, promise this is relevant—and there's a new Korean restaurant attached to their showroom on Huaihai Zhong Lu. Chef Andrew Ahn, a Korean chef based in Beijing for the past decade and has worked in collaboration with Seoul Michelin-star venue Onjium, is to create a distinctly Korean menu that juxtaposes heritage and contemporary dishes. There will also be a bar integrating Korean flavors into the cocktail list. Set to open soon.
Priscilla Young, co-founder of Brut Eatery and of Ms P's Basque burnt cheesecakes, is opening an ice cream shop on 1411 Yuyuan Lu, the same road where the first Brut Eatery was born. Swirlz 雪舔, as the soft serve ice creams are called, will cost ¥28. They'll start with a few classics including Meiji fresh milk, dark chocolate, and strawberry, plus some other funky flavors, served in the form of sundaes. They'll also be selling house-made soda. Opening by end April.
The Barbarian crew doesn't seem to be slowing down: within the next two or three months there'll be a new Barbarian in Jing'an Kerry Centre, and a Bandit at Gateway Plaza 66 in Xujiahui.
Mikkeller is edging closer and closer to an opening for their new location in Xintiandi. Excited to finally try that Danish menu they've been teasing.
Brewery slash taphouse Lenbach's hoarding on Fumin Lu has come down, revealing "Bistro Lenbach". It's looking very close to completion, with a lot of outdoor seating.
Colca's event space We Room at the North Bund is changing up a bit. They're adding an Italian restaurant concept to service their event space, expected to open in June.
Friendly, if unremarkable, neighborhood bar Ola on Wuding Lu has closed and will be replaced by yet another Japanese restaurant. Oddly enough, the same thing happened to Birds of Paradise around the corner last year.
Blackstone Apartments will have a new addition, (another!) "modern izakaya" – Mojokaya – to its list of restaurant concepts, with a menu of shareable bites and an emphasis on music.
And obviously… Five Guys, coming soon!
Fresh New Openings
There's a new yakitori place Torisawa that is opening next week in Jing'an Kerry Center. Did I mention Shanghai's on an izakaya binge?!
A big new club and KTV called No. 9 has opened up on Donghu Lu, with a Spanish Mediterranean menu.
From the owners of Bistro Burger (RIP) and Crafted comes Piment, a very brunchy new opening at Yongpingli with a modern design and outdoor seating.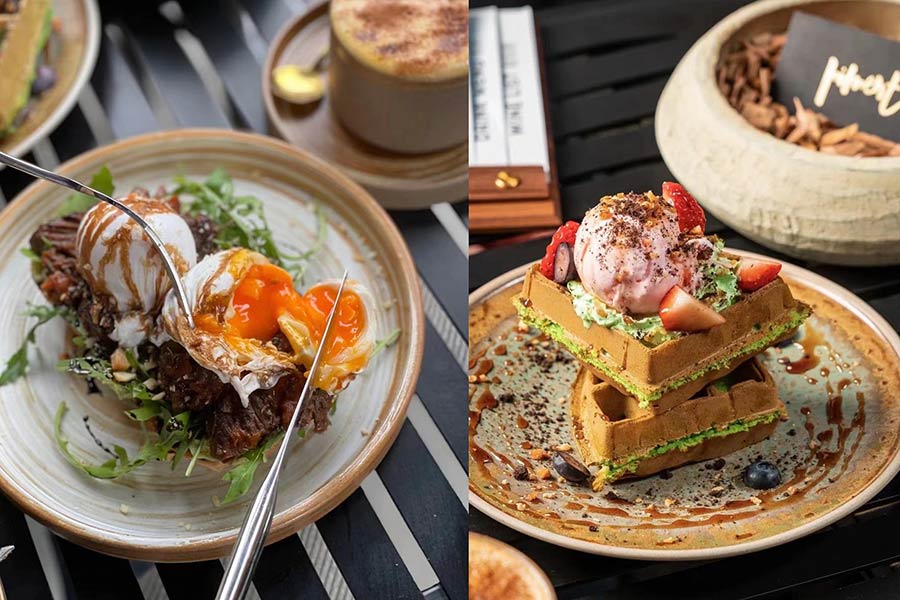 That building on the corner of Xinle Lu and Donghu Lu has gotten a bright new wine bar and café: Crave offers cakes, baked goods, café dishes (and wine) in a white and blonde-wood interior. Umm… the sandwiches look good. Expect a full article stat.
International Acclaim: Asia's 50 Best Restaurants 2021
The biggest bit of news since the last Scoop is Asia's 50 Best Restaurants 2021 getting released. Big takeaways are that Fu He Hui remains in the Top 50 at number 22, while UV has gone from 41st in 2020 to 52nd this year. That's right: Asia's 50 Best released a 51-100 ranking for the first time this year, to acknowledge the hellaciousness of 2020 for restaurants and throw a little love at the industry.
Overall, six restaurants in Shanghai made the list:
Fu He Hui
Ultraviolet
Xin Rong Ji (Nanyang Lu)
Da Vittorio
Yong Fu (Maoming Nan Lu)
Cocktail fans will have to wait until May 6 for the reveal of Asia's 50 Best Bars 2021. They're releasing a 51-100 this year as well.
In Other News / Around Town
Last month luminary chef/restaurateur Kelley Lee announced that she was leaving Shanghai.
And now, we can confirm that Chef Koen Vessies of Tomatito/el Willy is moving to Singapore to explore the market for the sexy tapas group. The sleek, lithesome Dutchman's last event will be a King's Day guest chef with Elaine Koo (Good Food People/el Willy Group) on April 28 at Tomatito. Chef Ramon Verano will be carrying on the sexy tapas duties moving forward.
Speaking of the Dutch monarchists, potato specialists Royal Patat on Maoming Lu has closed down. They're moving north, closer to the heart of Jing'an, and looking for a space. There's some talk of reopening in May or June.
Incidentally (from the rumor mill), a Dutch snack bar, The Frying Dutchman, is apparently opening across from Golden Eagle Mall. Not much info on that yet. So much Dutch stuff!
Lost Heaven Bakery has closed (as has the rest of the Lost Heaven portion of the More Than Eat building) but they plan on reopening three locations of the bakery May: one at 38 Gaoyou Lu, one at 17 Yan'an Dong Lu on the Bund, and one at 38 Fumin Lu, just around the corner.
Finally—most important—the official Nomfluence Pork Satay Pizza is available now at Homeslice! Go down and buy one! Buy ten! Buy one hundred. According to non-biased sources, it's delicious.