​The Shanghai Scoop is a monthly column dedicated to the latest food and drink news happening in Shanghai. Here is a round-up of the newest restaurants and bars, hotel news, and upcoming projects.
---
Breaking News: Hakkasan & CE LA VI To Reopen
Hakkasan will reopen at the same location on the Bund. Here's the scoop.
Also reopening is CE LA VI, another Bund-side venue that closed citing COVID-19. The when is yet to be determined.
New Projects Coming Soon
Donghu Lu
From the people behind Napa Wine Bar & Kitchen comes Cellar To Table, a casual wine bar and restaurant, due to open in September in the old el Efante villa at 20 Donghu Lu. Food served will be Mediterranean, menu created by Napa's chef Francisco Araya. It's slated to open late September. Bund 22 will be under restoration until 2021, after which Napa will reopen along with el Willy.
Also moving into 20 Donghu Lu will be new concepts from Simon Briens, one of the key people behind a particularly well-known crepe/galette place (located on the ground floor), and a new concept from Justin Xu, founder of High Yaki (second floor). Openings are set for early October. The villa will also house the first MUJI coffee shop.
Already open is plant-based restaurant Duli. Food served is an Asian-inspired menu of fusion dishes—tom yum soup with mushroom and tofu filled dumplings, mixed greens mala salad, Doubanjiang pasta, mushroom risotto, and the like.
Yongkang Lu & Xiangyang Bei Lu
Pain Chaud closed its Yongkang Lu original after eight years, deferring to the Jianguo Lu location to service the area. However, they did just open a second location on Nanjing Xi Lu.
In the Pain Chaud space on Yongkang Lu is a new concept from The Camel Group, La Baracca, a bakery and pizzeria with wine and spritz. Soft opening mid-late August. Speaking of The Camel, they closed the original location after a 10-year run. But! They've found a new location on Xiangyang Bei Lu—soft opening is this weekend.
Also coming to Xiangyang Bei Lu is Dosage, a bakery and wine bar opening within the next few weeks. It'll serve as a cafe churning out madeleines and breads during the day and switch to a wine bar with cold cuts and finger foods in the evening.
Sushi O closed. Opening in its place is Salée.
Yanping 98
Simply Fan Tang Yanping (I'm going to refer to it as Yanping 98) is a new food hub/food court, due to open in September.
Confirmed on the first floor: Joe's Pizza, Ichiryuan Ramen, Heat French Rotisserie & Bistro, Shaking Crab, Xibo, Boteco and Zeitgeist Bites. The first floor will also host pop-ups—this is still pending.
On the second floor will be a live house called Fan Tang Live.
Shankang Li
Shankang Li is a new F&B and lifestyle development project on the corner of Shanxi Lu and Kangding Lu in Jing'an.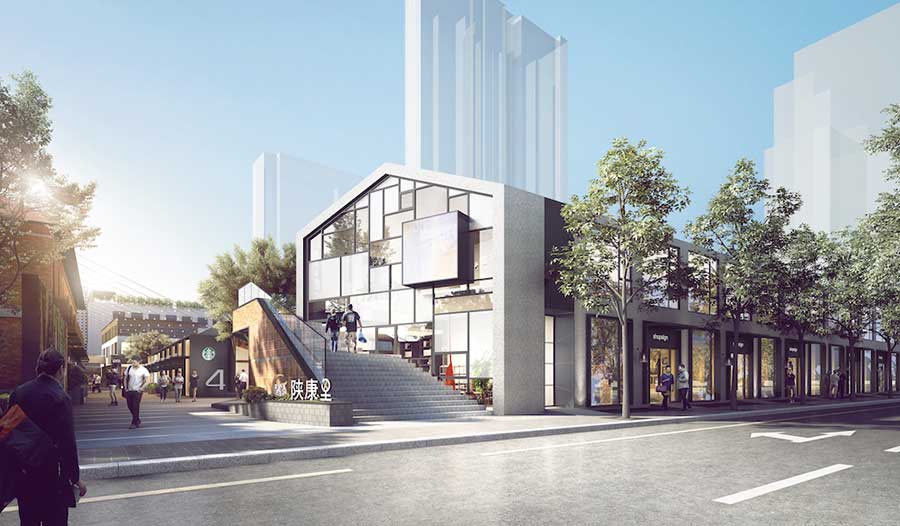 RIINK will be the first to open—this weekend. Followed by Alimentari Grill, most likely by next week.
To follow will be: Homeslice, Madeleine, Tap House, Lanna Coffee, Gin & Juice (affiliated with Winter's), Pudao Wines, KessHo (from the people behind Pantry's Best), and a restaurant/bar from the people behind Japanese cocktail bar Suzu Bar. On the other side of the complex will be RIINK and Bubba's.
Around Town
The original Chez Jojo on Yueyang Lu has closed but they've already found a new location on Fumin Lu, to open within the next couple of months. Meanwhile, Chez Jojo Wine & Garden has been up and running since last month. It's more wine less food at Wine & Garden, and a beautiful space.
From the BIBIMI Group, the same group that brought you Bites & Brews, Hot Chick, Barbarian and Mania, comes BANDIT, a nightclub/cocktail lounge that also does brunch. Bandit will open in mid-to-late August, located in Jing'an by Xinzha and Yanping. It's a three-story mansion that will house a café for brunch on the first floor, cocktail lounge and club on the second, and terrace on the third floor.
Drinks & Co has taken over the Wolfgang Puck space in Xintiandi. It's a co-branded bar with Pernod Ricard, soft opening on August 18.
Worth-the-hype Sichuan noodle shop Liu Tang Men will open a second location in Jing'an in September.
Luneurs is opening in ITC mall.
Charlie's is opening in Found 158, taking over the De Refter space.
New & Hot: Restaurants Now Open
There's a second location of Botong Sikdang, and it is hella popular. Botong Sikdang is a Korean pork barbecue restaurant from the people behind Jeju Izakaya and Belloco. It opened near People's Square January this year, where tickets for seats are doled out at 3pm, and there is always a perpetual line. The second location is on Tongren Lu, first day of operations July 24, and it has already developed the same hype as the first location. Jiayou if you want to queue.
Cozy French restaurant Le Coquin just opened on the quieter end of Yongkang Lu.
Little RAC has opened in the basement of IFC mall in Lujiazui.
La Barbacoa on Danshui Lu is a Spanish tapas restaurant with barbecue and grill.
Casual Thai restaurant Hidden Thai Bistro opened around the corner from Shanghai Library.
Jiashan Market staple Jonas Emil has a café—Jonas Emil Coffee Bean and Drinks Café—in the basement of Ambassy Court.
Venues That Have Closed
Sushi O (Yongkang Lu), Constellation (Yongjia Lu), Pain Chaud (Yongkang Lu), M1NT, Tacolicious 1, Chez Jojo (Yueyang Lu), The Camel, FED by July, Momenti (Xintiandi), Tsui Wah (Fumin Lu), De Refter, and Homeslice (Zhongshan Park).