The Shanghai Scoop is a monthly column dedicated to the latest food and drink news happening in Shanghai.
---
A Nomfluence Event: Shanghai Burger Month 2022
Get ready to loosen your belt because Shanghai Burger Month is coming back this September! Prepare yourself for 12 epic burgers at some of the best burger restaurants in Shanghai. Get your passport and collect stamps to win some fantastic prizes!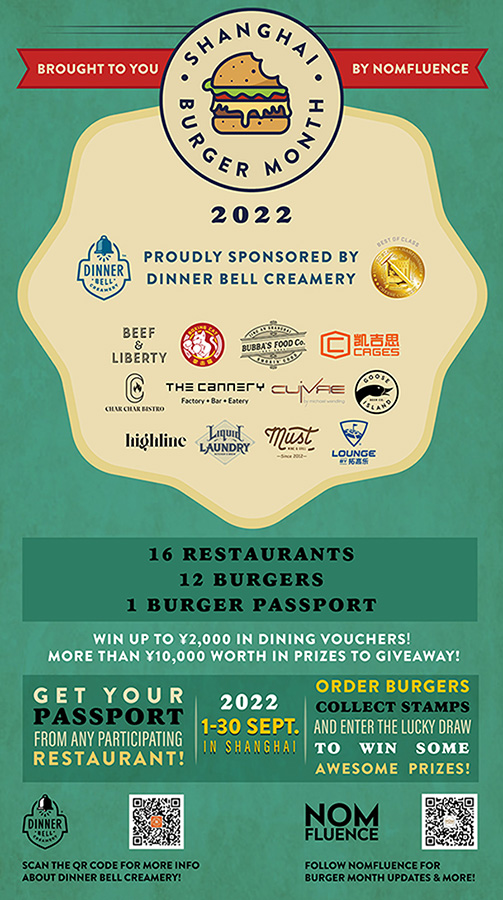 Check out last year's Burger Month contenders here.
Shanghai Burger Month 2022
September 1 – 30
More details coming soon!
---
Coming Soon
Paul Pairet (Ultraviolet, Polux, Mr & Mrs Bund) is working on a new concept, Charbon, a casual open-fire grill restaurant and bar, due to open late September/early October. The menu will mainly feature skewers grilled over charcoal and artisanal soft serve ice cream. It'll be taking up residence in the space formerly housing The Cut at iapm.
By way of Beijing comes Bottega, purveyor of Neapolitan pizzas and Italian comfort bites. It'll open its first location in Shanghai's KWAH center, taking over the space formally housing Beef & Liberty. They'll be serving fresh fired pizzas and deep-fried Italian specialties, have a huge bar, large outdoor terrace, and space for a DJ. Bottega was just awarded the title of Best Pizza in the Chinese mainland and 2nd best in the Asia-Pacific region by 50 Top Pizza.
In addition, the group will open a new concept, Coco Crew next to Bottega Shanghai. Coco Crew is an F&B lifestyle brand that sells raw coconut waters, coconut beverages, snacks, and cocktails. Cafe by day, bar by night. Interiors aim to evoke laidback Tulum/Bali bohemian vibes. Both are scheduled for late November.
The Merchants Shanghai, also via Beijing, is opening in a gorgeous remodelled villa on Yongfu Lu. The main dining room and cafe are on the ground floor, and the cocktail bar (that's also a cafe during the day) and private rooms are on the second floor. The food is all about dry-aging, house-smoked and cured cold cuts, and dishes cooked over an open flame. Though, you won't find dry-aged beef here, instead, they'll be dry aging everything else from fowl to fish. Due for end of August.
Bastard is a modern Chinese eatery opening on Jiaozhou Lu in August. It's the first "child" of 東西 dong xi, Michael Janczewski (Juke) & Jiro H, the power couple behind all those east-meets-west pop-ups. The project seeks to inspire a new wave of Chinese dining, serving small bites inspired from different regions of China paired with a curated natural wine list and highballs menu. Opening mid-late August.
And Shanghai's going to get croffles this fall! Croffles are a mashup between croissants and waffles—this crispy waffle-shaped bites made with fluffy, flaky croissant pastry. You'll be able to get them at Circle, opening on Wuding this September. Circle will also serve housemade yogurt, light meals, and craft beer.
The group behind Da Vittorio Shanghai has opened a Spanish restaurant in Taikoo Li called Jamoteca. The restaurant specializes in Iberico ham and pork as well as classic tapas, and is a combination of a Spanish ham store, bistro, and deli. Grand opening is expected in late August.
The OHA Group (Pass Residence, Oha Eatery, Dead Poet, et al) is opening a traditional Cantonese restaurant on Dagu Lu. The group has taken multiple trips to the Canton region to hunt for traditional, home-cooked recipes, ones that if not preserved would soon disappear. Lots of research behind this project along with and sneaking into multiple grandma's kitchens. It'll be a small restaurant, a little bit bigger than Oha Eatery. That's the basis for Restaurant Fu (福餐厅), coming this fall.
And here's one due to open in spring 2023: Fotografiska, a photography museum complete with an all day bistro, a retail cafe, rooftop terrace, and a bar.
Fotografiska is a photography museum dedicated to contemporary artists. Fotografiska opened in Stockholm in 2010, and has locations in Tallinn and New York City with plans for Berlin and Miami. The restaurant concepts differ for each location, but all share the same values of sustainability and a sense of theatre. The Stockholm restaurant uses organic sources and serves a plant-based menu, and also holds a green Michelin star. More details as the opening date draws closer.
Newly Opened
Char Char Bistro is a new bistro and wine bar from the people behind Nicolsons.
It's located within the old Heartbreaker space on Xinzha Lu, and damn did they do a fantastic job with the refurb. It's a sleek looking space, serving small plates, steaks, and of course, burgers, along with plenty of wine. They've also kept the terrace seating, too.
Wine bar Purus on Wuyi Lu, which serves contemporary Chinese food paired with natural wine. On the menu are dishes like scallion clams, fried eel, and red braised ribs.
Over on the quieter end of Yongkang Lu are two Italian concepts side-by-side, Gelato Bello for artisanal gelatos and Nonna Bakery for Sicilian-style pastries and breads.
Also, Cages Jing'an is back open as of August 15!!! Finally. They have a new menu and new games, too.
The Pearl is also back with a whole line up of events and performances.
Now Closed
Bar Rouge announced its temporary closure, stirring up the rumor mill. The iconic nightclub on the Bund is only taking a hiatus, as are most nightclubs, due to restrictions on nightlife during this "special time".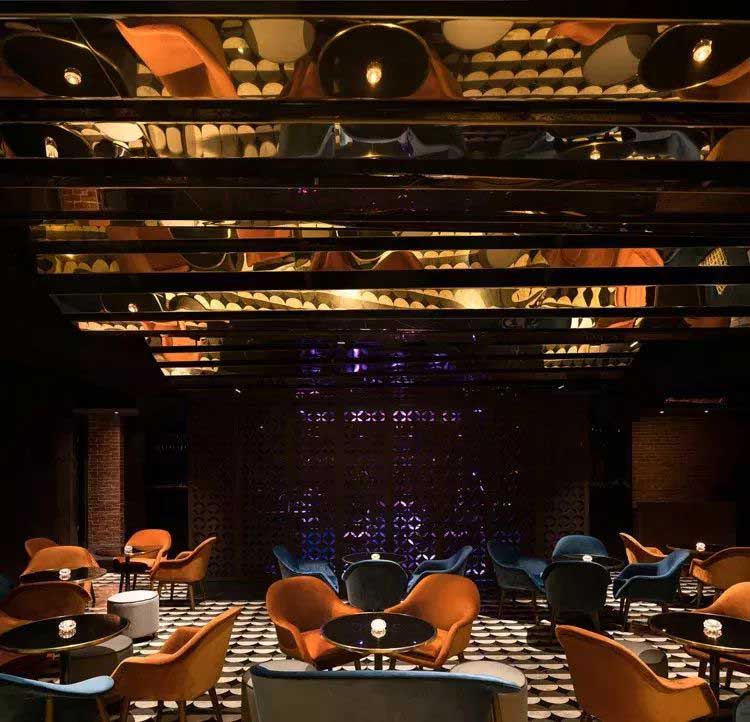 Shake announced its closure on August 4. It was already closed for renovations earlier this year, but the group made the difficult decision to close for good, also due to restrictions on nightlife.
Opened in 2016, Shake had been a go-to destination for world-class funk and soul performances, high-caliber cocktails, and jazzed up Asian-inspired bites. The heartfelt "goodbye letter" also called for patrons to continue to support Shanghai's music scene and to give venues like JZ, Chair Club, and Yuyintang some much needed love, too. The group behind Shake has more restaurants and bars within the family, including Bun Cha Cha, Bun Cha Cha Grill, Black Rock, and Heyday.
Lady M announced on July 21 that they're pulling out of China. The franchisee company sent a release on the official wechat account stating that it will terminate all physical store operations on September 10, 2022.
Rumor that Senator Saloon is closing are false. The bar is closed due to Covid policies and will reopen as soon as possible.
Other closures include: The Hop Project (July 20), The Cut Meatery (July 31), Seve, all but two locations of Popeyes, Joe's Pizza (Wujiang Lu), Beef & Liberty (KWAH), all locations of FINE bistro to eventually close, all locations of Lenotre, and Guyi (Fumin Lu).
(Main image courtesy of Bottega.)