The Shanghai Scoop is a monthly column dedicated to the latest food and drink news happening in Shanghai.
Coming Soon
Coming soon to Suzhou Creek is Cometa, an Italian cafe and bar is due for August serving "pre-dinner and brunch style food" with "a focus on retro Italian traditional dishes". Jars and tins of snacks, paninis, and boards of charcuterie and cheese. For drinks, it's aperitivo bottled cocktails. Attached will also be the brand's clothing boutique.
The people behind Ottimo are working on Suzie, an upmarket French restaurant due to open mid-August on Jianguo Xi Lu, outside the Capella Shanghai hotel. The same group has also just opened a wine cellar, theWarehouse217a, for grab-and-go wines. Selection of bottles are of the same quality as Ottimo.
Anarkia will close towards the end of July. In its place will be Dayum Diner, serving Asian street food, craft beer, and draft cocktails.
Shanghai beer brand Beast of the East is looking to open a taproom in the coming months.
Malabar is undergoing a rebrand, upgrading with new design and decor. The menu will get an overhaul, serving creative tapas by chef-owner Juan Campos. The drinks menu will be crafted by Yao Lu (owner of Asia's 50 Best Union Trading Company). Campos says that the new vibe will be less clubby, and more of the energy and feel of Malabar's earlier years.
Newly Opened
From the Lost Heaven Group comes POZ, a bistro, cafe and buvette (wine bar). It shares the same villa as Coconut Paradise on Fumin Lu. French food on the menu with the likes of cordon bleu, flambéed frog legs, and salmon gravlax.
Glam at Bund 5 has just added a fun cocktail bar to the space, Mahjong Social Club.
There's also a room where you can play mahjong (Glam organizes meet-ups weekly) but sans actual gamling. They also carry other games like scrabble, backgammon, etc. Easy drinking cocktails; some with Chinese spirits, tea-infusions, and a local twist. Food is mostly snack items, Chinese bites like guabao filled with suckling pig, fried rice, and crunchy broad beans.
In soft opening is The Drinkery, a new casual bar at 50 Ruijin Er Lu, led by mixologist Ilya Khokhlov (previously Botanical Basket and RAY's). Fun, neighborhood bar vibes with good cocktails. Parties with DJs on occasion. They also have food, now serving hot dogs. Sandwiches to follow soon.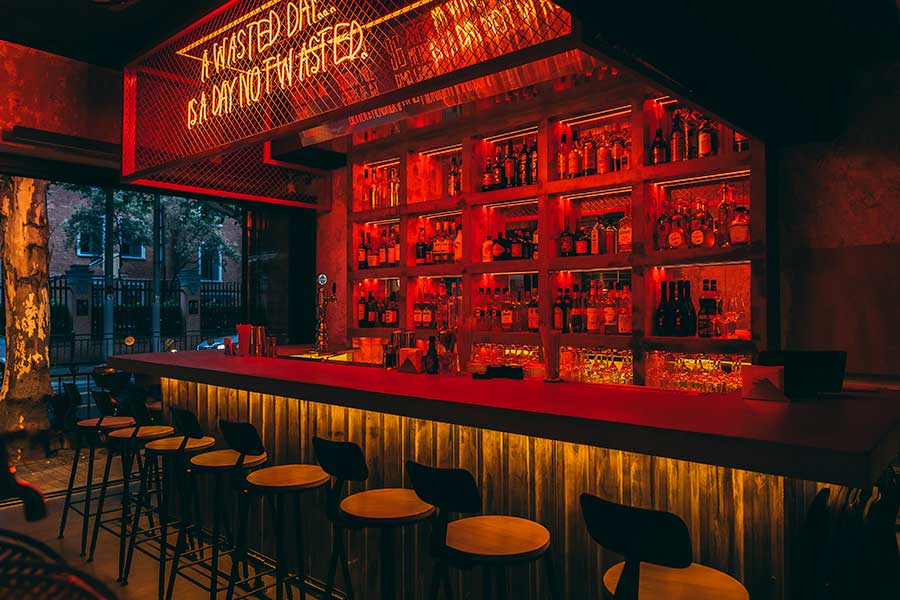 Indonesian restaurant The Pawon has just added a downtown location in the basement of Jing An Kerry Centre. Also in Kerry Centre is Hong Kong's Pici, Italian restaurant and pasta bar.
Cocktail bar Ars & Delecto has made room on the first floor for Halu, a Korean bistro with roots in Hongqiao. The ambiance is fast-paced and lively in the cozy space. Having just opened, it's already quite popular—getting a seat can be quite challenging.
Bakery Ma Tatin has moved from its Jianguo Xi Lu location to Panyu Lu, next to Alimentari Piccolo.
Closures/Changes
The Curry Gaeng moved out of Fantang. Lucky Diner has closed, but Yugo Grill are serving Balkan burgers, among others, out of the space.
Shanghai Brewery on Donghu Lu closed, replaced with Mad Dragon, also a craft beer brand, and also from the same group as Shanghai Brewery. From the menus, it's a lot of pizza, some Asian-inspired mains, and grilled items.
And….Rumor has it that Salt Bae, of Internet fame, is planning on opening a steakhouse in Shanghai.
That's it! Until next month.