It's been a while since I posted a "Shanghai Scoop". The last one was in December. COVID-19 hit, things got thrown out of whack, but now things are back on track(ish). Are you ready? This is going to be a long but concise recap.
The Shanghai Scoop is a monthly column dedicated to the latest food and drink news happening in Shanghai. Here is a round-up of the newest restaurants and bars, hotel news, and upcoming projects.
---
New Projects Coming Soon
Two New Hubs
Shan Kang Li is a new F&B and lifestyle development project on the corner of Shanxi Lu and Kangding Lu in Jing'an. Azul will be opening there in Sep/Oct as one of the anchor tenants in the space.
Also in the same space will be Alimentari Grill, Homeslice, Madeleine, Tap House, and Lanna Coffee. On the other side of the complex will be RIINK and Bubba's City Grill.
Yanping Lu is going to get a new food hub/food court. It'll have an open seating plan with multiple concepts going in. Details on who's going in has yet to be determined.
Blackstone Apartments
The Blackstone Apartments, also known as Fuxing Apartments on Fuxing Zhong Lu have recently been refurbished and has reopened as a mixed commercial space. The main Blackstone Apartment building on the street front has been converted into a gorgeous library and cafe for "books, music, lifestyle, and cafe". The cafe in question is Drops.
Coming soon to the space is Vesta Blackstone Garden, an elevated version of Vesta Bistro at Jing'an Kerry Centre, a restaurant known for their roasted chicken. This will be in the lobby of M+ Hotel, a new boutique hotel. Vesta Blackstone Garden will open mid-July.
Adjacent will be 12-Bar Blues, a bar and lounge helmed by Lady Amarena's world champion Tammy Liu. Opening end of July to early August.
Next to that will be Wagashi, a shop dedicated to the popular Japanese dessert of the same name. Vesta, 12-Bar Blues, and Wagashi are all led by restaurateur Karen Chen, who also runs Vesta Bistro, Jian Guo 328, Unagi (on Wulumuqi Lu), and Machiya.
Ray Shen from Ray Fine Wines is opening D'Institute, a wine shop, tasting room, and function space. It'll host educational workshops and private dinners. Located next to 12-Bar Blues.
Already open at Blackstone Apartments is Casa Mia. This is the same back-alley cult-favorite Italian restaurant that was on Donghu Lu. Next to that is Shanghigh Bistro, an upmarket "haipai" western restaurant.
More Upcoming Projects
Cross Yu (EPIC) is working on a new project by Tonglefang, right next to the second location of Tacolicious 2. It's set to open mid-to-late July. It's a three-story venue with coffee on the first floor, and cocktail bar on the second and third floors. Name is to be determined.
Charles Zeng of burger joint Charlie's is taking over the Tsui Wah on Fumin Lu. He'll open a Cantonese restaurant (styled differently to Tsui Wah) come October. Already open on Changshu Lu is another Cantonese restaurant of his called Yang Lao Tu. Add to that 10 locations of Charlie's and you have yourself an empire.
Pistolera, after closing on Nanyang Lu in Jing'an, is moving a block away to Shanghai Centre. They'll be on the ground floor, taking the old Circus/Lil' Laundry location. Opening early July.
Curry Gaeng is a new northern Thai curry brand that started out with delivery in early April. They're now hunting for a store-front. Fingers crossed for some delicious Thai curries coming to a neighborhood near you.
Found 158 is getting at least two new concepts. Butler & White's and 2IN1 bar is partnering to open a fish n chip shop called Camden's Fish & Chips in the space that once housed Little Creatures. The chippy opens in June.
Duli is a plant-based Asian-fusion restaurant, due to open mid-to-late July on Donghu Lu.
RAC is opening a third location in IFC mall.
NOW OPEN: What's New & Hot
Back on Yanping Lu, Mikkeller Tasting Room has already opened. GM Martin Aamodt making sure all 20 taps are squeaky clean. It's located down the lane on the right of the 7/11, on the ground floor of a new office building, where supposedly Seesaw Coffee will also open.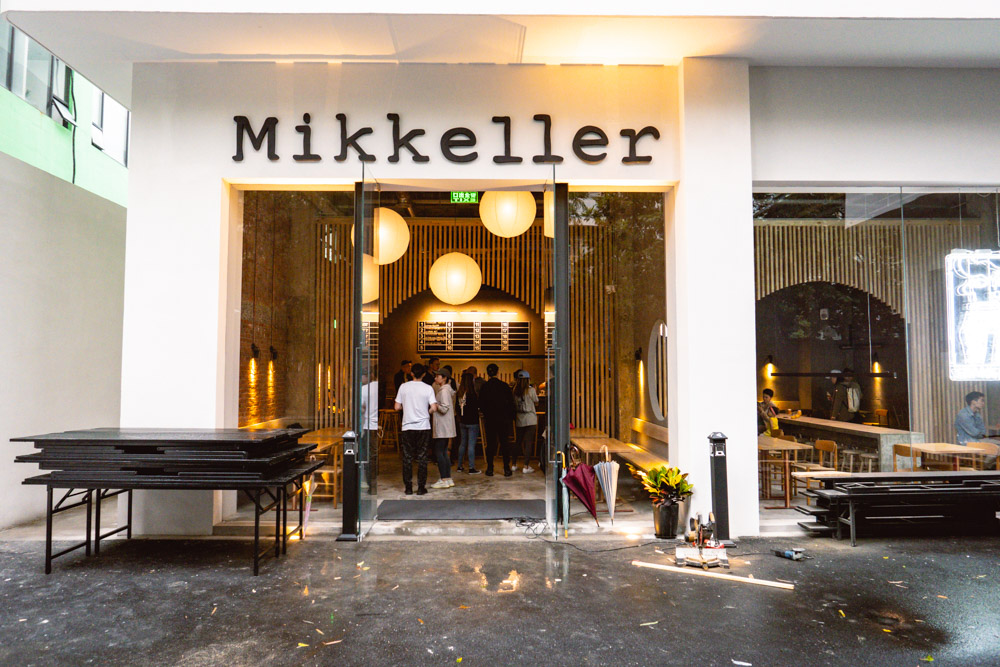 They're pouring Mikkeller draft and have a few bottles as well. Beers range from ¥30 (cheapest 20cl pour) to ¥65 (40cl). Outdoor seating area is dog-friendly. They'll also be doing food, but that'll come a little later.
I like it, almost too much. A more detailed write-up to follow.
On the corner on Xinzha and Shaanxi Bei Lu is Winter's Café & Bar. It's a small neighborhood pub with cheap beers, coffee-infused cocktails, and cheerful staff. It's like a place that's in between a Jiuhuar Station and a Rooster.
Mania (club/lounge/bar) has already opened in Found 158, soft opened last week. It's operated by the BIBIMI Group, the same group that does Bites & Brews, Barbarian, Nomad, and Solana, to name a few.
Don Club is no more—it's now one massive Taste Buds Cocktail Palace, named for the original Daniel An cocktail bar that used to reside on Wukang Lu. There are new cocktails and signatures from Daniel An's other venues (Arch, Atelier, Antique, RTD). The new Taste Buds Cocktail Palace also does food. I hear the hotdogs are good.
Green Friday is a vegan restaurant that serves a full plant-based menu with alternative products like Z-Rou and Just Egg. It's also dog-friendly inside and out. Dishes range from vegan burgers to fried rice and brunchy stuff.
Popeyes fried chicken opened on Huaihai Lu. You definitely heard about it and the lines that followed. If you cared enough, you would have already voiced your outrage over the biscuits.
But did you know they already opened a second location? It's on B1, inside the SML mall next to Tianzifang. Not nearly as long a line. They're not done—more locations opening in Gubei and Baoshan.
If you missed it, Gemma transformed into Alimentari Grande at the end of March. Genius! That's right—give the people what they want. All-day brunch is the way to the people's hearts and minds.
The Westin Bund Center closed entirely in mid-April for a spell and reopened on May 20. The city-famous brunch at The Stage will restart next week.
Sound Bites
Brother's Kebab opened at More Than Eat.
Shake Shack is now in Hongqiao International Airport Terminal 2. They have breakfast sandwiches alongside the burgers.
O'Mills has opened a second location at Jing'an Kerry Centre.
Chez Jojo has a second location with a beautiful courtyard called Chez Jojo Wine & Garden at 333 Yongjia Lu.
On Danshui Lu is BlueRoom Lux, an intimate cocktail, whisky, and wine bar.
Rye & Co is now a steakhouse. Read more here.
Relocations & Closures
Lost Heaven Silk Road is closing by end of June. The space will be chopped up and rented out as smaller spaces. Lost Bakery will eventually move to Coconut Paradise on Fumin Lu (of the same restaurant group).
Temporarily closed, and this is by quite a while, are all the restaurants at Bund 22. Renovations began in March to fix a crack in the building. The tenants had only one day notice. These venues include el Willy, Napa Wine Bar & Kitchen, Tenya and WUJIE. Word is it'll be 2021 when things reopen there.