The Shanghai Scoop is a monthly column dedicated to the latest food and drink news happening in Shanghai. Here is a round-up of the newest restaurants and bars, hotel news, and upcoming projects.
Coming Soon to Shanghai
Da Vittorio
Who? What?
Da Vittorio is a Michelin three-star restaurant housed in a Relais & Chateaux property in the foothills of Bergamo, Italy. Lush countryside, natural lakes, and idyllic pathways make it a destination you'd never want to leave.
The Lombardy fine dining cuisine draws much of its inspiration from the local region, using prized Piedmontese beef, forest mushrooms, and fresh seafood. It's also a family establishment with brothers Enrico and Roberto Cerea taking point, has 50 years of history, received its first Michelin star in 1970, and has retained their Michelin three-star rating since 2015.
They recently announced plans to open in Shanghai in May 2019, mentioned in an interview with Swiss lifestyle and fashion site Ask The Monsters.
There will be no Piedmontese beef in Shanghai, that's for sure. With such pedigree, it'll do well with the deep-pocketed folk of Shanghai.
Images of Da Vittorio via official website.
In Other News
ALDI, German discount supermarket giant, plans to open up to 50 retail stores in China. They've already spent a year cultivating an online presence in China with their store on Tmall.
Manchester United is going to one-up the Arsenal Shanghai Club, announcing plans to open a series of club themed entertainment and experience centers throughout China.
RAC is gunning for a second location on Xinle Lu x Shaanxi Nan Lu. Opening is set for late April/early May. It'll be a condensed version of their Anfu Lu offerings, meaning crepes, galettes, and brunch stuff every day, minus the evening menu.
The people behind Bites x Brews and Barbarian have taken over the space formerly housing Italian restaurant Mito in Found 158.
Ocean Grounds is scouting a location by Wuding Lu, and 37 Steakhouse & Bar, a premium steakhouse from Tokyo is on its way.
New Restaurants & Cafes in Shanghai
Starbucks has just opened a completely new concept, Reserve Bakery Café with Princi Italian bakery in Shanghai. For the first time, they're trying out brunch, too. The feedback? Overly expensive.
Another café, Swedish franchise Wayne's Coffee, has also opened.
Their Lobster Wrap is a highlight, and surprisingly affordable for ¥68. They take sustainability seriously, and are looking to source environmentally friendly alternatives for packaging, and will start using biodegradable takeaway cups and straws made from sugarcane.
Bonus has a permanent location on Wulumuqi, moving across the street and snapping up the space that used to be Little Catch. Lose one, win one?
Bottle shop Beer Bank on Xiangyang Nan Lu has been replaced by Footloose, a cozy cocktail bar that also does full meals. Cocktails are aite, the steak sandwich was pretty good.
Two Italian Restaurants That Fail To Impress
Ai Fiori, an Italian restaurant on Huaihai Zhong Lu, from the original people behind Da Ivo on the Bund.
It' aiming to be upscale, even fine dining, but they're a long way off. Best part of the meal? The bread and the dessert.
To summarize: Fancy interiors. Surprisingly, it has a terrace. Service is erratic—good floor managers vs almost-frightened/timid servers. The plating for some dishes were also bare. There was a 30-minute wait between each dish. (There was an event on the terrace, but those are mostly canapés. Restaurant was half full.)
They've just opened, but it's not the operation staff's first rodeo. Much to improve. I could easily make this stuff at home. (This was an invited visit.)
Meanwhile in Xintiandi, an upscale Italian food by Pizza Express with a name that goes into a list of bad restaurant names. ("Meanwhile in Xintiandi" is the full name.) Their consultant Italian chef has left or is in the process of leaving, so everything here is either changing or will change soon.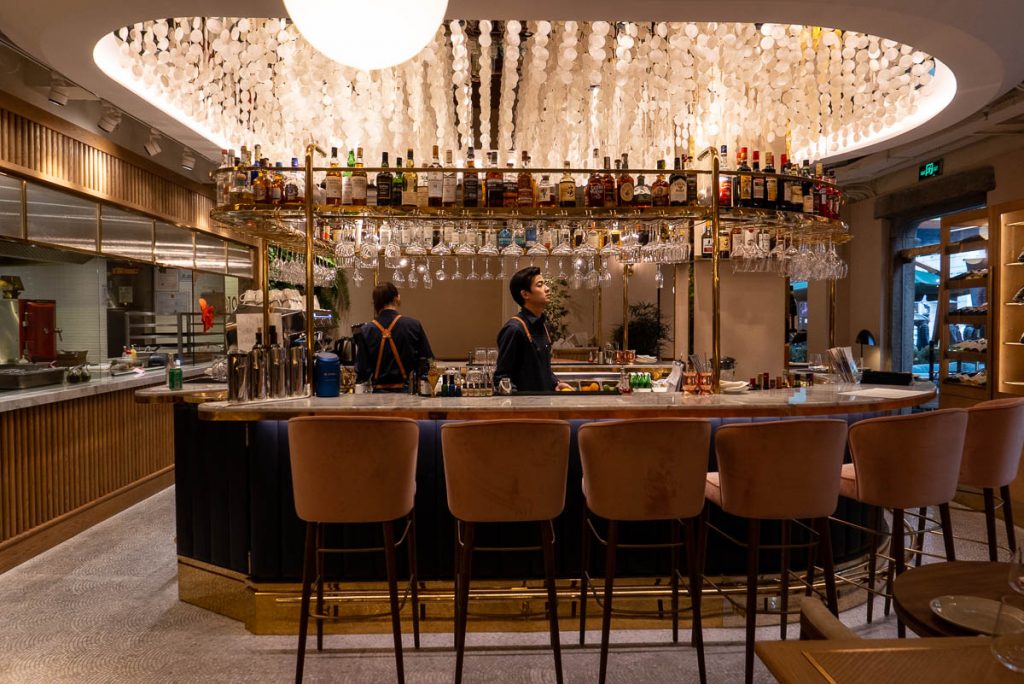 Lunch is exorbitantly priced at ¥168 for two courses. It doesn't even come with a drink.
A sampler of bites is included, but the three bites of amuse bouche for two to share are forgettable.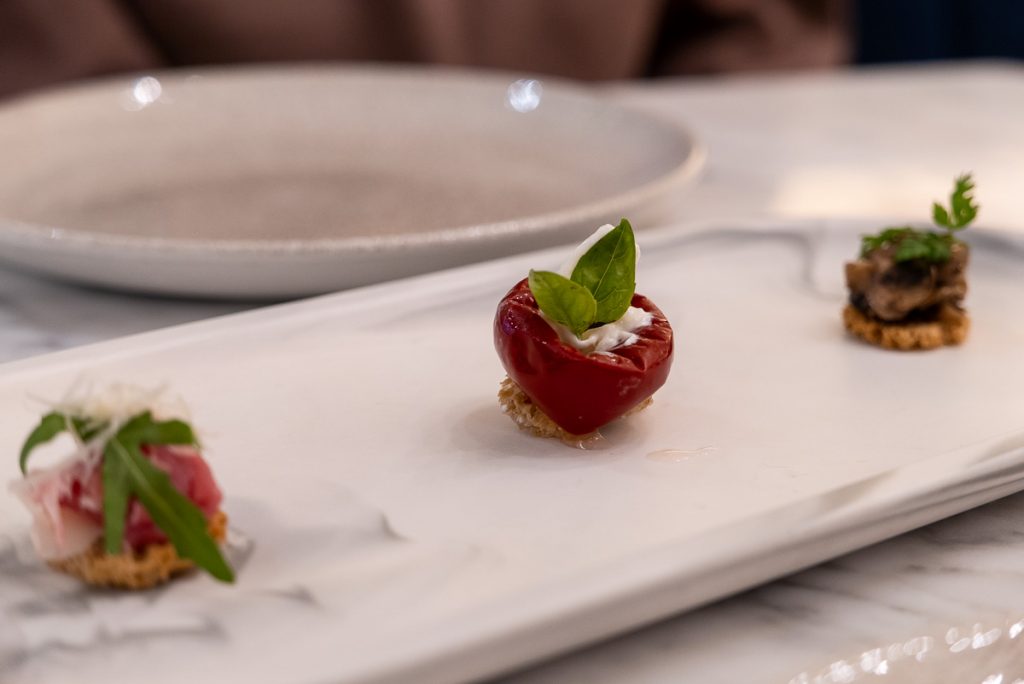 The three balls of arancini with porcini and truffle (guessing it's truffle oil or Yunnan truffles) were nice. However, the Conchiglioni, four stuffed shells with broccoli, mushroom, pecorino, and sausage in arrabiata sauce were shockingly salty and teeny-weeny tiny in portion.
Service was embarrassing—asked if a la carte was a possibility, and the floor manager in question made a fuss, loud and clear, to the other staff, kitchen, and entire restaurant that "the table wants to order from a la carte."
Dude. I asked if it was possible—just tell me no, and sorry. Jeez.
Meanwhile does do good cocktails, which are very well-priced, starting at ¥68. I've heard many good comments about the drinks from my closest compatriots. JourneysofaGourmand also said she had "the best mocktail ever" at Meanwhile.
Restaurant/Bar/Cafe Closings
Plenty.
Michelin one-star restaurant Bo Shanghai issued a closing notice via Weibo and is looking to move. Service suspended as of March 1. Their attempt at a teppanyaki restaurant, Daimon, is also closed.
Mito, Moon's Steakhouse, Constellation (Shanghai Centre) and Chelae.
Daliah, but in it's place is Jin Hua, serving Yunnan food, from the same people behind other Yunnan restaurants Slurp! and Pilipala.
Tailor Bar, speakeasy cocktail bar by luminary mixologist Eddy Yang. That sucks. Hope they find a new home soon!
Chocolate and dessert shop hoF has closed all locations. The same goes for Extraction Lab, a café on Xiangyang Nan Lu, whose lease was up at the end of February. Both are looking for new homes.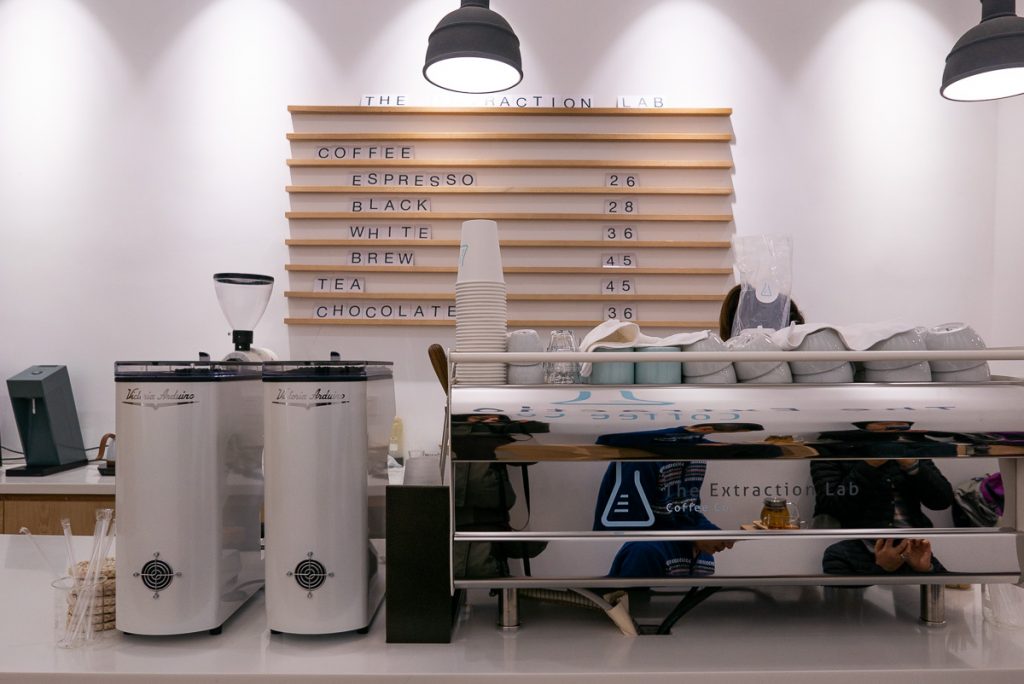 La Bodeguita del Medio, a massive space serving not very good Cuban food on Hengshan Lu. In its place is Bohemia, a Czech brew pub.
Oxalis is closed indefinitely—none of that "temporarily closed due to renovations" nonsense. The Waterhouse has rebranded the space as simply "Water House" for all day dining.
Favorita is closed for reno work, to reopen as a bar with promising bar food.
DASH, a fairly new hip-hop nightclub in United Valley, has closed too.
Modern Japanese-German restaurant UMI has closed. Sun Chateau Group has taken over the space, who have decided the city could use another hot pot restaurant.