There's nothing more Shanghai than xiao long bao. Here's a big guide to xiao long bao, including my top three in Shanghai.
If you're new to xiao long bao, you might find the introduction handy. Otherwise, xiao long bao aficionados can scroll down for the hit list.
---
What is a xiao long bao?
Xiao long bao was invented about 200 years ago in the village of Nanxiang, which is now part of Jiading district. They entered downtown Shanghai through a shop in Yu Gardens (Nanxiang Mantou Dian) and have been a favorite of the city ever since.
Academics and food critics argue about the name, and whether they should be called soup dumplings (tang bao, 汤包), xiao long mantou (little steamer buns, 小笼馒头) or xiao long bao (小笼包). Plus, not every soup dumpling is a xiao long bao. There are much bigger soup dumplings (also called tang bao), like the ones you drink the soup from with a straw.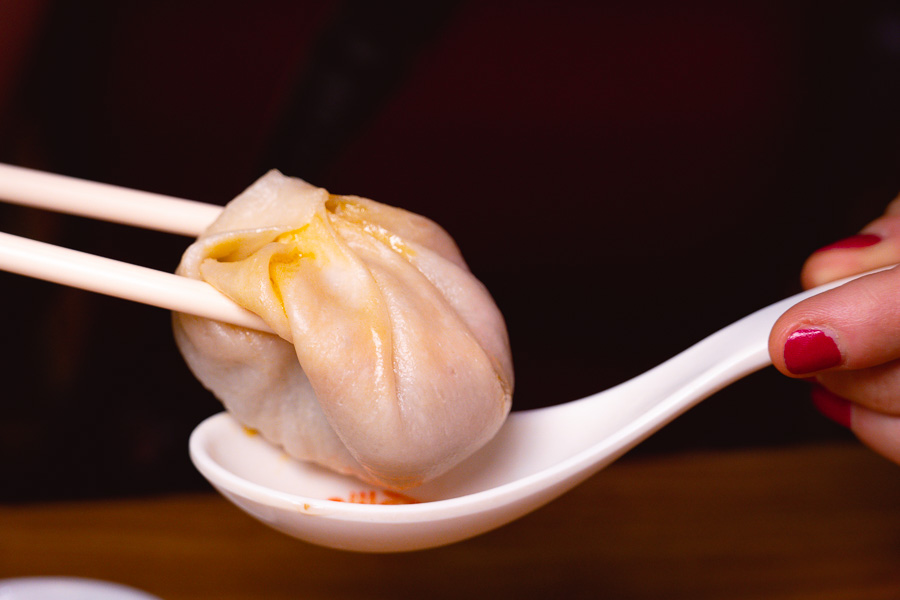 But for my purposes, a xiao long bao is about the size of ping pong ball, and when steamed, contains a filling and a broth inside the wrapper.
What's in a xiao long bao?
Xiao long bao are usually (but not always) made with ground pork and a pork jelly made by cooking pork skin, which contains natural collagen that turns into gelatin. When the jelly is cold, it is mixed into the ground pork, and that filling is wrapped in a wheat wrapper that is pleated at the top. When the dumpling is steamed, the jelly melts back into a broth, becoming the soup in the soup dumpling. Clever!
There are variations in how they can be made, and how they are seasoned, and in Shanghai, people fight over which way is the most "authentic" or the most delicious. But no one is wrong.
Xiao long bao are sold by the basket, which is called a "long" (笼). However, there is no standard to how many are in a basket. It can be 5, 6, 8, 12 or more, so it's best to look at the menu and see how many "zhi" (只, individual dumplings) are in a particular shop's basket.
How do I eat it?
Learn or burn.
Using chopsticks, dip the dumpling into some vinegar, usually Zhenjiang brown vinegar with shredded ginger, and transport it carefully onto a spoon. Bite a bit off the top and CAREFULLY slurp out the soup. It will be hot! Eat the rest of the dumpling, which should now be at a manageable temperature.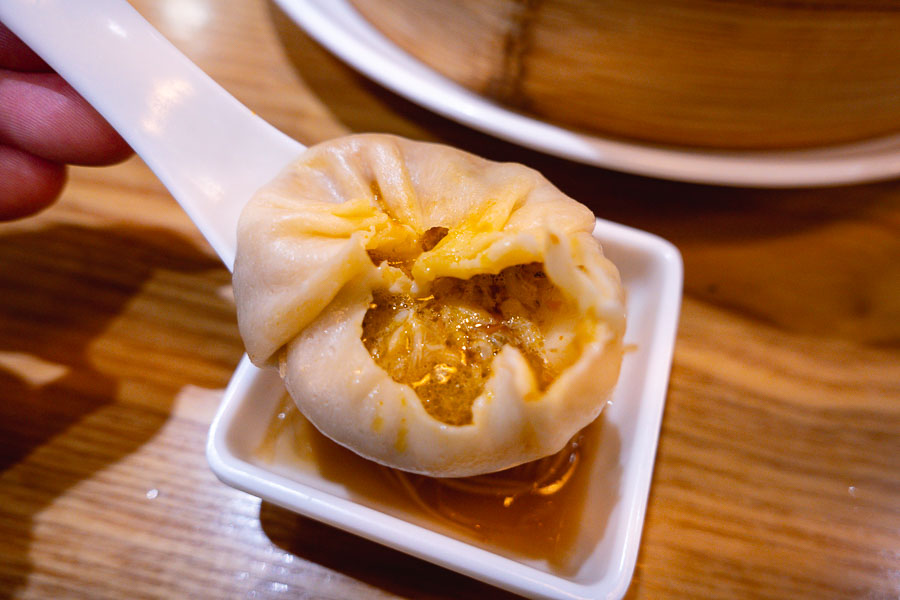 So where do I go?
---
The Best Xiao Long Bao in Shanghai
In my opinion, the best xiao long bao restaurants in Shanghai are Lai Lai Xiao Long, Jia Jia Tang Bao, and Fumai (previously Fuchun).
---
Lai Lai Xiao Long (莱莱小笼)
Address: 506 Tianjin Lu 天津路506号
Tel: 63520230
Hours: Daily, 8am-2pm, 3pm-7:30pm
Address: 1726 Beijing Xi Lu 北京西路1726号
Tel: 19901644766
Hours: Daily, 8am-2pm, 3pm-8pm
Lai Lai Xiao Long is the place to go for crab xiao long bao in Shanghai. It was inevitable that two of Shanghai's most iconic foods — the xiao long bao and the hairy crab — would eventually meet.
Opened in 2006 around the corner from the Nanjing Dong Lu pedestrian street, Lai Lai is an institution for soup-filled dumplings, especially their crab and crab roe ones. They are not cheap (crabs aren't either) but if you like the flavor of hairy crab without the fussiness of picking apart the small critters, this is a great way to go. Traditional crab season lasts from September to the end of winter, but these days, hairy crab dumplings are available year-round.
Update: The Tianjin Lu location of Lai Lai received a Bib Gourmand in the Michelin Guide Shanghai 2024.
Lai Lai's xiao long bao are the best overall in my opinion, their thin wrappers hold a river of soup and are rich with flavor.
Crab roe with pork is ¥70/eight (蟹膏鲜肉), crab meat with pork is ¥40/eight (蟹粉鲜肉), pure crab meat is ¥78/four (纯蟹粉), pure crab roe is ¥158/four (纯蟹膏), pork with matsutake is ¥39/four (鲜肉松茸). They're also known for their crab xiao huntun (蟹粉小馄饨), served in soup for ¥30/10. Ginger in vinegar is ¥1. All dumplings are made to order.
Be prepared to jostle for a table come lunchtime / peak hours, which brings locals and visitors alike. If not, go after 1:30pm. They do take an hour lunch break. They also opened a Jing'an location in April 2023.
---
Jia Jia Tang Bao (佳家汤包)
Address: 127 Huanghe Lu 黄河路127号
Tel: 17302106447
Hours: Daily, 7:30am-8:30pm
Address: 62 Liyuan Lu 丽园路62号
Tel: 17316324525
Hours: Daily, 7am-8pm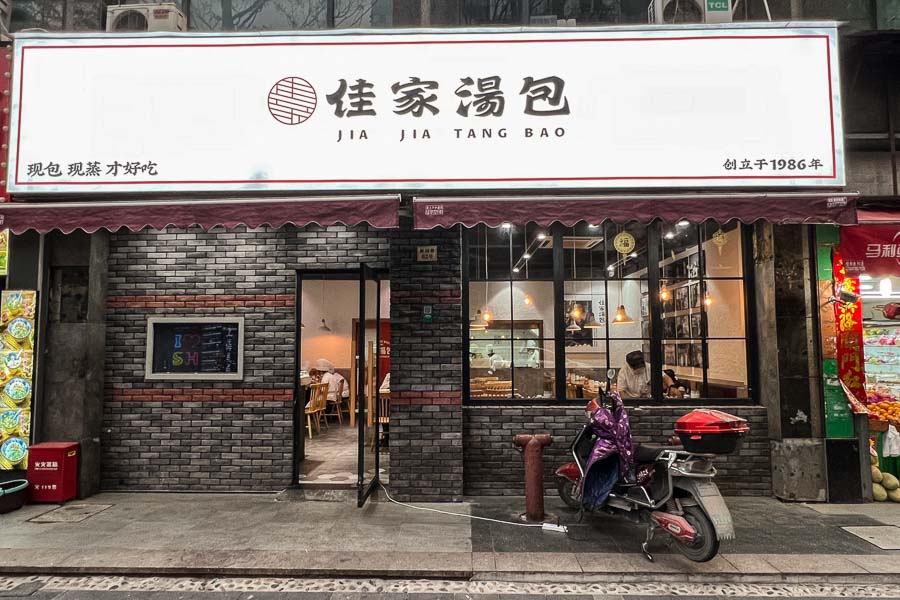 Jia Jia Tang Bao started as a mom-and-pop shop in 1986 in Shanghai. Unlike Din Tai Fung's world domination stance, Jia Jia has basically remained the same, staying in Shanghai. But it's not a small business either, as they have nine locations in town.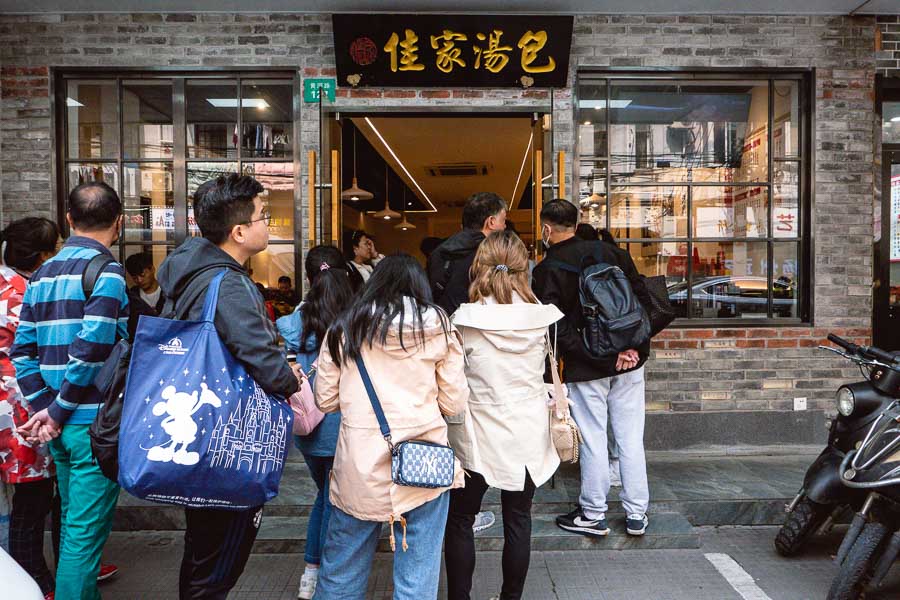 The most popular shop has always been on Huanghe Lu, just north of People's Square and near The Bund, where there is always a queue. Be aware that a couple of years ago, they moved from #90 Huanghe Lu to #127; another shop with a similar name but totally unrelated called Jia Le Tang Bao now occupies #90. It's not bad either, but I stick to the original Jia Jia. I suggest going to their Liyuan Lu store, which has a shorter wait time and is just as good.
Their dumplings are wrapped and steamed to order, which means they come out extra hot, and you usually have to wait at least 10 minutes. Thin wrappers with lots of soup and deliciously porky fillings.
Pork dumplings are ¥23/12 (鲜肉), pure crab is ¥108/12 or ¥55/six (纯蟹粉), crab and pork is ¥38/12 (蟹粉鲜肉). They also do a couple other variations and combo baskets, as well as other kinds of dumplings and noodles. You can also get frozen huntun (馄饨) to go.
---
Fumai Baozi 上海富麥包子·吴苑
Address: 251-257 Yanping Lu 延平路251-257号
Tel: 13818673297
Hours: Daily, 7:30am-8:30pm
Fumai Baozi, located on Yanping Lu, is run by the same crew as the former Fuchun Xiao Long Bao on Yuyuan Lu. It's a beloved institution for how porky the pork filling is — really strong! These dumplings are a bit rougher around the edges with wrappers slightly thicker than Jia Jia's but thin enough that it's still very enjoyable. Dumplings are also wrapped and steamed to order.
Interiors here are in the same style as the former Fuchun—1930s Shanghai—clean, and air-conditioned.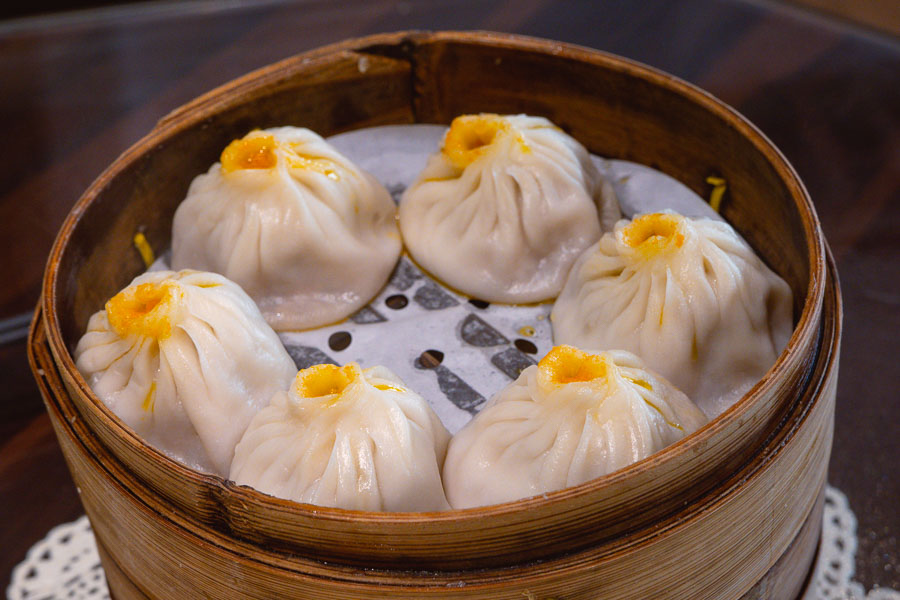 In addition to xiao long bao, they're also known for their steamed baozi and shaomai, and popular crab noodles. Other items include noodle dishes, fried snacks, and Chinese dianxing (点心) like sesame buns and baked rice cakes.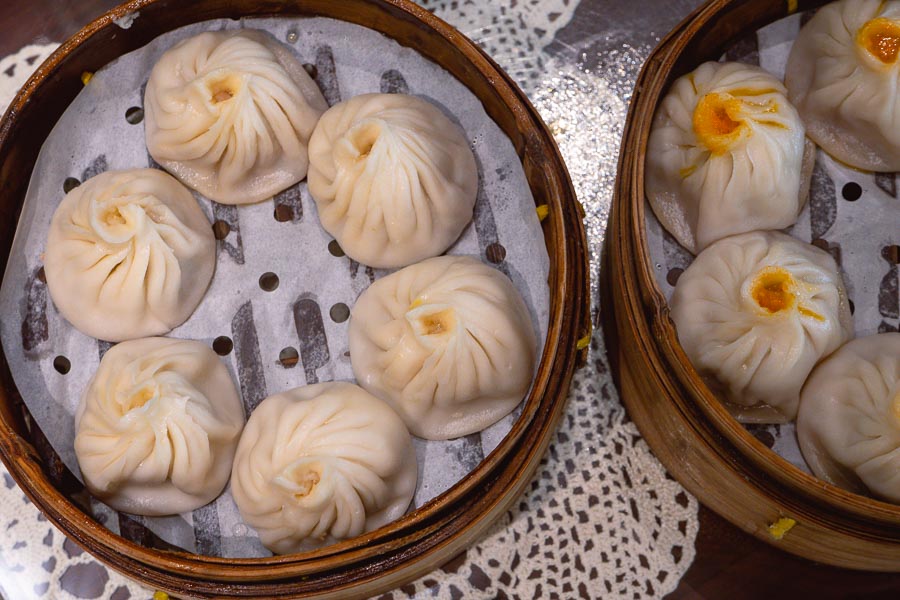 Pork xiao long bao is ¥16/six, crab is ¥38/six. Steamed baozi start from ¥4 a piece, crab noodles are ¥98, shepherd's purse yellow croaker spring rolls are ¥20 a plate.
---
More Xiao Long Bao in Shanghai
Other worthwhile xiao long baos in Shanghai:
Nanxiang Mantou Dian (南翔馒头店)
Address: Inside Yu Gardens, 87 Yuyuan Lu 豫园路87号
Tel: 63554206
Hours: Mon-Fri, 9:30am-8pm; Sat-Sun, 9am-8:30pm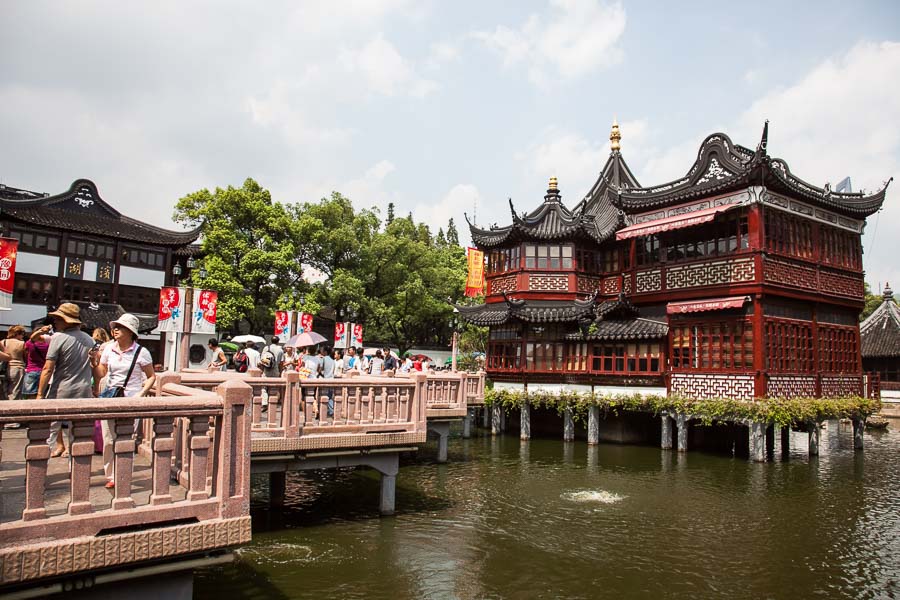 Nanxiang Mantou Dian in Yu Gardens is the original shop that started it all in downtown Shanghai and, according to some, the place many Shanghainese think of first when they think of xiao long bao. The brand was founded in 1900, and the Yu Gardens location has a Bib Gourmand.
They went through a couple rough years of management, but they are past that now. The restaurant on the second and third floors is modern and clean. They have other locations around Shanghai, but the original is the one to go to. Some argue that it's a tourist trap, but plenty of residents venture through the throngs of visitors to get to Nanxiang Mantou for some slurping action.
Nanxiang Mantou has a myriad of xiao long bao fillings, including pork for ¥42/six, crab meat and pork for ¥72/six, matsutake and pork for ¥108/six, clam and pork for ¥48/six. They even have the supersized crab meat and roe for ¥42/one, the kind you suck out with a straw.
Din Tai Fung (鼎泰丰)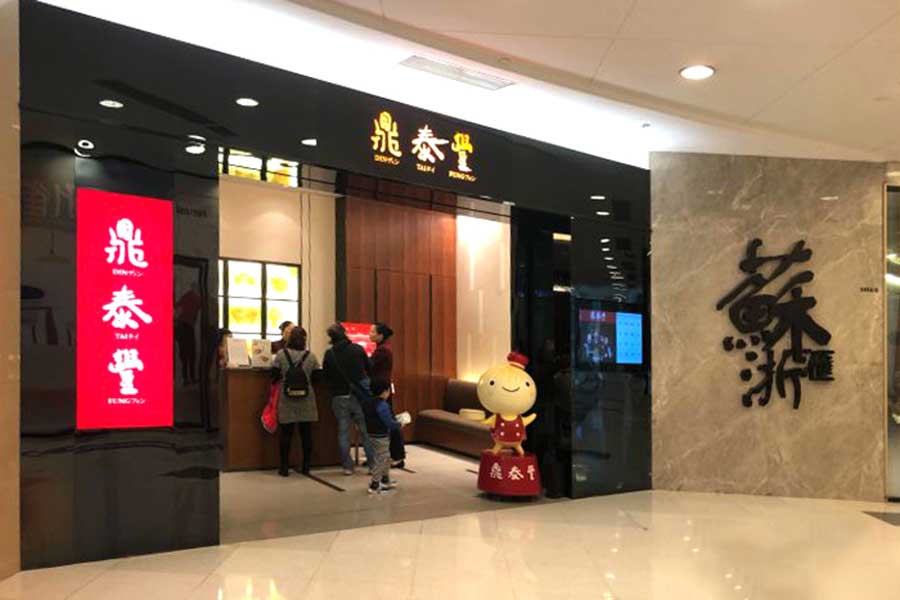 Din Tai Fung was started in Taiwan by a man from Shanxi about fifty years ago. It has nothing to do with Shanghai except that the man, Yang Bingyi, made and sold Shanghainese soup dumplings, and made them so well that his shop became famous. Fast forward five decades and it's a huge, global chain that has very high standards for service, hygiene, the thickness of the wrapper and how many pleats each dumpling has.
Critics call it soulless and overpriced and the food bland. Admirers call it clean and consistent. Find them in nice malls.
Hot tip, I've ordered delivery xiao long bao from Din Tai Fung and they're not bad. Let's say if you're lazy and have a craving, DTF delivers their xiao long bao in plastic trays with individual holsters so they don't stick. Does in a pinch!
Locations in IFC, Xintiandi Style, Grand Gateway, Qiantan Taikoo Li, Taikoo Hui.
---
Paradise Dynasty (乐忻皇朝)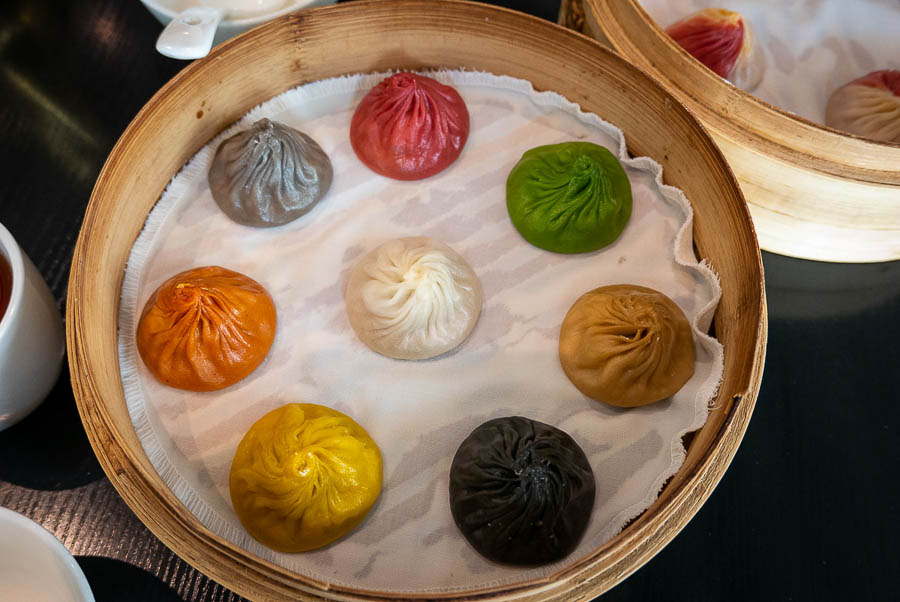 Paradise Dynasty is from Singapore. Their thing is a basket of eight non-traditional flavors in colored wrappers that include flavors like mala (numb & spicy), cheese, truffle, and foie gras. The "Special Dynasty Xiao Long Bao" multi-color basket is ¥72; individual flavors are also sold as baskets, including the original pork one for ¥29/five or ¥42/8. The chili oil and soy sauce drenched dumplings (红油抄手, ¥36) are good too.
If you are okay with a mall setting but want to branch out from DTF, this chain might be worth it. Locations at iapm, LuOne, Reel Mall, and Shanghai Tower.
---
Shan Shan (珊珊小笼馆)
Address: 749 Kangding Lu 康定路749号
Tel: 62532858
Hours: Daily, 6am-8:30pm
Shan Shan is a small working-class chain for Shanghainese snacks, particularly known for the xiao long bao and their potstickers. Expect a little less finesse in the wrapping and pleating than the fancier places but more of a community atmosphere.
The dumpling wrappers are pretty thick, which aren't my favorite but are preferred by some. I also suspect the xiao long bao are pre-wrapped. Still, not bad for a quick, inexpensive meal. Pork is ¥10/six, Wuxi sweet-style is ¥10/four.
---
Lao Sheng Chang (老盛昌汤包) and Lao Sheng Xing (老盛兴汤包馆)
You've probably seen these snack chains around but didn't recognize it. Both do all kinds of Shanghai-ish snacks, as well as soy sauce-based xiao long bao, which are often sweetened with sugar. Good if you want to vary your soup dumpling diet. The wrappers are also on the thicker side.
---
Nanjing Tang Bao 南京汤包·曼曼粥店
Address: 641 Jianguo Xi Lu 建国西路641号
Tel: 64735648
Hours: Daily, 6am-midnight
An easy-going xiao long bao shop that also does congee and tangyuan. It's on this list because it's open late — until midnight! If you're craving them post drinking session, this will serve you well.
---
Wan Shou Zhai (万寿斋)
Address: 123 Shanying Lu 山阴路123号
Tel: 13818065119
Hours: Daily, 5am-9pm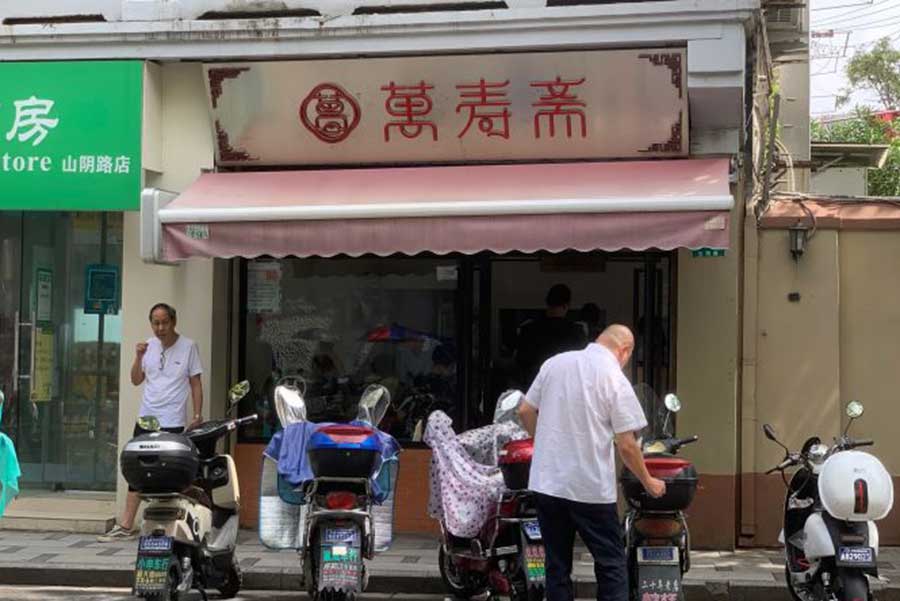 No-frills snacking spot in Hongkou, near Lu Xun's old house. This is for people who like their atmosphere more on the livelier side of things and not in a shopping mall. Expect to share a table and fight to place an order. The dumplings themselves are smaller than average and light in flavor. Many Shanghainese consider this the best place in Shanghai.
---
Nanxiang Town (南翔镇)
Address: 218 Huyi Gong Lu 沪宜公路218号
Tel: 59124233
Hours: Daily, 8am-8pm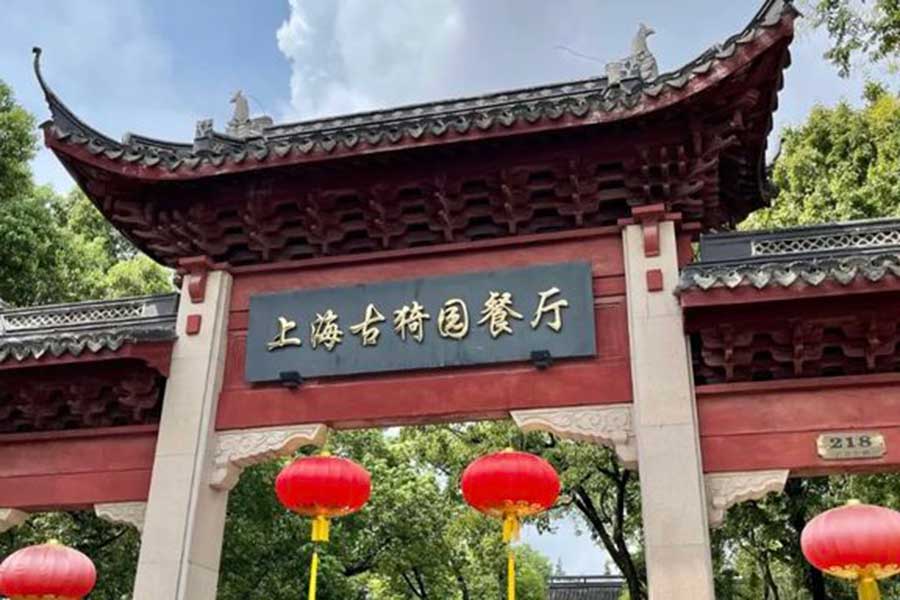 If you are hardcore about xiao long bao, or just bored and hungry, you can always take a trip to Nanxiang town, which is now connected to downtown by Metro Line 11. There are a number of dumpling spots around Guyi Park, as well as the granddaddy of them all, the Guyi Garden restaurant (上海古猗园餐厅), which claims to have invented the genre. The dumplings themselves are kind of a throwback to a time when things were more roughly handmade and not so fussed-over, so don't expect perfection in a basket.