The Shanghai Scoop is a column dedicated to the latest food and drink news happening in Shanghai.
---
Coming Soon
Roodoodoo is the latest concept by celebrity chef Paul Pairet (Ultraviolet, Polux, Mr & Mrs Bund, Charbon). Located on the ground floor of IFC mall in Pudong, RooDooDoo is a bakery, pastry shop, deli, cafe, and restaurant all in one. Expect pastries, sandwiches, ice cream, burgers, and more at the all-day venue. Opening mid to late October.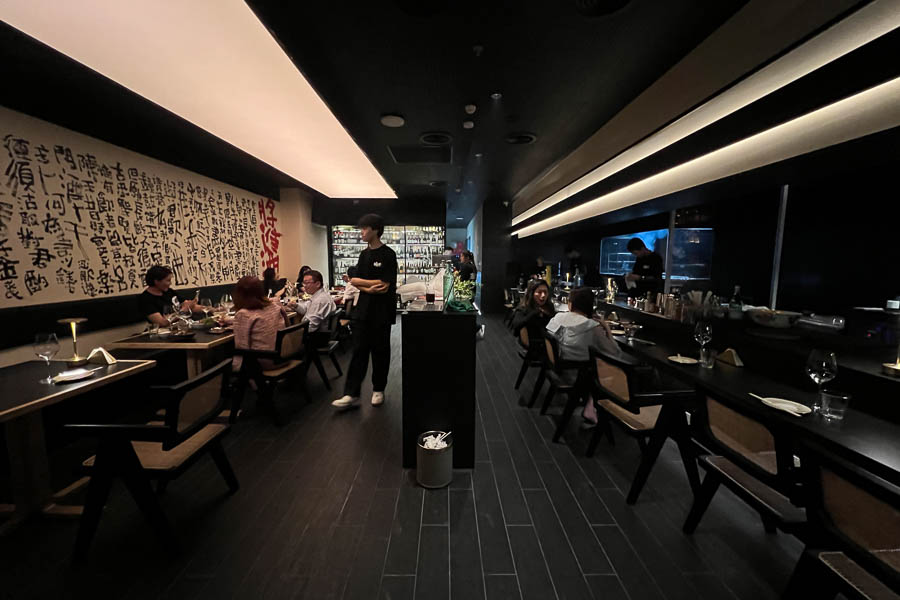 VOS Families (SOiF, Suzie, Suzie's Garden, etc.) has taken over the Y's Kitchen space on Maoming Lu. Coming up is a Chaoshan concept. Speaking of the group, they've also just opened a second location of ma-ia-ki at the INS building in Fuxing Park.
Torikaze is a high-end yakitori restaurant located in M+ on Fuxing Zhong Lu. It's backed by the Ting Group (Torisawa, Ember). The Torikaze concept was produced by renowned Ikegawa Yoshiki, a renowned yakitori chef and founder of yakitori restaurant Torishiki (Tokyo). Soft opening from October 12, set menu only for ¥780 plus 10% service charge.
New & Hot – Now Open!
UVVU is a new brand brought to you by the VOL Group, the same group that backs Ultraviolet, Mr & Mrs Bund, Polux, and Charbon. However, Paul Pairet, the creative mind behind the aforementioned restaurants, isn't involved in this project.
UVVU is a dessert cafe. In addition to a la carte desserts, they also have a set menu for ¥388, five desserts and coffee. One of the desserts is a Lemon & Lemon Tart, which takes cues from the one at Mr & Mrs Bund. Located at 380 Xingguo Lu.
Sober Company has reopened at the INS building in Fuxing Park, currently in soft opening. Two floors to house four concepts, a cafe bar with a sushi bar in the back (Sober Cafe), a bar and restaurant (Sober Kitchen & Sober Society), and a hidden bar (Tipsy).
Also newly opened is La Brise 523, chef Conrad Van Den Heever's first independent restaurant. Fire pit roasts and brunch is on the menu. Click here to read more.
Another new opening that I'm really loving right now is Sage. Borderless cuisine, global influences, creative, fine dining made casual are all the keywords. Click here to read more.
The Venue, an "everything venue" "where luxury meets nightlife" has opened up at 278 Shaanxi Bei Lu. It's a huge space with restaurant, lounge, club, and private rooms.
Mignon 9 is a pretty looking French bistro on Wuyuan Lu. Mostly traditional easy-going French fare in a cute space.
Not a restaurant or bar, but definitely worth mentioning is Shanghai's first Hema Premier store, located at the B1 level of Cloud 9 shopping mall in Changning district. Hema, also known as Freshippo, launched in 2016. The supermarket chain is owned and operated by the Alibaba Group, and has more than 300 stores nationwide.
Hema Premier store offers an upscale selection of products; 50% are imported, from sauces to premium seafood and meat. Beautifully packaged everything from nut milks to aged soy sauces, as well as live seafood, wagyu, cheeses, and flawless veg and fruit. It's a huge 6,000sqm store. Worth checking out.
News Around Town
Bottega received a prestigious award from 50 Top Pizzeria, ranking 8th in the world out of 100 other contenders for their Neapolitan pizzas. Bottega also ranked 2nd in the Asia-Pacific region.
Cellar To Table's MixC Suzhou Creek location underwent a concept tweak in August. It's now highlighting a new brand, Sideways by Cellar To Table, serving up gourmet burgers in addition to casual Spanish bites. Big and beautiful burgers, people! Oh, and they do burger and wine pairings, too.
Atelier opened up on Fumin Lu in the old Jax Jamon space. Next door to Atelier is Laizhou Bar, the flagship bar of Chinese whisky company Bacchus. The whisky distillery took over the Social House space. Both venues are moving from Changle Lu around the corner.
Long-standing Italian restaurant Scarpetta underwent a facelift. It has a much more modern feel, sleek white walls and counters, save for the original wood and stone floors. Premium Italian with hints of Japanese influence.
Crave opened a second location at 88 Xizang Zhong Lu. Same style and vibe as the one on Xinle Lu, serves only baked goods and coffee.
There's a second location of Spread The Bagel at the Nanyang 1931 mall in Xuhui. It's a large space with actual seating. Same bagels, bagel sandwiches, and Cinnaswirl cinnamon rolls.
Xouk at 1000 Trees is now a Yunnan restaurant called Second Sister, marking the Azul Group's first foray into Chinese cuisine.
Closures
1OAK posted a "closing party" notice on their official WeChat account. But, it sounds like temporary, stating that they "will be returning with a fresh upgrade after a short break."
Pie Society to close its Jing'an location at the end of October. A delivery-only location to replace the closure is likely. Survived by its Xingfu Li location.
What's closed? Quite a few in the last couple of months, including some you might have missed since the last Shanghai Scoop. Here's a shortlist of the ones I know of. RIP.
Spread
Ottimo
Pachamama
Sichuan Fusion Tapas
Charcoal Player
Mojokaya
Madam Ching
Basement Never Sleeps
Joye & Sam
SUR Eatery
Homeslice (Found 158)
Beast of the East Social House (for the second time)
Beer Barrel (beer selection survives at The Cannery)
Oxalis
Camden's Fish & Chips
Jiandan (iapm)
Khan Cha Cha (Parksons) – Westgate location still open
Y's Kitchen
404 Izakaya
BOCA
Dreamer
Saucepan/REVO
*All images provided unless otherwise stated.