Premier entertainment destination Lounge by Topgolf has just upgraded their menu, adding a whole new host of Pan-Asian dishes to their repertoire.
Eat and drink your way through ten different flavors of wings, racks of lamb, pizzas, cocktails, and more.
About Topgolf & The Lounge
If you haven't heard of Topgolf, they're actually a pretty big deal.
The brand has more than 80 sports entertainment centers worldwide; the largest, most over-the-top location is in Las Vegas, boasting 108 hitting bays, a concert hall, two pools, and multiple restaurants. The Vegas location is about to be toppled by Topgolf Chengdu, a 12,000sqm project to open mid-2023.
Their brand of digitized sports, namely golf, is achieved by their Swing Suites, interactive simulators loaded with virtual games, as well as electronically tracked golfballs, virtual golf courses, and more.
Lounge by Topgolf is a compact version of the mothership brand, a bar and restaurant fueled by the aforementioned Swing Suites. The simulators are programmed with virtual sports of golf, featuring 80 golf courses from around the world, as well as football, hockey, baseball, and carnival games. These are available in the venue's private rooms and in the main bar area.
In addition, Lounge by Topgolf also has a 9-hole minigolf course. (I'm horrible at minigolf, but you don't have to be good to enjoy it!)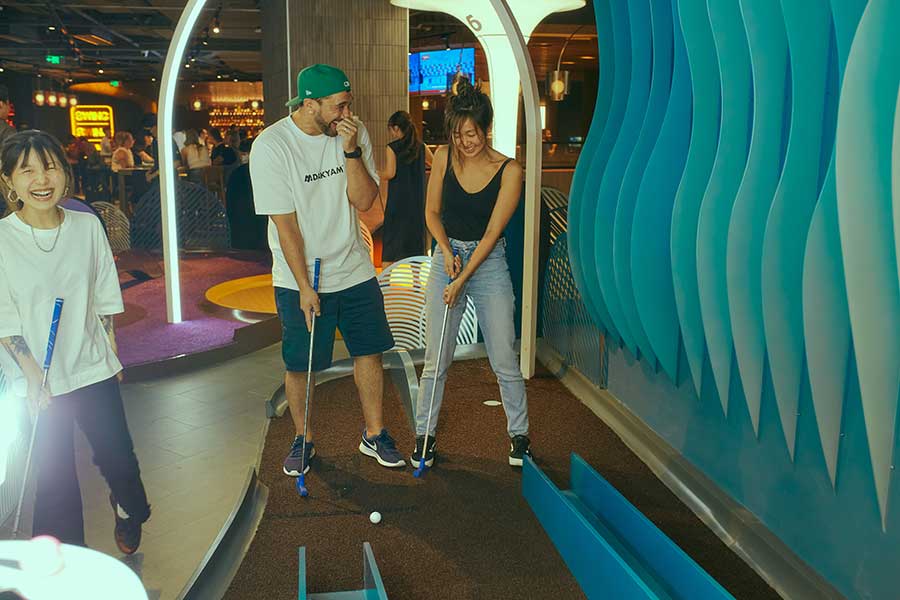 It's food, drink, and entertainment under one roof.
Pan-Asian Food & Drink
As for food and drink, Lounge by Topgolf serves a menu of Pan-Asian inspired dishes with cocktails in the same theme.
There are snackable bar bites and "handhelds" for ease of eating while playing games, appetizers and salads, and hefty mains to share like the signature suckling pig.
They've also upped their wing game, and now have 10 different flavors of fried chicken, featuring profiles like belacan, Singapore-style black pepper, and salted egg yolk.
Here are some of the new dishes:
As for drinks, it's a full bar of options from craft beer to cocktails.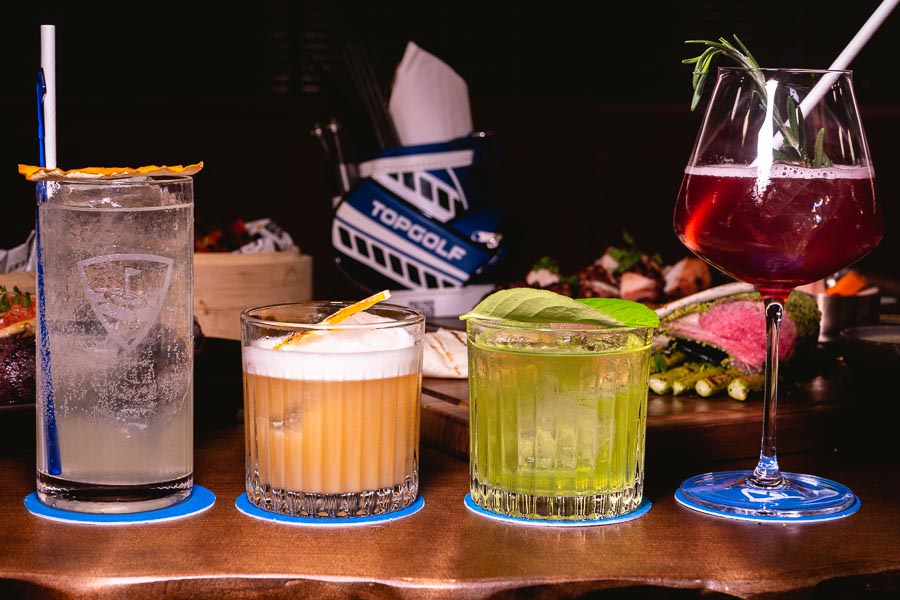 New cocktails include the easy-going Swing & Sing, a gin-based highball with Sichuan pepper, pandan leaf, and Cointreau, and the Holiday in Rome, a twist on a whisky sour.
Celebrations 1st Anniversary
In addition, Lounge by Topgolf is celebrating their one-year anniversary with a big bash on Friday, September 9. It's a glow-themed party that runs from 7pm to late, featuring guest performances and a DJ for entertainment, plus free minigolf, Swing Suite games, and great prizes to giveaway.
Tickets are ¥158, which includes three drinks; house wine, house beer, selected cocktails, or non-alcoholic drinks. Scan the QR Code in the poster to purchase.
---
Lounge by Topgolf
Address: 2/F, Central Plaza, 227 Huangpi Bei Lu, near Wusheng Lu 中区广场2楼, 黄陂北路227号, 近武胜路
Tel: 63357102
Hours: Sun-Thu, 11:30am-midnight; Fri-Sat, 11:30am-2am