Sponsored by Portman Ritz-Carlton, Shanghai

The Ritz Bar & Lounge at The Portman Ritz-Carlton, Shanghai has just launched A Sip of the Orient, an innovative cocktail menu inspired by China's eight renowned cuisines.
Beverage Director Tural Hasanov and the mixologist team spent more than a year researching and developing the drinks. The result is a stunning menu rich with Chinese history and culture, and sleek, thoughtful cocktails that integrate flavors from eight regions in China.
If you like cocktail discovery and a little bit of Chinese culture and history, this is for you.
The Drinks – Sip of the Orient
There are eight cocktails on the menu, each inspired by the renowned Chinese cuisines, Lǔ (鲁), Huī (徽), Chuān (川), Xiāng (湘), Yuè (粤), Mǐn (闽), Zhè (浙), and Sū (苏).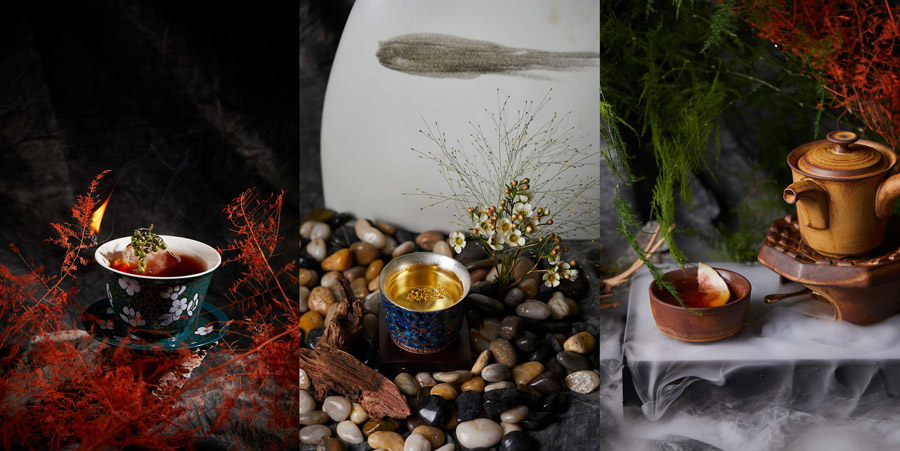 The team visited those provinces over the last couple years to find locally produced ingredients for the drinks. The menu includes fermented Chinese teas and rice wines from boutique producers in those regions, and some cocktails even use traditional Chinese herbs as aromatics or infused as bitters.
The menu itself is an art piece. Made to resemble old Chinese books, double paged and string bound, the menu contains brief notes on the provinces and their relation to the ingredients used in the cocktails. The imagery within was commissioned by a local artist, who painted each individual menu. It's all very considered. Even the vessels used are ceramic, earthenware, or replicas of cups from excavation missions.
A look at the menu, featuring a caricature of Tural Hasanov.
All the cocktails use local spirits as the base. Most of them are with baijiu, others with huangjiu, rice wine, and locally made gins.
Here are some of the cocktails:
Nomfluence Readers Deals
Cocktails are priced ¥138-¥188 each. Book through the link below and get these deals. Valid until November 30, 2021.
Two cocktails for ¥288
All 8 cocktails for ¥888 to share
---
The Ritz Bar & Lounge
Address: The Portman Ritz-Carlton, Shanghai Centre, 1376 Nanjing Xi Lu, near Xikang Lu 南京西路1376号, 上海波特曼丽思卡尔顿酒店, 近西康路
Tel: 62798888
Hours: 5:30pm-11pm