Temperature & Temptation, or T&T for short, is a restaurant and bar in The Weave. It's a neighborhood spot that does western food with global nuances and is good value for money.
About T&T
T&T is located in The Weave, a new F&B complex on Wuxing Lu, the same development that's also home to Bhacus, Alimentari Circo, and Drunk Baker, among others. The restaurant is spacious and comfortable, and boasts a handsome terrace that's especially lovely for al fresco when the weather's right. The terrace is also dog-friendly.
In the kitchen is chef Niven Ni, who's no stranger to western cuisine. Niven has been around the block, and has been working in restaurants since 2008. His earliest posting was at Mesa Manifesto, a reputable restaurant that shuttered in 2011. He's also worked at T8, Refinery, Shanghai Brewery, and Husk. T&T is his first independent restaurant and bar.
The Food
The menu at T&T is best summarized as Western with global fusion, the latter of which involves sneaking in Chinese flavors and the odd Southeast Asian dish. The eclectic menu might sound puzzling, that is, until you get to know Niven's professional background: The menu is a culmination of his greatest hits with a nod to his Chinese roots.
The nasi campur was the best seller at Mesa Manifesto; the carpaccio is reminiscent of Husk's perennial favorite, and the garlicky spinach & artichoke dip a crowd-pleaser.
Then, there's the Mozambique Chicken, so named for the inspired spice rub Niven uses to season the bird; the chicken reminds me more of the celebratory dish of Eight Treasure Duck, as it is stuffed with glutinous rice, sausage, and bacon. The beef rib loin—which is freaking delicious by the way—has a Cantonese-style black pepper sauce as the base.
There's also brunch, pizza, steaks, and skewers.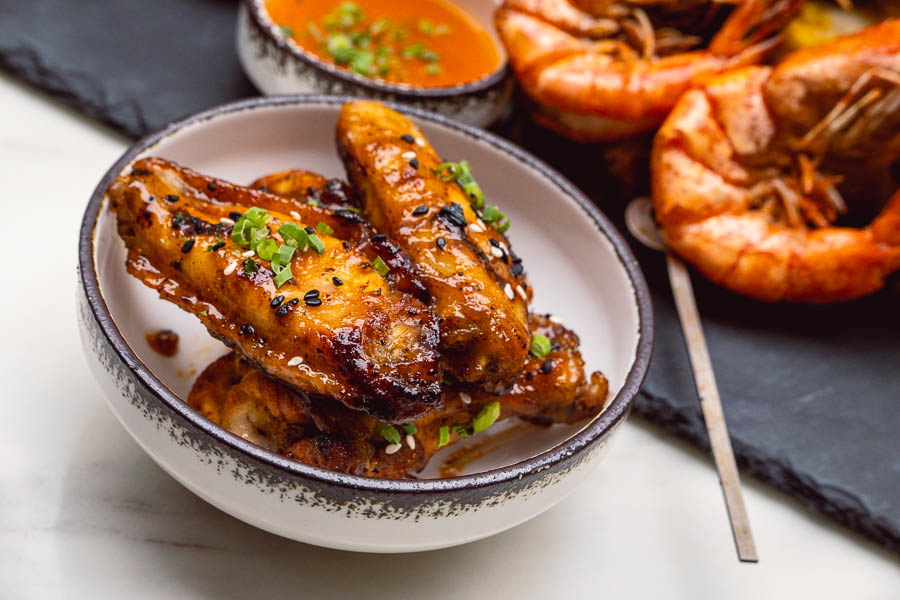 That was dinner. The following are some of the brunch dishes:
Daily Specials & Promotions
As for drinks, T&T does a handful of classic cocktails in addition to wine and beer. There's also a daily happy hour, drinks starting from ¥25!
The happy hour actually extends to (nearly) all day on weekends, great bang for your buck during brunch. Happy hour is 2pm-8pm on weekdays, 10am-8pm on weekends; wines ¥35/glass, cocktails ¥38, beer from ¥25.
T&T also has a few custom craft brews on draft, including Temptation Pilsner, Fire Phoenix IPA, Pineapple & Passion Fruit Cider, and Litchi & Elderberry Cider.
Wines by the glass are ¥38/¥48 during happy hour, too.
T&T also has a few running deals throughout the week, including these daily specials:
Monday, 5-10pm: ¥398 for Australian M3+ Angus Tomahawk 650g (originally ¥798)
Tuesday, 5-10pm: ¥199 for Mediterranean-Style Roasted Halibut 650g (originally ¥298)
Wednesday, 5-10pm: Buy-2-get-1 free skewers (equal or lesser value)
Daily happy hour also includes 20% off bottles of selected wine; bottles from ¥250
Nomfluence Readers Deals
The deal below is valid from now until June 30, 2023 for Nomfluence Readers when you book via the link below!
*Deal is for a la carte dishes only; not applicable to daily specials or sets. Valid for lunch, brunch, and dinner.
---
Temperature & Temptation (T&T)
Address: R108, Bldg 3, 277 Wuxing Lu, near Gao'an Lu 吴兴路277号吴界3号楼1层R107b-R108号, 近高安路
Tel: 33566606
Hours: Daily, 10am-11pm; Brunch, Sat-Sun, 10am-4pm