Here's a big fat undiscriminating list of burger deals in Shanghai. Not just limited to Mondays, all around town, mostly buy-one-get-one (BOGO).
My favorite burgers from this list: Beef & Liberty, UP Shanghai, Cuivre.
Burger Deals in Shanghai
MONDAY
Al's Diner
Mondays, 5-11pm, BOGO
Xinle Lu: 204 Xinle Lu, near Donghu Lu 新乐路204号, 近东湖路
Tel: 54651259
Xiangyang Lu: 2/F, 174 Xiangyang Nan Lu, near Fuxing Zhong Lu 襄阳南路174号2楼, 近复兴中路
Tel: 54251930
Both locations of American eatery Al's Diner does a BOGO deal on Mondays—¥72 for single cheeseburger, ¥98 for double, comes with fries. Xinle Lu location has outdoor seating. Finish up your meal with Gracie's Ice Cream.
Beef & Liberty
Mondays, 3pm-close, BOGO
Huaihai Lu: 1/F, 108 Xiangyang Bei Lu, near Huaihai Zhong Lu 襄阳北路108号1楼, 近淮海中路
Tel: 54562356
Shanghai Centre: Rm 111, 1/F, 1376 Nanjing Xi Lu, near Xikang Lu 南京西路1376号, 上海商城1楼, 近西康路
Tel: 62895733
Pudong: L137b, Kerry Parkside, 1155 Fangdian Lu, near Huamu Lu 芳甸路1155号L137b, 近花木路
Tel: 50429086
Monday BOGO (of equal or lesser value) on all burgers at Beef & Liberty, including seasonal specials, each guest must purchase a drink. No reservations! All locations have outdoor seating. Solid burgers, excellent fries, and boutique ketchup. Burgers range from ¥78-98. Favorite burger: Black Pepper (¥98). Excellent vegetarian options: Beetroot (¥82), Falafel (¥78).
Bistro Burger
Mondays, 5pm-10:30pm, BOGO
Address: 1/F, 291 Fumin Lu, near Changle Lu富民路291号1楼, 近长乐路
Tel: 61701315
Long-running gourmet burger joint Bistro Burger recently got a menu upgrade, listing 20 burgers to choose from. Burgers are ¥78 (Classic, Bacon Cheese, and Sichuan Spicy) to ¥158 (Foie Gras and Angus beef), and come with a side of fries or salad.
Blue Frog
Mondays, 4pm-close, BOGO
Address: All of them
All burgers BOGO every Monday at Blue Frog, equal or lesser value, with the purchase of a drink.
Cuivre
Mondays, 6-10pm, ¥88 with a drink
Address: 1502 Huaihai Zhong Lu, near Wulumuqi Lu 淮海中路1502号, 近乌鲁木齐路
Tel: 64374219
Cuivre's lunchtime gourmet burgers are totally bomb. Monday is deal day—get fries and a cocktail or beer with your burger for ¥88. Does not apply for the limited edition burger—chef's special on rotation. Get the truffle fries.
Fat Cow
Mondays, 5-10pm, BOGO
Jing'an: 1/F, 135 Yanping Lu, near Wuding Lu 延平路135号1楼, 近武定路
Tel: 52282298
Hongqiao: No. 7, 3338 Hongmei Lu, near Yan'an Xi Lu 虹梅路3338号7座, 近延安西路
Tel: 34221700
Pudong: 28 Fucheng Lu, near Mingshang Lu富城路28号, 近名商路
Tel: 50777631
BOGO (of equal or lesser value) on all burgers every Monday at Fat Cow. The Australian beef patties on brioche buns already get plenty of loving during the daily lunch rush. Of all the burger deals in Shanghai, Fat Cow's Jing'an location is perhaps the most popular. The hordes usually spill out onto the street. Get there early. Apparently you can do takeaway as well.
La Mesa
Mondays, 5-8pm, reduced price
Address: 758 Julu Lu, near Fumin Lu巨鹿路758号, 近富民路
Tel: 18753833030
Not really a burger, but good enough to be on this list. The Burgerito at La Mesa is basically a beef patty and all the fixings in a tortilla. It's ¥50 every Monday from 5-8pm with the purchase of any beer/wine during the happy hour, comes with fries. Usually priced at ¥78.
Little Creatures
Mondays, 6-10pm, free beer with burger
Address: Found 158, 158 Julu Lu, near Ruijin Yi Lu 巨鹿路158号B1楼, 近瑞金一路
Tel: 63150960
Order up one of Little Creature's gourmet burgers (¥88-118) and get a free pale ale every Monday. All burgers come with a side of beer battered fries. Do away with the bun and get a salad instead. Vegetarian options available: mushroom and falafel. Highlight: The Nacho (¥108), 6oz Australian Angus beef crumbed in nacho chips with smoked cheddar, tomato salsa, guacamole, jalapenos, and sour cream.
Paradox
Mondays, 4pm-late, BOGO
Address: 392 Dagu Lu, near Shimen Yi Lu 大沽路392号, 近石门一路
Tel: 63129086
¥85 for two burgers on Mondays at Paradox.
World of Beer
Mondays, all day, BOGO
Puxi: 1/F, 85 Fumin Lu, near Julu Lu 富民路85号巨富大厦1楼, 近巨鹿路
Tel: 62058885
Pudong: Century Link Mall, LG1/F, 1192 Shiji Dadao, near Dongfang Lu 世纪大道1192号LG1楼, 近东方路
Tel: 50873253
Tampa, Florida beer chain World of Beer does a BOGO every Monday. Chimay Cheese Burger (¥88) and North Carolina Durham Burger (¥98) on the deal.
The Rooster
Mondays, 3pm-midnight, BOGO
Address: 455 Shaanxi Bei Lu, near Beijing Xi Lu 陕西北路455号, 近北京西路 Tel: 15618808692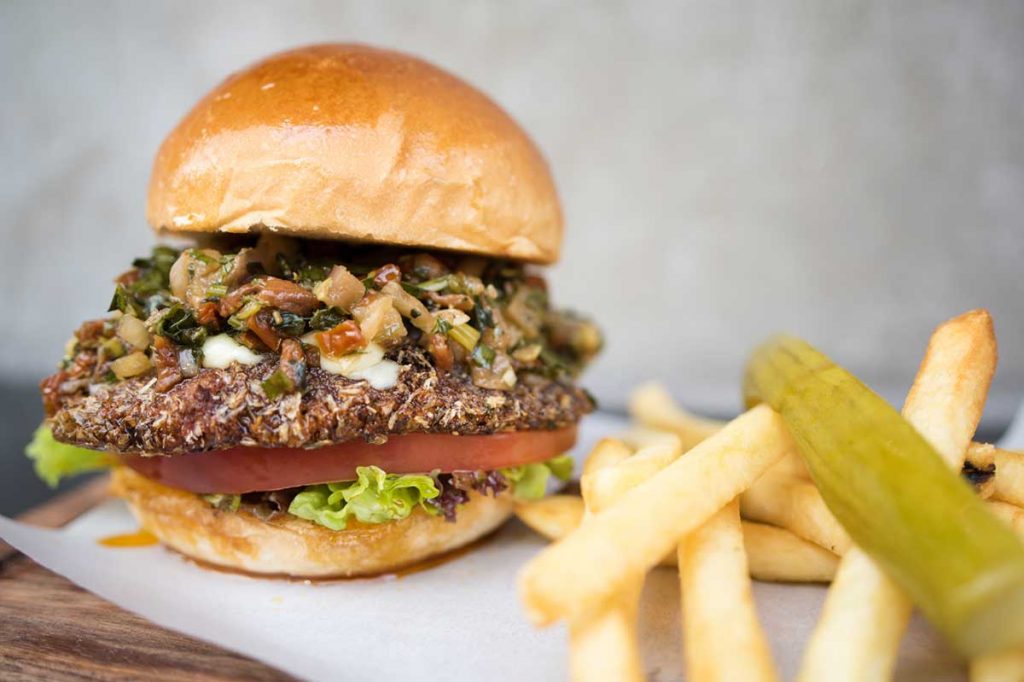 Monday BOGO (of equal or lesser value) on all burgers and chicken sandwiches at The Rooster. Includes the double cheeseburger (¥80), classic cheeseburger (¥60), fried chicken pimento cheese sandwich (¥55), buffalo chicken sandwich (¥55), and mushroom burger (¥60). Good place to get liquored up.
The Shed
Mondays, 4pm-late, 50% off on nearly everything
Address: 698 Shaanxi Bei Lu, near Kangding Lu 陕西北路698号, 近康定路
Tel: 62376381
God, what drives an establishment to run such promotions? The Shed has a massive "Half-Price Monday Food Menu" that lists nearly everything they have. The two burgers are dirt-cheap: Aussie Cheeseburger (¥30) and Chicken Burger (¥28). There are about 20 more dishes from chicken curry (¥29) to steaks (¥54 for 180g) on that insane menu. Cheap beer. Good for getting schwasted.
TUESDAY
MUST Grill
Tuesdays, 6-10:30pm, BOGO
Address: 1/F, Bldg 2, 881 Wuding Lu, near Changde Lu 武定路881号2号楼1楼, 近常德路
Tel: 61761378
Family-friendly vibes and all-rounder steakhouse. BOGO every Tuesday with about 8-10 burgers to choose from including seasonal specials, comes with a side of fresh-cut fries or salad. Terrace seating available.
New York Style Steak & Burger
Tuesdays, 11am-9pm, BOGO
Address: Tianzifang, No. 22, 155 Jianguo Zhong Lu, near Ruijin Lu 建国中路155弄22号, 近瑞金路
Tel: 64736070
Burgers range from ¥58 to ¥118, and all come with a side of fries.
Shanghai Brewery
Tuesdays, 3-10pm, BOGO
Donghu Lu: 20 Donghu Lu, near Huaihai Lu 东湖路20号, 近淮海路
Tel: 33563996
Hongmei Lu: 21C, 3338 Hongmei Lu, near Yan'an Xi Lu虹梅路3338号, 虹梅休闲街21号, 近延安西路
Tel: 64065919
Prices range from ¥75 to ¥148. Terrace seating all around at both venues.
UP Shanghai
Tuesdays, 6pm-2am, 50% off
Address: 2/F, 688 Shaanxi Bei Lu, near Kangding Lu 陕西北路688号2楼, 近康定路
Tel: 18317131910
Bar/club UP Shanghai also does food. Did you know that? The Broadway Burger (¥88) is a food coma-inducing stack of truffle, arugula, provolone cheese, fat beef patty, and oven-dried tomatoes. It's half-off every Tuesday. This is one burger deal in Shanghai that's really worth it. UP has a terrace, it's pet-friendly.
WEDNESDAY
Boxing Cat Brewery
Wednesdays, 5pm-midnight, BOGO
Yongfu Lu: 82 Fuxing Xi Lu, near Yongfu Lu 复兴路82号, 近永福路
Tel: 64312091
Sinan Mansions: Unit 26A, 519 Fuxing Zhong Lu, near Sinan Lu 思南公馆, 复兴中路519号26A, 近思南路
Tel: 64260360
Burgers at BCB are ¥78 or ¥88, BOGO on Wednesdays. Both venues have outdoor seating.
THURSDAY
Abbey Road
Thursdays, 4pm-close, combo
Address: 3 Taojiang Lu, near Hengshan Lu 桃江路3号, 近衡山路
Tel: 54662069
Burger and fries plus one selected drink for ¥88.
Geneva
Thursdays, 4-10pm, reduced prices
Address: 112 Jinbang Lu, near Fuquan Lu 金浜路112号, 近福泉路
Tel: 52399197
Burger and fries for ¥58 at this Hongqiao fixture.
The Camel
Thursdays, 6-10pm, BOGO
Address: 1 Yueyang Lu, near Dongping Lu 岳阳路1号, 近东平路
Tel: 64379446
Four burgers to choose from: Beef Burger (¥85), Aussie Burger (¥90), Fish Burger (¥95), and Portuguese Chicken Burger (¥85). It's a sports bar and they have a small outdoor space and pool table.
---
I'm sure I missed a couple burger deals in Shanghai. Comment below if you know of any others! Also, pretty sure some of these deals will run their course. If so, comment below and let me know what's what.