​The W Shanghai just launched a new dim sum brunch at YEN. It's all-you-can-eat for ¥268 and it's pretty damn good. And of course, there's free-flow.
---
UPDATE August 2023:
Prices have since changed. The all-you-can-eat dim sum brunch is ¥388. It is ¥568 with free-flow sparkling, beer, wine, and cocktails, and ¥668 with free-flow champagne and all other drinks. Cheaper prices via the hotel's mini-program on WeChat; ¥348, ¥528, and ¥628, respectively.
---
YEN is the Chinese restaurant at W Shanghai. It has a bright, spacious dining room with the same smart-casual feel of The Kitchen Table, the ever-popular drink-centric brunch a couple floors up. YEN also has two private rooms, if that suits your needs.
Unlimited Dim Sum Brunch at YEN, W Shanghai
The menu at YEN sees a mix of Cantonese and Shanghainese cuisine, maintained by acclaimed Chef Kong Khai Meng. For brunch, the menu stays true to Cantonese dim sum with more than 50 dishes for steamed, fried and baked dim sum, appetizers, seafood, and fried noodles.
To order, you just check off your selection from the paper menu and wait for the flurry of woven baskets to grace your table.
Of all the steamed dim sum, the bamboo shoot and prawn dumpling shines the brightest, followed by the wild vegetable and boletus mushroom. These translucent jewels come in baskets of three—you want to eat these as soon as its served, for the delicate skins wilt quickly. Another signature is the fresh prawns rice rolls, folded in with crispy fried rice.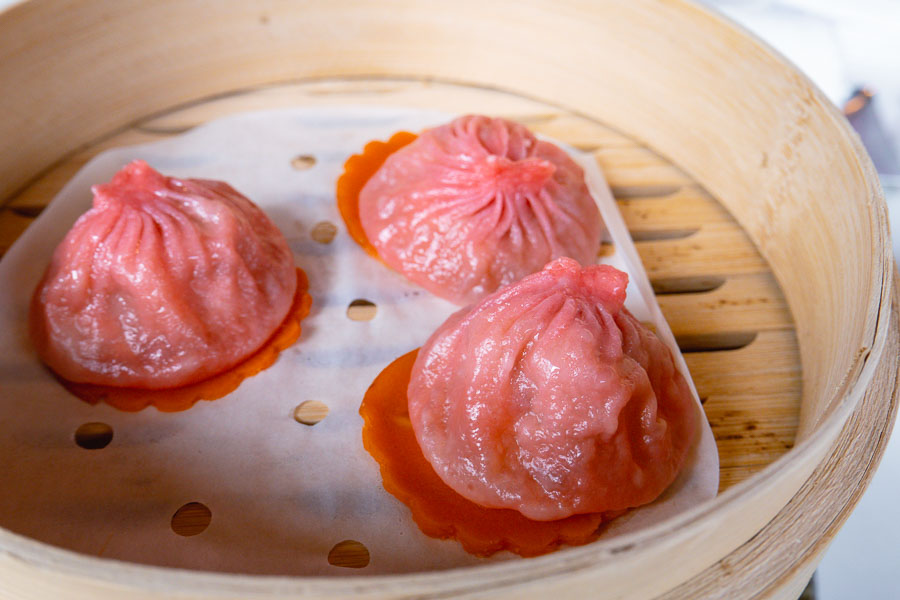 What I miss most about Cantonese food in Shanghai is sufficient wok hei, that torched, smoky aroma from wok frying. YEN doesn't disappoint. The wok-fried egg noodle with mixed seafood, shrimp and XO sauce captures that breathy essence. It was by far the favorite of the meal, so much so that we ordered it twice. The stir-fried radish cake with XO sauce, though largely cubed in size is also a must-order. And the house XO sauce is spot on.
Hotel brunches like these are where you can really get your money's worth. The "Sea and Land" section of the menu is a "one of each" scenario. The steamed giant garoupa fillet and the sautéed scallop with honshimeiji mushrooms and sakura shrimp are both a testament of high quality seafood. Also in this section is the sweet and sour pork, fat nuggets of pork encased in a thin batter and coated with hawthorn sauce.
How Much?
The all-you-can-eat dim sum brunch is ¥268 per person. Free-flow is ¥100 for soft drinks or ¥150 for unlimited beer, wine, cocktails and soft drinks.
They also have a weekday lunch menu, four courses for ¥268 per person, from Monday to Friday.
---
YEN CHA at YEN, W Shanghai
Address: W Shanghai, 5/F, 66 Lvshun Lu, near Dongchangzhi Lu 旅顺路66号5楼, 近东长治路
Tel: 22869965
Hours: Brunch on Sat & Sun, lunch from Mon-Fri, 11:30am-2:30pm