From the team behind UP Shanghai comes TAIGA, a new Slavic restaurant and bar due to open later this year.
As a pre-heat, they're taking over UP Shanghai with TAIGA Wednesdays for the next couple of months. Russian and Eastern European food made chic, infused vodkas, premium Russian shisha, and Slavic vibes all night.
The Food
Currently, they're serving a small menu of five dishes, but that'll increase over time as they fine-tune new dishes that'll be scheduled for TAIGA.
The food is Eastern European, mostly Russian-influenced. They've taken traditional dishes and given them a little spin. For example, they've cut back on the mayonnaise—not babushka-levels of mayo overload—and modernized the plating. It looks…polished.
I'm not an expert on Eastern European food, but I can say what I had was tasty, and if I had my way, I'd have the Shuba on a regular basis. This is excellent news for the Slavic community who miss the taste of home and for people looking to try something new.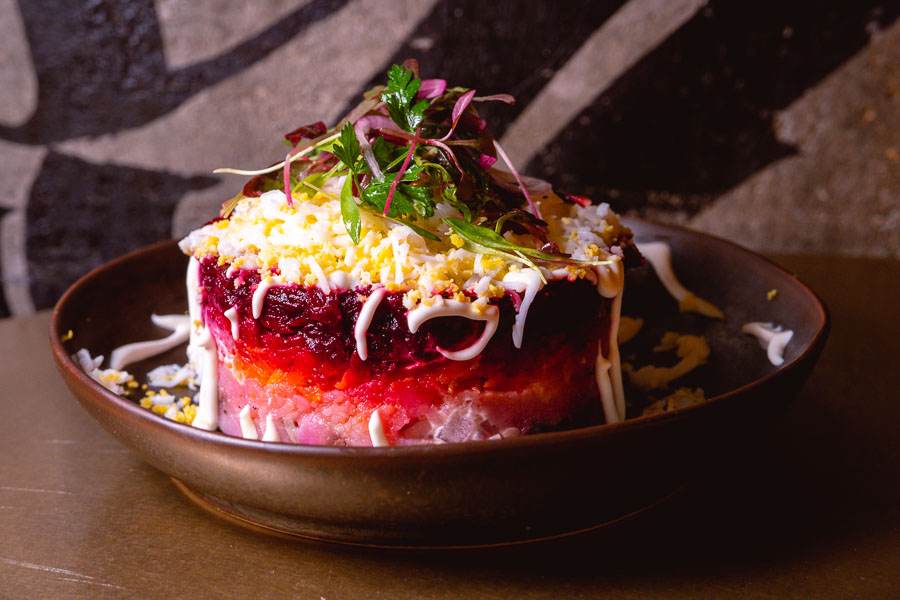 Of course, it would not be complete without vodka. Head bartender Jackie Dmitriev has fashioned three infused vodkas for the occasion: raspberry, horseradish, and lemon & cinnamon. UP Shanghai will also be serving their full drinks menu.
They also have Russian-style shisha. (There's more than one kind of shisha?) According to them, the Russian designed shisha pulls more smoothly and cleaner, meaning you won't be caught off guard by a rouge coughing fit. The shisha is ¥230 a pop, which includes enough tobacco for 2-3 people; add ¥50 for Russian tobacco. There are more than a dozen flavors available.
Deals on shisha coming in the near future.
TAIGA Wednesdays starts from 7pm at UP Shanghai. Food last order is 1am or until sold out. Tunes will be Slavic vibes. UP Shanghai is also dog-friendly until 10pm!
---
TAIGA Wednesdays @ UP Shanghai
Every Wednesday from 7pm (last order 1am)
Address: 2/F, 688 Shaanxi Bei Lu, near Kangding Lu 陕西北路688号2楼, 近康定路
Tel: 15026421873
Hours: 6pm-2am