When it comes to niche cuisines in Shanghai, Portuguese food is certainly one of them.
According to Dianping, there are less than half a dozen listings, and two belong to Viva! Portuguese Grills & Seafood, a humble yet surprisingly spirited restaurant devoted to the country's food culture.
Keep reading for Nomfluence Readers Deals!
About Viva!
Proprietor André Zhou first opened Viva! in December 2014 on Weihai Lu. The second location on Wuding Lu opened early 2022 only to face the adversities of Covid. But with grit and resolve, Viva! endured the storm. And I, for one, am most relieved, for I would have missed the opportunity to be charmed this modest eatery.
Born and raised in Portugal to Wenzhou-nese parents, André is a proud proponent of the country's cuisine. His passion of Portuguese food and culture not only extends to his knowledge of quirky histories and dish origins, but it is also projected in his manner. He is incredibly hospitable.
From its storefront, Viva! Wuding Lu does not reveal much, but they've done much to open up the space once held by Pancake House. The dining room is simple yet comfortable, livened with splashes of azure mosaic, and a covered balcony that looks onto the street, a cozy perch that's also dog-friendly.
It's homey and casual, a space that suits its easy-going comfort food.
On The Menu
Portuguese cuisine is shaped by Mediterranean and Atlantic influences with seafood at the crux of its food culture. The coastal country is also known for its love of cod, bacalhau, so beloved that they have more ways to cook it than there are days of the year.
So if you like seafood, Viva! has your back, and they've sourced most of it locally to make dishes inexpensive.
On the menu are indeed multiple dishes made with cod, a hefty seafood platter for brunch, a version of the famed francesinha sandwich (originating from Porto), a twist on piri piri chicken, and of course, Portuguese egg tarts.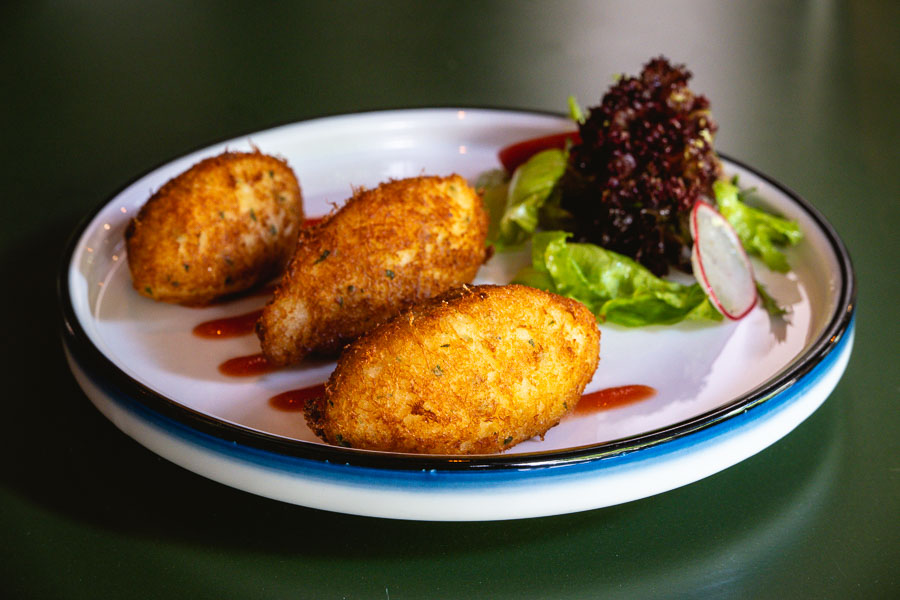 It's all tasty and affordably priced. I will return to try the Marinated Pork Tenderloin with Clams (¥108), pictured above, and the Portuguese Duck Rice with Chorizo (¥108).
Weekend Brunch
Brunch is a la carte, available Saturdays and Sundays. A handful of the dinner dishes make an appearance on the brunch menu, including the seafood rice and codfish cakes. However, the highlight is the Seafood Platter, available on Saturdays.
The Portugal Atlantic Coast Style Seafood Platter is an impressive affair, and the kind of dish traditionally reserved for special occasions and family gatherings. But at Viva!, it's to celebrate brunch, and it's very affordably priced at ¥380.
It comes with a whole cheese-baked lobster, half a kilo of prawns, butter garlic mussels, and a traditional brown crab spread.
And there's free-flow. Duh. Brunch free-flow is ¥198 and runs from 12:30pm to 4pm. If you get there on the dot, you could potentially do 3.5 hours of free-flow. Drinks include Super Bock draft, house red and white, prosecco, sangria, mixed drinks, Aperol spritz, soft drinks, juice, tea, and coffee.
For drinks, definitely go for the Super Bock, imported Portuguese draft beer (¥15/200ml, ¥30/500ml), a light pale lager. They also have house and classic cocktails from ¥68, and a dozen wines by the glass from ¥50 (bottles from ¥180), and fresh juice for ¥45.
Nomfluence Readers Deals
The deal below is valid from now until October 16, 2022 for Nomfluence readers when you book via the link below!
*Deal is not applicable with other on-going promotions, including lunch sets, happy hours, seafood platter, free-flow, etc.
---
Viva! Portuguese Grills & Seafood
Address: 479-1 Wuding Lu, near Shaanxi Bei Lu 武定路479-1号, 近陕西北路
Tel: 63800330
Hours: Sun-Thu, 11:30am-10pm (last order 9pm); Fri-Sat, 11:30am-11pm (last order 10pm)