Sponsored by CloudFB

Tabasco is a hot sauce staple in restaurants and households all around the world.
But what else could you use this fiery, peppery sauce for other than pizza and Bloody Marys?
That is the goal of Tabasco's new expedition into the F&B market—to make the hot sauce more than just a tableside condiment.
With that, comes a bunch of activations, the latest was a Tabasco Cocktail Competition this past Monday at cocktail and coffee bar Bitter.
Plus: A preview of the special Tabasco themed brunch at Bird on July 14-15
Tabasco Cocktail Competition 2019
The Tabasco Cocktail Competition saw five bartenders go head-to-head in creating a drink with the fiery hot sauce.
Industry leaders, brand ambassadors, and drink experts were on hand to judge the cocktails for their merits on taste, creativity, and presentation, and the bartenders' ability to showcase their creations.
Julia Markina from Osteria
Cocktail: Spicy Avo
Inspired by of her favorite foods, the Spicy Avo combines Peddlers Gin, clarified avocado juice, sheep's milk clarified lime juice, fresh coriander syrup, and dashes of Tabasco in a tall glass with frozen avocado seeds for ice. Garnished with coriander seeds, red chilies, and sugar. Served with an avocado ice cream parfait to subdue the spice.
Jackie Liu
Cocktail: Tiki Summer
Tropical vibes right here. This cocktail combines two kinds of rum: Kraken spicy dark rum for its strong coffee and caramel notes, and Plantation light rum to enhance the sweetness. It's combined with Malibu, coconut syrup, and vanilla syrup, salt and black pepper, and dashes of Tabasco.
Mariela Alfonzo from Gotham East
Cocktail: Marla's Tab
This drink uses a base of lime-emulsified avocado and a simple syrup infused with roasted cilantro and garlic. The inspiration? Guacomole and margaritas. Creole Shrubb orange liquor, fresh lime juice, Tabasco (both red and green), and Derrumbes Mezcal are added, stirred, and shaken. Garnished with a scoop of guacamole served in avocado pith with a single nacho.
Guang Di
Cocktail: Black Strap
It's herbal and sweet on entry with a kick at the end. DOM Benedictine for the base with rum to bring out the sweetness, Cacao Brown dark liquor for bitterness and notes of orange and vanilla to suppress the spice of Tabasco.
Zhao Yang from Bitter
Cocktail:
Made with ginger syrup, black and red berry juice, Hi Tequila Anejo, roasted lemon juice, and salt, with a few dashes of celtuce bitters and garnished with ginger and olive. It's fruity, spicy, and light.
The Winner
Julia Markina from Osteria, a rustic Italian restaurant and oyster bar on Jinxian Lu came out on top with a gin-based drink with avocado.
Plus: A Tabasco Themed Brunch at Bird
Bird has a new chef, Jonathan He, to continue with the east-meets-west creative small plates.
To start, he's fashioned a Tabasco themed brunch, available on July 14-15.
Here's what to expect: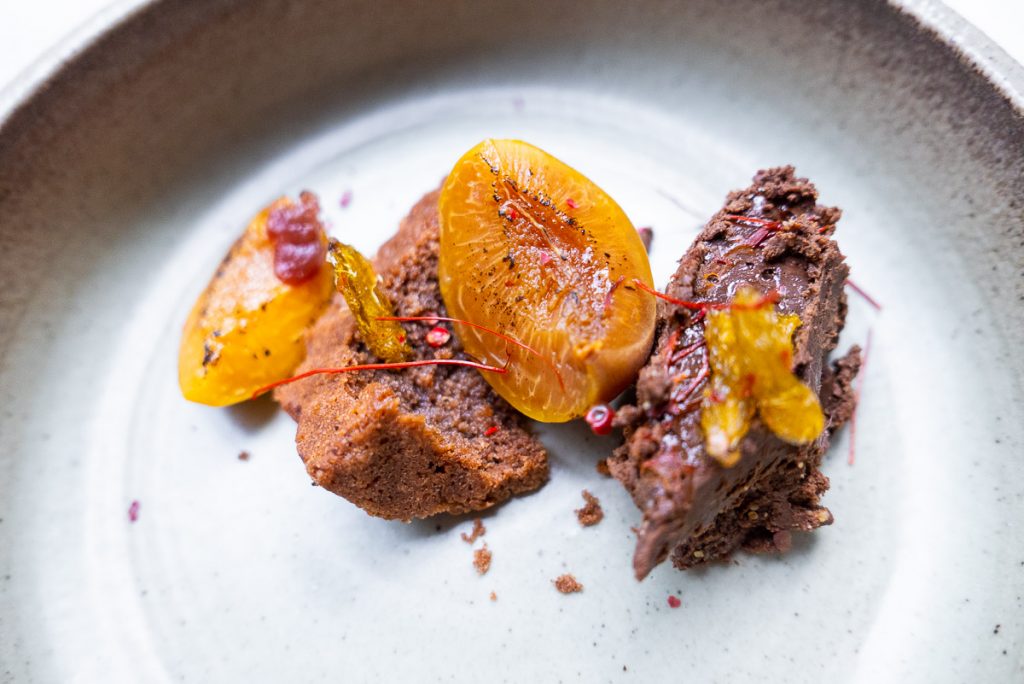 More Photos
---
Tabasco
TABASCO® brand products are made by McIlhenny Company, founded by Edmund McIlhenny in 1868 on Avery Island, Louisiana. It was there that he developed the recipe for TABASCO® Original Red Pepper Sauce that's been passed down from generation to generation.
House of Taste
House of Taste is a nationwide distributer and an expert in food service ingredients, including Chinese sauces and spices.
CloudFB
CloudFB is a collaborative online platform leveraging mobile technology to connect suppliers and restauratns across China. CloudFB manages orders, delivery, and payment on one convenient platform with full transparency and attention to quality. Scan the QR code below to join.