To combat the summer heat, here are 4 restaurants in Shanghai where you can eat ceviche, the raw fish "salad" from Latin America, namely Peru. It's zesty and zingy, sometimes spicy, yet light and refreshing.
Ceviche is made with fresh raw seafood quick-cured in lime juice with spices, chili, onions, and cilantro. The marinade even has a name—leche de tigre or "tiger's milk".
The acidity in the citrus juice cooks the raw seafood, and ceviche is always made-to-order to ensure optimum freshness. Traditionally, sea bass or flounder is used, but any variation of seafood is possible. Customary accouterments include cancha (toasted corn nuts), fresh corn, sweet potato, and diced peppers. Be sure to use a spoon, so you can scoop up that delicious marinade.
Here are 4 restaurants for ceviche in Shanghai:
Colca (Hengshan Lu)
Address: 199 Hengshan Lu, near Yongjia Lu 衡山路199号2楼, 近永嘉路
Tel: 54015366
Hours: Daily, 11am-3:30pm, 5pm-midnight
Colca has made its mark in Shanghai for its Peruvian fare, and has become an all-occasion destination since opening in 2017. Serial restaurateur Eduardo Vargas has been a spirited advocate for his home country's cuisine, bringing honest, elevated Peruvian food to Shanghai.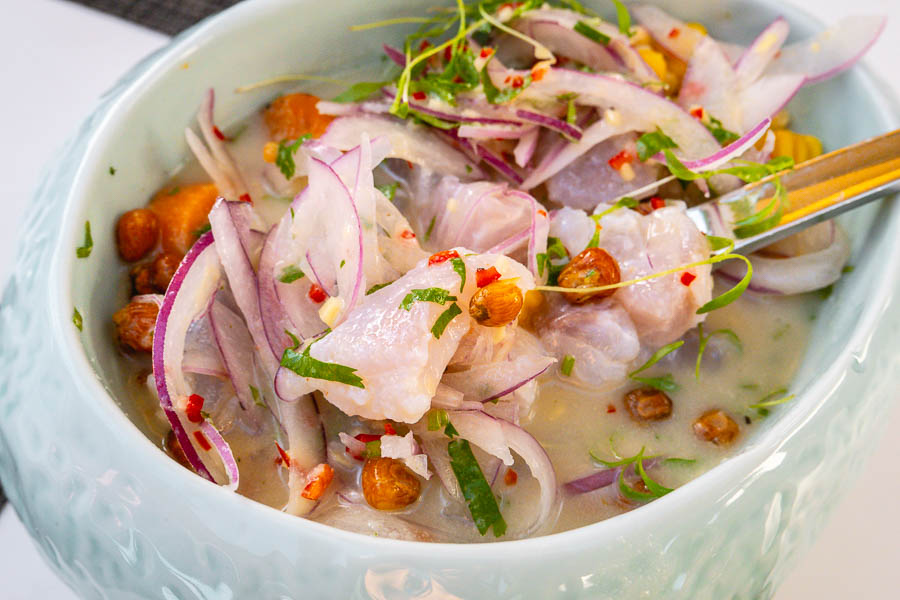 Colca Hengshan Lu has four options for ceviche on the menu: Ceviche Apasionado (¥108) made with tuna and passion fruit, the house special Ceviche de Colca (¥118), the very traditional Don Ceviche (¥148), and a portion of each with the Trio Ceviche (¥198). I lean towards the traditional Don Ceviche.
The Don Ceviche is a meal in itself. It's a whopping 150g portion of barramundi, cubed and quick-cured in leche de tigre, served with alongside sweet potato, corn, cancha, thinly sliced raw red onions, and finely diced sweet peppers. It's fantastic and great for sharing.
---
El Bodegon
Changning: 2/F, 326 Panyu Lu, near Fahuazhen Lu 番禺路326号2楼, 近法华镇路
Tel: 62260780
Hours: Mon-Fri, 5pm-10:30pm; Sat-Sun, 12pm-10:30pm
Jing'an: 4/F, 83 Changshu Lu, near Julu Lu 常熟路83号4楼, 近巨鹿路
Tel: 54651275
Hours: Mon-Fri, 5pm-10:30pm; Sat, 12pm-10:30pm; Sun, 12pm-10pm
el Bodegón is a casual Argentinian steakhouse and Peruvian restaurant with two locations in Shanghai, Jing'an and Changning. They have developed a cult following over the years for being a no-frills, great value steakhouse.
They have three ceviches on the menu, but my personal favorite is the Ceviche Bodegon (¥65/small, ¥115/large), the spiciest of the three with the edition of crispy fried calamari. It's a traditional ceviche with sea bass quick-cured in leche de tigre, topped with calamari, onion salsa, sweet corn, sweet potatoes, and lettuce. It's a hearty portion, has a good kick of spice, zingy, and oh-so appetizing.
The other two ceviches are Ceviche Clasico (¥60/¥110), which is exactly like the Ceviche Bodegon, just less spicy and minus the calamari, and the Salmon Ceviche (¥80/¥130).
---
Tacolicious
Address: 34 Yuyao Lu, near Haifang Lu 余姚路34号1幢, 近海防路
Tel: 13023124950
Hours: Daily, 11am-10:30pm
When you think of Tacolicious, ceviche probably isn't the first thing that comes to mind. In addition to double-shelled tacos, burritos, and loaded fries, Chef Thijs has also done a bang up job with his ceviches. There are three on the menu: a more traditional white fish (¥65) and a lighter, a not-so-spicy shrimp (¥65), and an octopus (¥65). If I had to choose, I'd go for the octopus.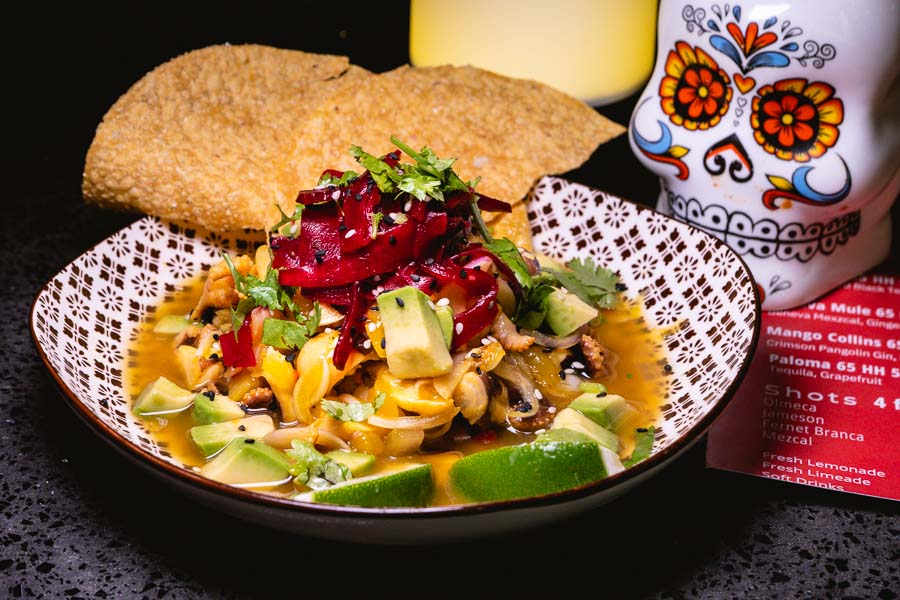 Baby octopus is par-cooked, then marinated with a mango curry that's fortified with lime juice, citrus, and house garam masala. It's then tossed with cubed avocado, shallots, and cilantro, topped with black sesame seeds and house-pickled beetroot. It's sweet, spicy, and zesty.
Oh, and it comes with two large fried tortilla chips to scoop and soak up that delicious dressing. It's non-traditional, but it's very enjoyable.
---
RAW Eatery
Address: 2/F, 98 Yanping Lu, near Xinzha Lu 延平路98号2楼, 近新闸路
Tel: 62418568
Hours: Daily, 5:30pm-1:30am
RAW Eatery and Wood Grill is a steakhouse and Spanish restaurant by chef-patron Juan Campos. Josper-fired steaks, charred blue fin tuna jaw, and tartares are standouts on the menu, along with tiraditos and ceviche.
It's not everyday you encounter a ceviche made with blue lobster. RAW Eatery's Nikkei Blue Lobster Ceviche (¥368) pays respect to a superior product by preparing it in a way that highlights the qualities of fresh lobster. Blue lobster is naturally sweet and has denser fibers, making it an excellent choice for quick-curing.
It's meat from a whole blue lobster quick-cured with leche de tigre and a 3-kombu dashi, along with seasonings and aromatics of crushed garlic, orange peel, coriander, mirin, soya sauce, chili, star anise, and ginger. It's infused for 24 hours then served with avocado mousse, black causa, coriander oil, fresh green apple, and celery. A delightfully refreshing appetizer before diving into a hearty steak.