Looking for the best restaurants/grocers to get rotisserie chicken in Shanghai? This list has you covered.
Whole roasted chicken is a versatile option when you want to feed a family or to have delicious reheatable leftovers for a couple days.
If I can't finish a whole bird, I usually save the chicken breast for sandwiches and I never miss the opportunity to make chicken stock with the carcass.
---
Where To Get Rotisserie Chicken in Shanghai
DODU
Jing'an: 81 Changshu Lu, near Julu Lu 常熟路81号, 近巨鹿路
Tel: 64315176
Hours: 11am-10pm
Pudong: Unit 5, 2108 Yanggao Zhong Lu, near Fangdian Lu 杨高中路2108号5号, 近芳甸路
Tel: 13761143711
Adjusted Hours: 4:30pm-9pm
Delivery: Eleme, Meituan, Sherpa's, WeChat: DODU_ROAST
DODU is a French restaurant in Shanghai serving up rotisserie chicken and other roasted goodness. What I like most about DODU—besides the fact that these are plump, larger than normal birds—is that they're free-range, hormone-free, and antibiotic-free. They ensure this by working directly with a farm in Chongming where chickens are raised, fed naturally, and delivered fresh to the venue daily.
Chickens are ¥118/half, ¥218/whole, and you can mix and match sides and sauces with sets (¥78/quarter, ¥152/half, ¥292/whole).Plus, they have other roasts—duck, lamb leg, ham, and crackling pork roll (personal favorite, pictured below).
I recommend ordering via their delivery platform on WeChat (DODU_ROAST) or scan the QR code on the menu to order.
---
Hot Chick
Address: 397 Jiaozhou Lu, near Wuding Lu 胶州路397号, 近武定路
Tel: 15821768605
Hours: 11am-11pm
Delivery: Eleme, Meituan
Hot Chick is a humble rotisserie and bar on Wuding Lu operated by the same crew as Barbarian and Bites & Brews. The self-described "cheeky, fun, and flirty" rotisserie does whole roasted chickens (original flavor or French herb) with a variety of sides, salads, and rolls.
Hot Chick is a great option for affordable whole roasted chickens—a whole bird is only ¥118! It checks all the boxes for being juicy and flavorful.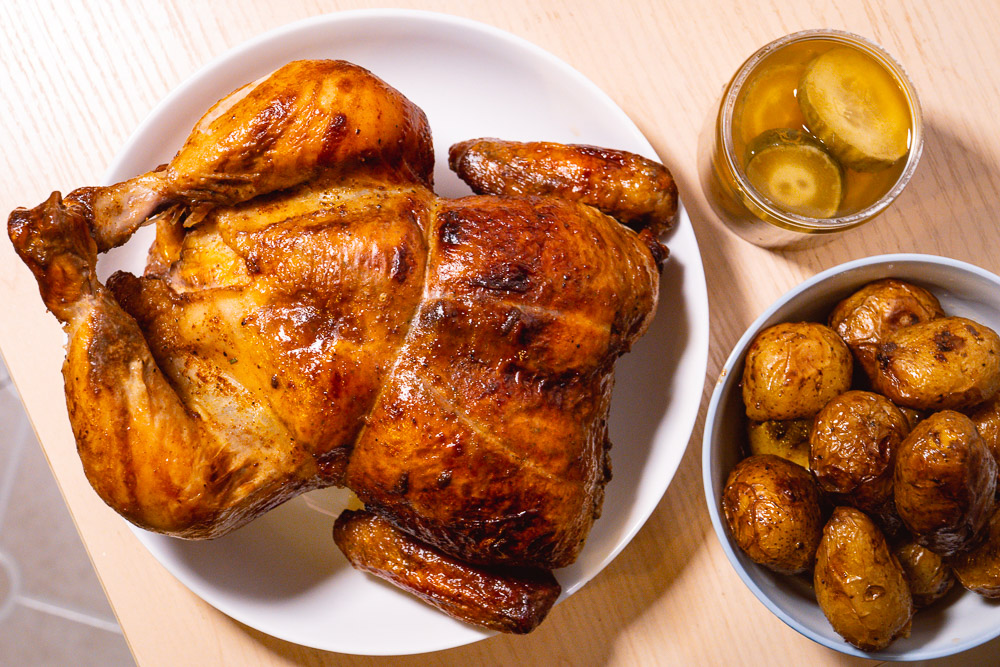 Sides include roasted baby potatoes cooked in chicken drippings, corn on the cob, roasted pumpkin, and rice. Plenty of sets available, including individual portions, along with sandwiches, soups, and salads. Menu below for more pricing.
---
ALDI
(Multiple Locations)
Jing'an: 1/F, 428 Jiangning Lu, near Wuding Lu 江宁路428号1楼, 近武定路
Xuhui: 1/F, 381 Wanping Lu, near Xietu Lu 宛平路381号1楼, 近斜土路
Hours: 7am-9pm
Delivery via WeChat: ALDI奥乐齐商城
Retail giant ALDI has a German-style roasted chicken marinated with lemon, garlic, and rosemary for only ¥39.90! Costco might have run out of chickens, but ALDI's doing just fine. Get these birds via delivery (scan QR below for the WeChat mini program and search "chicken") or pick-up in-store.
---
Heat Rotisserie
Address: 199 Maoming Bei Lu, near Weihai Lu 茂名北路199号, 近威海路
Tel: 32205689
Hours: 11am-11pm
Delivery: Eleme, Meituan
Heat Rotisserie does traditional French-style roasted chickens. Get a quarter for ¥58, half for ¥108, or whole for ¥208. Sides are ¥23 each, including mashed potatoes, garlic mushrooms, fries, gratin, roasted pumpkin, and more. Sauces are ¥5 each. Combos with sides available too.
---
Vesta Bistro
Address: 1/F, 1551 Nanjing Xi Lu, near Changde Lu 南京西路1551号1楼, 近常德路
Tel: 62898098
Adjusted Hours: 11am-8pm
Delivery: Meituan or Shansong
Vesta is a bistro at the Jing'an Kerry Centre serving an amalgam of tapas, pastas, salads, and bites. They take a sanhuangji (three yellow chicken, named for their yellow feathers, feet, and beak) and marinate it in Red Amber Lager and soya sauce. The birds are then given a rub of butter, mustard, rosemary, lemon juice, brown sugar, salt, and pepper, and roasted "vertically". Roasted chicken is ¥68/half, ¥128/whole.
---
Mr Willis
Address: 3/F, 195 Anfu Lu, near Wulumuqi Lu 安福路195号3楼, 近乌鲁木齐路
Tel: 54040200
Hours: Open from 11am
Delivery: Bang, La Strada, Henkes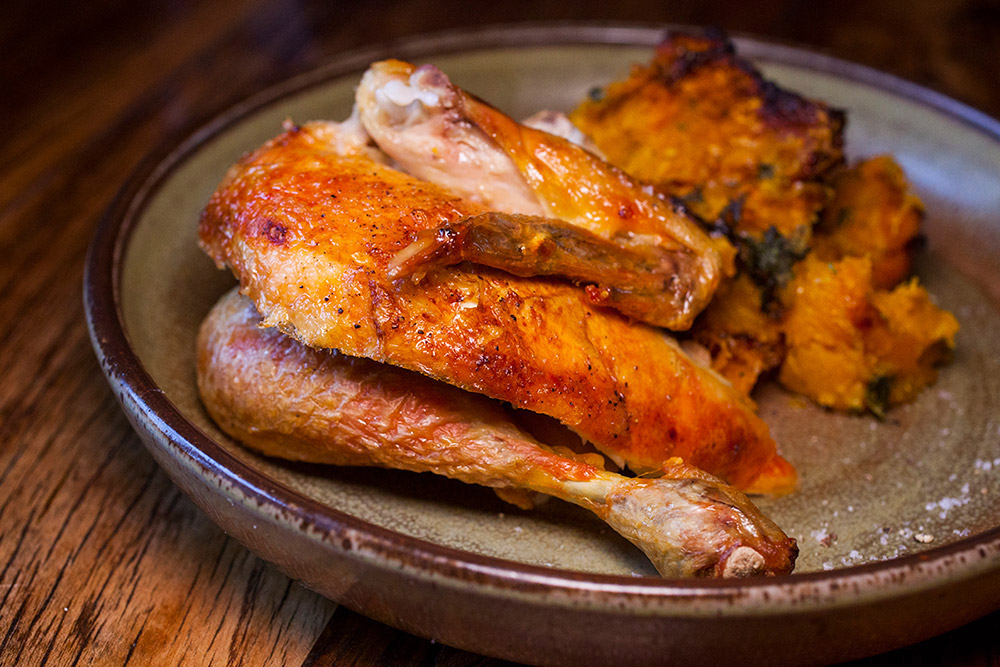 Mr Willis has been churning out their roast chicken since 2009. The chicken (¥135/half, ¥248/whole) is marinated with salt, lemon, curry leaves, and cinnamon. Any order of chicken comes with pumpkin gratin—diced pumpkin tossed with garlic, parsley, flour, and extra virgin oil. Mr Willis isn't offering delivery, but you can get it delivered from Bang, La Strada, and Henkes.
---
Brut Eatery
Multiple Locations
Zhaojiabang Lu: 238 Zhaojiaobang Lu, near Shaanxi Nan Lu 肇嘉浜路238号, 近陕西南路
Tel: 64086783
Jiangning Lu: 445 Jiangning Lu, near Wuding Lu 江宁路 445号, 近武定路
Tel: 52920592
Reduced hours: 8am-10pm
For dine-in only, available at all locations. Cutesy cafe Brut Eatery has a Thai-style Roast Chicken (¥98) marinated in coconut milk that comes with a side of roasted carrots.
---
Liquid Laundry
Address: 2/F, 1028 Huaihai Zhong Lu, near Donghu Lu 淮海中路1028号, 嘉华坊2楼, 近东湖路
Tel: 64459589
Adjusted Hours: 11:30am-9pm
For dine-in only. Gastropub Liquid Laundry has rotisserie chicken on the regular menu. These birds are slow-roasted on their tumbler and come served with their house sauces, Original, Asian Persuasion, "Hot As Shit", and BBQ. Half a bird is ¥138 and comes with two sauces, whole is ¥228 and comes with all sauces.
---
City Shop
Multiple Locations
Shanghai Centre: B/F, 1376 Nanjing Xi Lu, near Xikang Lu 南京西路1376号, 上海商城B楼, 近西康路
Xuhui: Novel Place, 131 Tianyaoqiao Lu, near Xingeng Lu 天钥桥路131号, 近辛耕路
Hours: 8am-10:30pm
City Shop's rotisserie chicken is as old as the expat bubble. They're the OG of import stores and their roasted chicken still reigns the cheapest, priced consistently over the years at ¥38 for a whole chicken. You can get them delivered via Eleme or pick them up in store. Multiple locations throughout Shanghai.