Wolfgang's Steakhouse is an international franchise known for top grade dry aged USDA prime beef. The Shanghai outpost opened late 2018, making it the brand's second location in China following Beijing's 2017 arrival. The steakhouse has 11 locations worldwide and counting.
(Wolfgang's Steakhouse = not to be confused with Wolfgang Puck's.)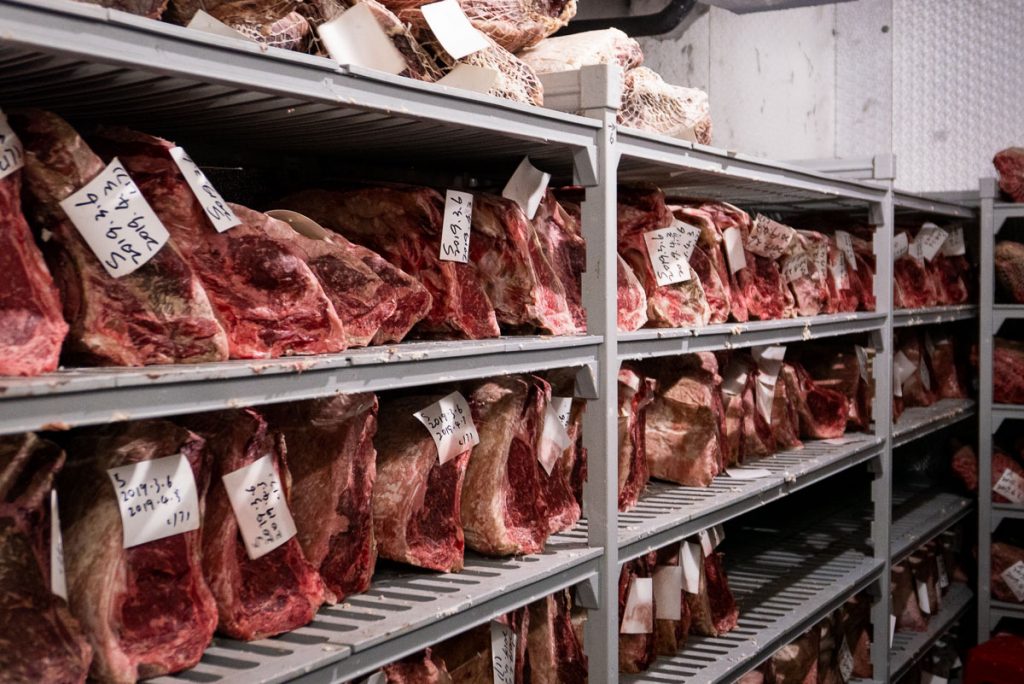 About the space
Wolfgang's Steakhouse is located on the ground floor of a mall across from the W Shanghai hotel in Hongkou district.
It seats 200 people across a main dining room, bar area, a side section that doubles as a private space, and six private rooms.
I got there on Monday night and the place was heaving.
What's the deal? Why is this place so popular? (Note: Shanghai affluent diners are notorious for sticking to their comfort zones of Jing'an and Xuhui districts.)
Here's a simple explanation: In China, beef is king. And for one, the majority of Wolfgang's clients are locals. Tack on the luxury treatment of dry aging and an internationally recognized brand and you have a foolproof recipe for success.
The food
Wolfgang's Crab Cake (¥280) is, for the lack of a better word, amazing. It's a sizable mound of chunky and flaky crab (none of that food processor crap) with a charred exterior. Served with thick tartare sauce and squeeze of lemon.
The Sizzling Bacon – Extra Thick (¥38) is salty, crisped, and exquisitely charred with smoky notes. It's heavenly, but I'm here for unadulterated steak.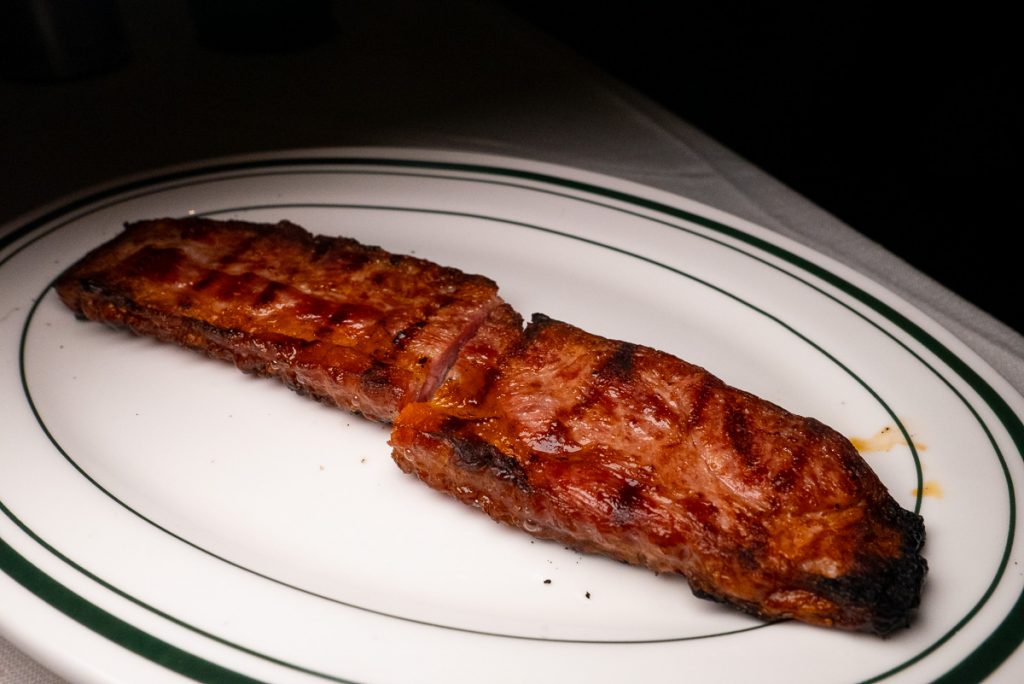 The star is the 1.5kg bone-in Porterhouse (¥1,600). The steak is cooked at 900 degrees in a gas oven, charred and sectioned up, served sizzling in light butter on a scorching hot plate.
Experiencing this steak is like a hot and heavy evening with a long lost lover.
A pour of ruby red Beaulieu Vineyard Cabernet Sauvignon, Napa Valley (¥175/glass, ¥860/bottle) brings the meal to its climax. It's sweet, fruity, delicate, full-mouthed and persistent red.
As a penance for your guilty pleasures, there's the Beverly Hills Chopped Salad (¥88). Pay your steak dinner forward with a mixture of spring peas, cucumber, corn, red cabbage, carrots, lettuce, peppers and crumbly feta.
Desserts are monstrously portioned or "American sized" as it was so described to me by the staff. The Cheesecake (¥98) is so rich it glues your mouth shut, and the three-scoop Häagen-Dazs ice cream Hot Fudge Sundae (¥88), which by the way, is an excessive amount of ice cream for one human to ingest in a single sitting.
In summary
Wolfgang's Steakhouse Shanghai goes through roughly 1.5 tonnes of meat a week. The average check here is upwards of ¥1,200 per person with drinks.
The restaurant commands a strong regular clientele, from chicly dressed folk to those in shorts and flip-flops. The latter most definitely has keys to the latest Lexus. Regulars aside, other tables are celebrating anniversaries and birthdays.
The signature porterhouse is nearly ¥2,000 after the 10% service charge. You're now wondering if it's all worth it.
Let me put it this way: There are people who eat for sustenance, and there are people who eat for the experience.
Here's another photo of the steak. That should answer your question.
---
Wolfgang's Steakhouse
Address: 1/F, Sinar Plaza, 588 Dongchangzhi Lu, near Xinjian Lu东长治路588号白玉兰广场1楼,近新建路
Tel: 55829715
Hours: 11:30am-10:30pm