Charlie's, beloved purveyor of burgers and shakes, has just opened Charlie's Beer Garden, an upgraded version of Charlie's in a joint collaboration with Beijing craft beer brand Great Leap Brewing.
Located in Jing'an, Charlie's Beer Garden has 10-14 craft beers from Great Leap on draft at any given time, plus launches of new brews. Beers start at ¥35 for a pint, excellent pricing for craft beer.
Hidden Noble IPA (4.7% ABV, ¥50), Banana Wheat (4.2% ABV, ¥45), East City Porter (5.2% ABV, ¥45)
This Charlie's serves a "test kitchen" menu, which features Cantonese food and pizzas, in addition to all the Charlie's staples. The space also has an epic rooftop for al fresco eating and drinking.
The Space
Charlie's Beer Garden is located within the City Oasis complex on Wuding Lu. You'll see the sign for 1101 Wuding Lu outside—just head all the way into the lane.
It's a three-story building with plenty of seating on the first floor, as well as a small outdoor area in front; the second floor is the kitchen.
The rooftop is going to be the destination. It's a huge, open-air space that accommodates more than 100 people. There's also a bar fitted with taps to better expedite the beer drinking.
The Food
In addition to the burgers, hot dogs, and milkshakes, Charlie's Beer Garden serves dishes that no other Charlie's has. The "Test Kitchen" menu includes Cantonese dishes and Cantonese BBQ like crispy pork and char siu, which make for great beer snacks.
It is also the debut of Charlie's pizzas, which are excellent! There are 15 different pizzas on the menu. The pizzas have a great crust—airy, pliable, and with a chew—and have a wide variety of flavors/toppings from mac & cheese to Tom Yum. (Personally, I favor the ones with Southeast Asian flavors.) Soon to feature will be "test" dishes, whereby founder Charles will turn his new ideas into reality.
Here's what to order at Charlie's Beer Garden: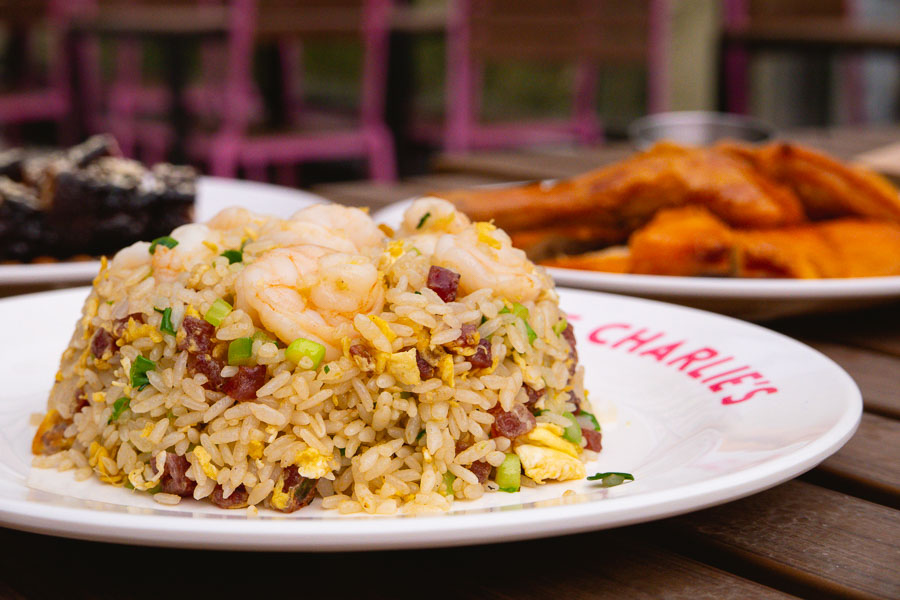 As for the pizzas, I can say with absolutely certainty that Charlie's has done a marvelous job in creating a great product. Pizzas are available in two sizes, large (40 x 15cm) and mini (9-inch). And for some, you can even choose the sauce base, which includes options of tomato, pesto, and roasted garlic cream.
They also have a happy hour, starting from March 12. Every Monday to Friday from 2-8pm, get any mini 9-inch pizza and two glasses of Great Leap craft beer for ¥100. After March, they'll be locking in selected flavors of pizza/beer instead of giving you the run of the menu.
They also have usual spiked (¥55) and regular milkshakes (¥45), basic cocktails, soft drinks, and other bottled beers.
And if you didn't already know, all Charlie's locations are dog-friendly, inside and outside. On the rooftop, they have little hooks on the walls for you to leash your dog, and they also have dog treats on the menu.
It's a great new spot in an already busy part of town. The highlight is definitely the rooftop terrace and the ease of access to craft beers from Great Leap.
Here's an additional beer deal for you: Receive five coupons of 20% off Great Leap beers when you register via the Charlie's mini-program. Only for new members; more information available in-store.
Grand Opening Party
Charlie's Beer Garden in collaboration with Great Leap Brewery is throwing an opening party on March 12, Saturday. Early-bird is ¥100, which gets you three Great Leap beers and one hotdog. Tickets at the door are also ¥100, but only gets you the three beers.
Scan the QR Code in the poster to get your tickets!
---
Charlie's Beer Garden
Address: 1101 Wuding Lu (inside City Oasis), near Yanping Lu 武定路1101号, 近延平路
Tel: 52667662
Hours: 11am-11pm