La Siesta, an Andalusian restaurant bar for tapas and drinks, pita pocket sandwiches at Just Pocket, and cheese and wine concept Mozzarella e Vino.
---
La Siesta
Address: 600 Shaanxi Bei Lu, near Xinzha Lu 陕西北路600号, 近新闸路
Tel: 15021705817
Hours: Sun-Thu, 5pm-midnight; Fri-Sat, 4pm-1am; closed Mondays
La Siesta is an Andalusian restaurant and bar on Shaanxi Bei Lu from chef Sergio Moreno, formerly of The Commune Social and Issac Ye, one of the partners at Tres Perros.
It's located next to Bambino and bares a similar layout. La Siesta is small and cozy with bar seating on the first floor and tables on the second floor. The décor is minimal with blue Andalusian tiles framed on eggshell white walls.
As for the vibe, it's similar to that of Tres Perros in how everyone starts the evening seated, and then shortly after being fed, are all standing with a drink in hand.
Andalusia is the southern part of Spain, surrounded by the Mediterranean and Atlantic Seas. The region dates back to the Roman Empire and has a culturally rich heritage, birthing a diverse cuisine with influences from the Romans and Arabs (Moors).
The menu at La Siesta features some adulated favorites of the region, from cold soups to gambas pil pil and Flamenca eggs, which is mighty similar to a shakshuka. Fino wine, tasty tapas, seafood, summer soups, hearty stews, and cold beer.
That's basically the entire menu.
As for drinks, house wine, red or white is ¥38. Jerez fino is ¥55, Estrella Galicia is ¥25 for a small glass (so it stays ice cold and fresh) or ¥30 for a 330ml bottle. Gin and tonics start at ¥55, and there are a couple house cocktails from ¥40.
La Siesta is currently in soft opening, dinner only. Lunch will come later on.
---
Just Pocket
Address: 227 Yanping Lu, near Kangding Lu 延平路227号, 近康定路
Tel: 62099902
Hours: Daily, 10am-10pm
Food and drink street Yanping Lu keeps expanding. The latest entry on the strip is Just Pocket, a casual eatery slinging tasty pita pocket sandwiches.
Just Pocket is founder Lyn's first venture into F&B. Born and raised in Shanghai, Lyn spent time in the Netherlands and Austria, where she noticed sandwiches were popular as a healthy grab-and-go food. But, she remarked, that cold sandwiches don't cut it for the Chinese audience, and can be seen as "too bready." Hence, the hot pita sandwich concept was born.
Located on the quieter end of Yanping Lu, Just Pocket has a modest space with a café vibe. On the menu are five sandwiches, a couple salads, and a requisite steak, among others. The sandwiches are very tasty and portions are perfect for lunch. Venue is dog-friendly.
For drinks, an Americano is ¥26, fresh juices are ¥45, wine by the glass starts from ¥58.
---
Mozzarella e Vino
Address: No. 101A, Bldg 6, 8 Hengshan Lu, near Wulumuqi Nan Lu 衡山路8号6号楼101A室, 近乌鲁木齐南路
Tel: 18521361282
Hours: Daily, 10am-11pm
The new Hengshan 8 development, corner of Hengshan and Wulumuqi, is quickly filling up with F&B concepts. One of them is Mozzarella e Vino, a European-style eatery with cheese at the forefront.
Mozzarella e Vino (MeV for short) is all about highlighting their deli counter products, mostly cheese. They even have a mozzarella molding machine from Italy to form their own balls of cheesy, milky goodness. That said, burrata is a signature brunch item, as well as baked camembert.
Apart from buying cheese and cold cuts by weight from the counter, they also do a range of dishes. The menu features usual suspects like roast chicken, steaks, and pastas, and brunch highlights Dutch pancakes and breakfast plates.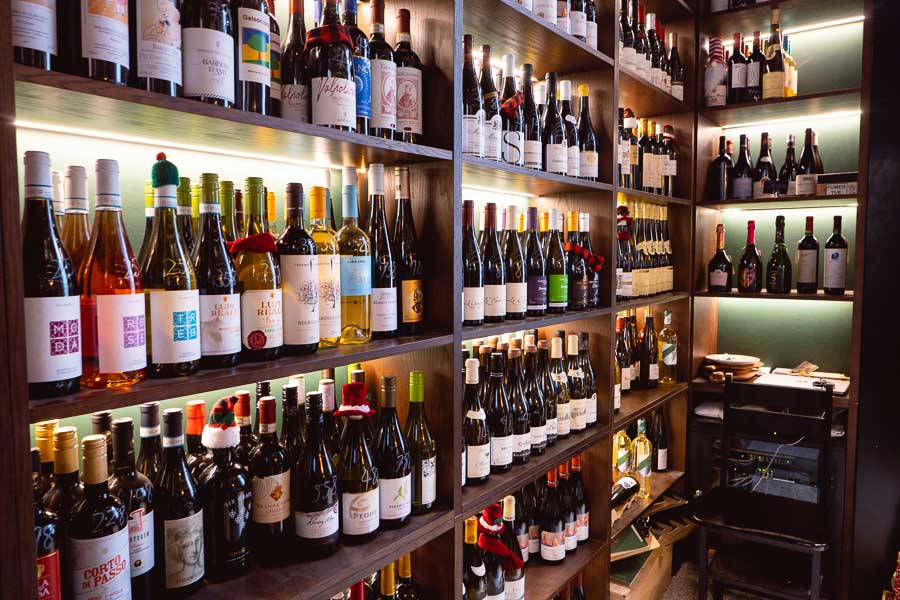 Overall, the Dutch pancakes were a big win. Good for a chill brunch. Wines by the glass from ¥68, bottles from ¥198.
MeV also boasts a lovely terrace. The entire Hengshan 8 complex is dog-friendly.