Dim Sum Society, also known as Yi Long (壹笼) is a Cantonese restaurant on Donghu Lu that does traditional Guangdong food with flair, dim sum, and cocktails.
Nomfluence Readers get 50% off the flaming crispy chicken and more. Click here to book!
Dim Sum Society | Yi Long – 壹笼
Located on Donghu Lu in the former Havana space, Dim Sum Society's perch has it slightly off the radar. Tucked away on the fifth floor, access is via the elevator on the right of Alimentari.
The space is gorgeous. If you think Dim Sum Society looks like a movie set, you wouldn't be wrong, as it's the design was inspired by a few famous films.
The interiors draws inspiration from classic Hong Kong films like Wong Kar-Wai's "In The Mood For Love," Grand Budapest Hotel, and The Great Gatsby.
There's an old-timey concierge greets at the entrance, a eight-seater bar, a tea and wine bar, an inconspicuous wine cellar, and crescent banquets against the windows. A grand staircase curves up to the second floor, leading to the four private rooms and lounge area. The largest private room seats twelve.
During the day, its bright and sunny, a lively setting for dim sum lunch. Come evening, its dim, sultry, and intimate. Staff in qipaos and white suit jackets adds to the charm and allure.
Cantonese Classics & Dim Sum
On the menu are refined Cantonese classics.
There are many iconic dishes on the menu at Dim Sum Society, and one of them is the Shiqi crispy pigeon from Zhongshan, Guangdong.
These famed squabs from Shiqi district are raised on a diet of feed supplemented with oyster shells, and are processed at 21 days. The breed has even received an honorary certification issued by the Guangdong Zhongshan Shiqi Young Pigeon Association (yes, that's a thing). It's a heritage ingredient with more than 100 years of history.
Another signature and bestseller is the Whole Roasted Suckling Pig Skin. They use 60-day old pigs from Guangxi and roast them in the same way you would Peking duck, trimming and serving only skin. These are thick, crunchy wafers, unlike the thin slivers of duck skin. It's served with the same accouterments of hoisin sauce, scallions, cucumber, and pliable pancakes. The suckling pig is limited to 20 orders a day, pre-order is possible with a deposit.
The Flaming Crispy Chicken is also a house specialty. The bird is seasoned with a house blend of spices and roasted to perfection, then flambéed tableside. It's doused with flaming baijiu, which imparts its sweet aroma onto the chicken. It's also an entertaining show.
The rest of the menu features double-boiled soups, dim sum, live seafood made to order, tasteful bar snacks, and other timeless stir-frys and stews.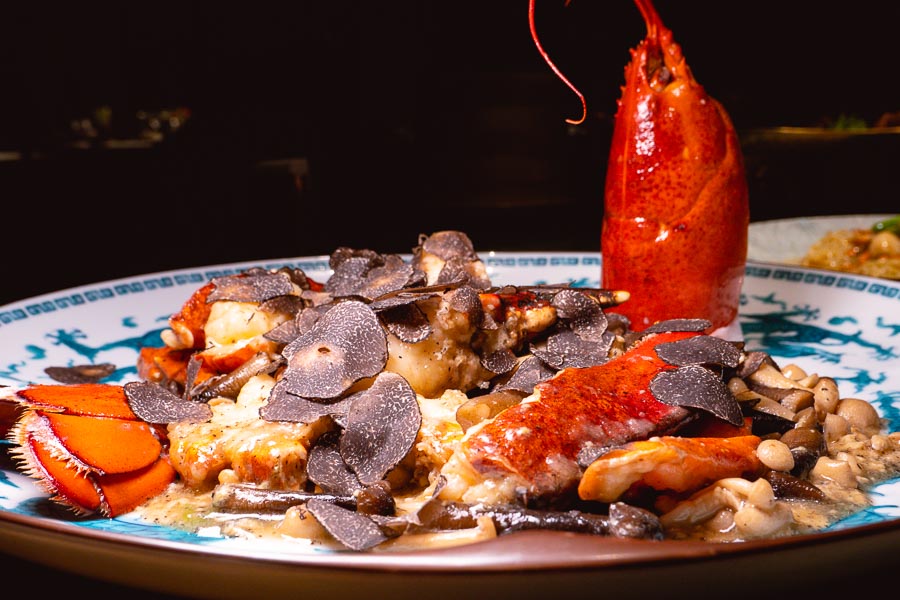 According to Dim Sum Society's founder, the dish might have been created when Prince Charles visited Hong Kong and requested a dish of noodles with ginger and scallion. It's a standard dish at most Cantonese restaurants today.
Select dim sum is available during dinner, including the charsiu baos, which are to die for, mixed steamed dim sum platter, custard buns, and egg tarts. The full selection of dim sum is available from 11am to 2:30pm, daily.
The charsiu baos are incredible. The bread is as fluffy and soft as cotton, encasing a perfect ratio of sweet barbecued pork, a combination of pork face, belly, and neck. The sauce is also house-made.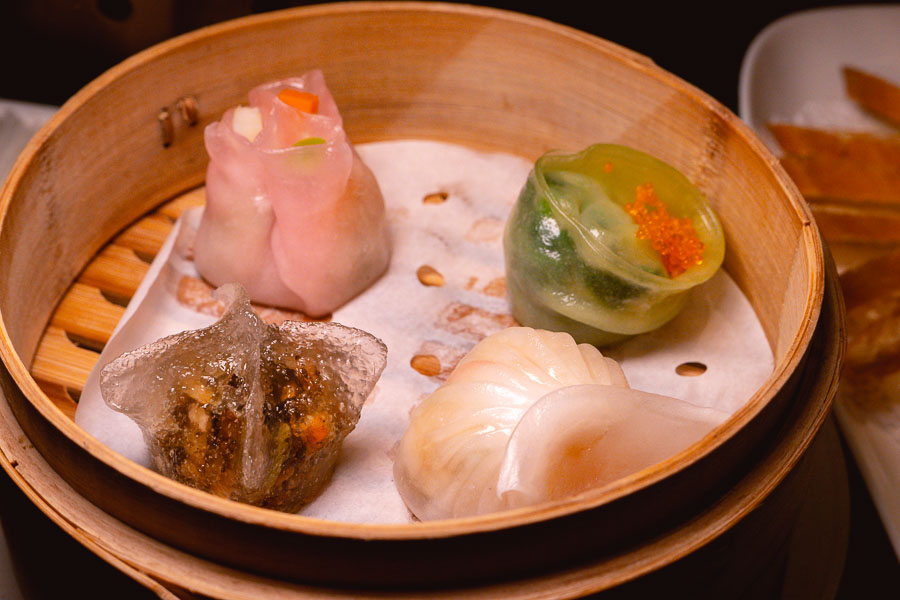 As for drinks, wines by the glass start from ¥78, a Gewürztraminer from France or an Etna Rosso from Italy to some top shelf labels. The cellar has a wide range, entry-level and fine wines, as well as champagnes, sakes, and baijiu.
For cocktails, there are six signatures. All are simple, straightforward, and good, a mix of refreshing fruit and citrus-based drinks and classics with a twist. Priced at a reasonable range of ¥78 to ¥110.
You could do dinner for under ¥350 with a drink, or shell out for some of the premium seafood items and that whole roasted pig. Otherwise, it's a great alternative drinking spot or for daily dim sum, which is about ¥150 for a good lunch. A gem on Donghu Lu.
Recommended dishes: Pigeon, suckling pig, Boston lobster, abalone in salted duck egg, yellow croaker soup, youtiao with foie gras, sweet & sour pork, charsiu bao, dim sum, custard bun.
Nomfluence Readers Deals
The deals below are valid from now until March 31, 2023 for Nomfluence Readers when you book via the QR Code below!
50% Off Flaming Crispy Chicken (original price ¥368, discounted to ¥188), OR

Complimentary selected drink. Limited one per person when dining in for dinner. Selected cocktails (¥78), tea, or soft drinks.
---
Dim Sum Society – Yi Long 壹笼
Address: 5/F, 20 Donghu Lu, near Huaihai Zhong Lu 东湖路20号5楼, 近淮海中路
Tel: 54893336
Hours: Daily, 11am-2:30pm, 5:30pm-10pm