Let's dive right into it: Steaks, all shapes and sizes, from your everyday cuts to staggering tomahawks, on promotion at some of your favorite restaurants in Shanghai.
For a list of burger deals, click here.
Steak Deals in Shanghai
MONDAY-FRIDAY
Morton's
Changning, Monday-Friday, 4-7pm
IFC, Monday-Friday, 5-7pm
iapm, Monday-Friday 5-7pm
Changning: Bldg H4, Raffles City Changning, 1195 Changning Lu, near Kaixuan Lu 长宁路1195号长宁来福士4号古建, 近凯旋路
Tel: 60881699
IFC: IFC Pudong, 4/F, 8 Shiji Da Dao,near Lujiazui Huan Lu 世纪大道8号, 国金中心IFC商场4楼, 近陆家嘴环路
Tel: 60758888

Not steaks, but Morton's Power Hour is legendary enough to be on this list. Buy a drink during the weekday happy hour and get free steak sandwiches. Special prices on beer, wine, cocktails, and bar bites. You'll have to flag the servers down…or sit close to the kitchen doors.
MONDAY-WEDNESDAY + SUNDAY
el Bodegon
Monday-Wednesday, 5-10pm, ¥110 steaks
Sunday, after 4pm, special prices
Changning: 2/F, 326 Panyu Lu, near Fahuazhen Lu 番禺路326号2楼, 近法华镇路
Tel: 62260780
Jing'an: 4/F, 83 Changshu Lu, near Julu Lu 常熟路83号4楼, 近巨鹿路
Tel: 54651275

Get 200g Argentinian grass-fed rib eye, striploin, rumpsteak, or picaña with a side salad and a glass of house wine for ¥110 every Monday-Wednesday from 5pm. Go big with the 300g steak for ¥165. Same deal—includes side salad and a glass of house wine. Changning location has a lovely terrace and is dog-friendly. Jing'an location gets busy real quick.
Plus: Promo on the tenderloin (¥155/200g, ¥230/300g) on Sundays after 4pm, both locations.
MONDAY
Roof 325
Mondays, 6-9pm, BOGO
Address: Shanghai History Museum, 5/F, 325 Nanjing Xi Lu, near Huangpi Bei Lu 南京西路325号5楼, 近黄陂北路
Tel: 63270767

Buy-one-get-one free steaks at Roof 325 every Monday. The steak in question is the grilled Australian Wagyu Rangers Valley M5 Sirloin (¥428), which is a fantastic cut by the way. Comes with stuffed cheese Portobello mushroom, cabernet demi glace, fresh chimichurri sauce, and Dijon mustard. Tables on the roof for al fresco dining with a view of People's Square Park available.
Bar Centrale
Mondays, 5-11pm, ¥368
Address: 135 Yanping Lu, near Wuding Lu 延平路135号, 近武定路
Tel: 62051068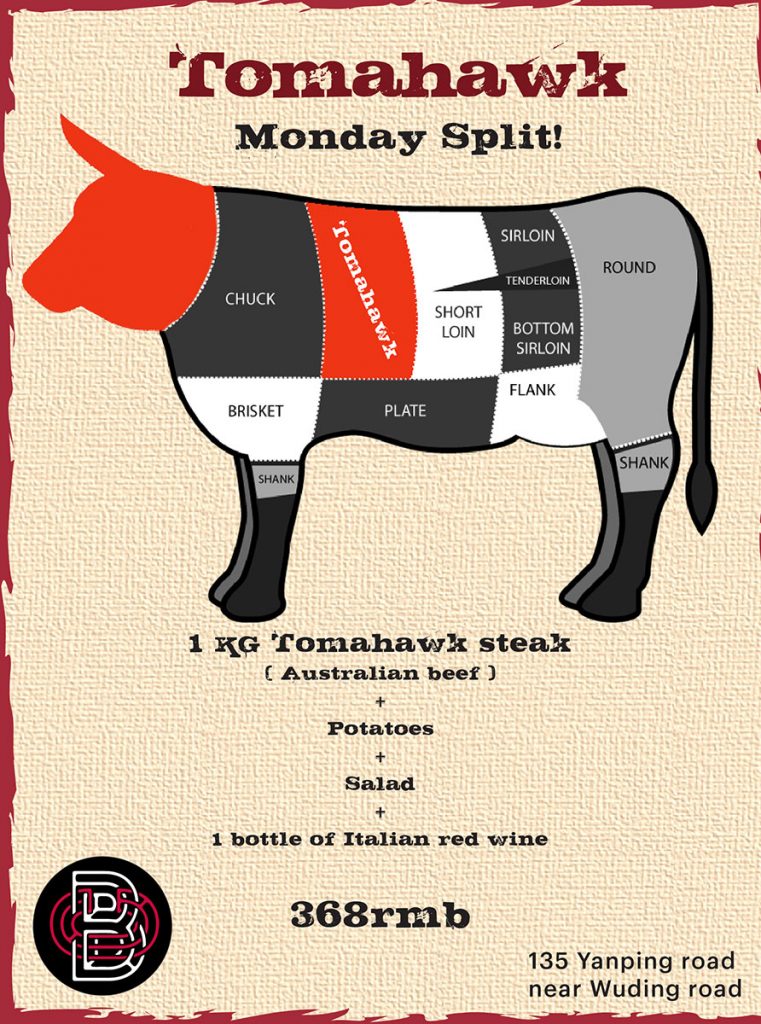 Italian restaurant Bar Centrale does a Monday special: ¥368 for a kilo of Tomahawk steak. Comes with a side of potatoes and salad, plus one bottle of Italian red wine. Pretty damn good deal.
The Shed
Mondays, 4pm-late, 50% Off
Address: 698 Shaanxi Bei Lu, near Kangding Lu 陕西北路698号, 近康定路
Tel: 62376381
Half-price on all steaks (actually, half-price on a menu of more than 30 dishes) every Monday at The Shed. Steaks on the menu include New York Strip (¥54/180g or ¥79/280g), rib eye (¥79/250g), rump (¥89/400g), and T-bone (¥124/320g).
Tuesday
Yasmine's
Tuesdays, 50% Off T-bone steaks
Wednesdays, BOGO Striploin
Thursdays, BOGO Rib-eye
Xuhui: 93 Xiangyang Bei Lu, near Changle Lu 襄阳北路93号, 近长乐路
Tel: 64181138
Pudong: 178 Biyun Lu, near Heisong Lu 碧云路178号, 近黑松路
Tel: 50307886
Each steak comes with two sides, choose from mashed potatoes, fries, or vegetables. For pricing: Striploin (¥198/250g), rib-eye (¥189/200g, ¥298/400g), and T-bone (¥428/600g). Deals do not apply to the wagyu cuts.
Chez Jojo
Tuesdays, 5:30pm-late
Address: 1 Yueyang Lu, near Dongping Lu 岳阳路1号, 近东平路
Tel: 54363662
Casual French restaurant Chez Jojo has a steak deal every Tuesday, serving up a 1kg Australian Angus cote de boeuf for just ¥388. Reservations required in advance. Limited quantities. There's a gorgeous rooftop terrace, too.
Boteco
Tuesdays, 5:30-late, ¥99
Address: B1/F, Found 158, 158 Julu Lu, near Ruijin Yi Lu 巨鹿路158号B1楼, 近瑞金一路
Tel: 15921387107

Picanha (rump cap) cut for ¥99, served with fries and comes with a caipirinha.
Wednesday
Pera
Wednesdays, 11:30am-10:30pm, ¥88
Address: B1/F, Found 158, 158 Julu Lu, near Ruijin Yi Lu 巨鹿路158号B1楼, 近瑞金一路
Tel: 15921803307
The steak (240g) comes with French fries, roasted baby potatoes, cauliflower, roasted green peppers, and tomatoes.
Zeitgeist
Wednesdays, 5-10pm, from ¥99
Address: 537 Haifang Lu, near Xikang Lu 海防路537号, 近西康路
Tel: 32205986
Argentinian beef cooked on a charcoal grill. Sirloin, rib-eye, tenderloin, and weekly special cuts. Each order of steak gains you access to the salad bar. Prices start at ¥99 for 250g of sirloin, goes to ¥439 for 1kg of tenderloin.
Thursday
Must Grill
Thursdays, 7-10pm, all-you-can-eat ¥168
Address: 1/F, Bldg 2, 881 Wuding Lu, near Changde Lu 武定路881号2号楼1楼, 近常德路
Tel: 6176137
This is more roast beef rather than steak, still, a solid deal. Must Grill does an all-you-can-eat every Thursday that includes tapas, beef, duck breast, sausage, and French fries for ¥168.
Pie Society
Thursdays, 3-9pm, half-price
Address: 688 Shaanxi Bei Lu, near Wuding Lu 陕西北路688号, 近武定路
Tel: 62720210
Pie Society's Jing'an location does half-price marinated bavette steak every Thursday. Original price is ¥128. Includes chips and chimichurri. Not applicable on holidays.