Madeleine is a French bakery and patisserie in Shanghai that specializes in artisanal baked goods with a focus on madeleines. They just refreshed their Wulumuqi Lu store, and have also launched new danishes, breads, and desserts.
To kick off, Madeleine is giving away free madeleines in-store and is offering a discount on gift boxes all summer long, from now until August 31.
Read more and get some free madeleines!
About Madeleine
Madeleine's humble origins began in 2016 as a neighborhood cafe and bakery in Qingpu. Today, the brand operates two locations in Shanghai and a factory that supplies baked goods to other outlets around town. Despite the scale, they still see themselves as an artisanal brand.
It actually came into new ownership in July 2021, and have been tirelessly recreating the recipes and enhancing the baked goods, and have switched to high quality raw products. They use natural yeast, and now do 24-48 hour sourdough loaves.
For those in the neighborhood, they've just upgraded their store on Wulumuqi Zhong Lu, giving it a fresh new look, designed by MASS DESIGN, and have added an outdoor seating area and a second floor.
The first floor is a small, cozy space, good for a coffee and croissant, while upstairs is spacious and bright with plenty of seating, and also suitable for small private events. It's pet-friendly, too. The other location is in Yongping Li, which has a larger outdoor area.
Without further ado, here are the highlights:
Madeleines, Danishes, Bread, Cakes
Obviously, madeleines are at the center of it all. There are six flavors available: nuts, coconut, chocolate, berries, lemon, and orange.
This classic French cake uses only natural ingredients and are purely sweetened with honey. They're cold-rested for 24 hours before baking for that desirably spongy texture.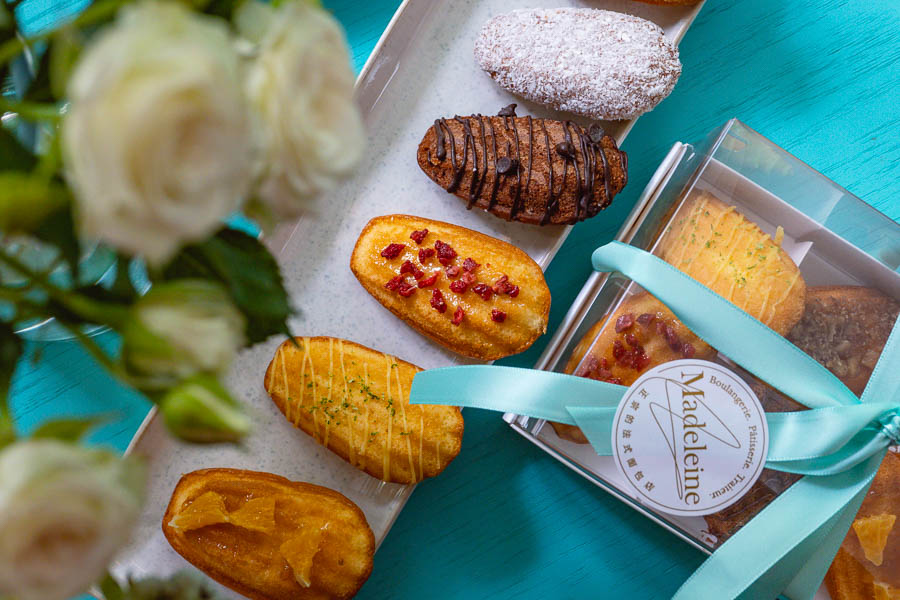 They even have gift box sets, which make for great house gifts. Madeleines are ¥39/three, ¥69/six, or ¥88/nine.
In addition, they also have danishes, sourdough loaves, and cakes. Cakes include a classic tiramisu, a berry tiramisu, and a Basque Matcha, available as whole 6-inch cakes for ¥228 each, or ¥42 by the slice.
Get Your Free Madeleines!
So how does one get some free madeleines?
All you have to do is register as a member on Madeleine's mini-program and click on "complimentary food testing" to receive one free madeleine of your choice. This is only applicable in-store, both Wulumuqi Lu and Yongping Li.
Additionally, all new members get 20% off the madeleine gift boxes, which are available in-store and same-day delivery via the mini-program.
Complimentary madeleines for new members and the discount on gift boxes are valid until August 31.
Scan the QR Code to register on Madeleine's mini-program!
---
Madeleine
Address: 243-5 Wulumuqi Zhong Lu, near Wuyuan Lu 乌鲁木齐中路243-5号, 近五原路
Tel: 64325513
Hours: 8am-8:30pm
Address: No. 2107, Bldg 1, 199 Hengshan Lu, near Yongjia Lu 衡山路199号永平里1号楼2107室, 近永嘉路
Tel: 18201837474
Hours: 7:30am-8:30pm