Lounge by Topgolf is a premier sports entertainment destination in Shanghai. It is likely that your next team building/birthday party/fun night out will be here. And if it isn't, you should really consider doing so, because this place is really fun.
About Lounge by Topgolf
Located near People's Square, Lounge by Topgolf is a beautiful 2,700sqm indoor arena home to a digitized sports playground that includes a 9-hole mini-golf course and multiple Swing Suites (with private entertainment rooms), as well as a full bar and lounge, and dining room.
The food is Pan-Asian inspired, as is the drinks program, courtesy of the chef-bartender team from Shake, Danyi Gao and Colin Tait.
It's brought to you by UK company Topgolf Entertainment Group, which has more than 60 sports entertainment centers worldwide. Lounge by Topgolf is the group's first entry to China.
They'll follow up with Topgolf Chengdu in 2022, a 12,000sqm multi-level flagship complex complete with 104 open hitting bays and an 18-hole mini-golf course. More venues are in the pipeline for China in the coming years.
Entertainment & The Space
Lounge by Topgolf is impressive. Whispers about its arrival go back as early as 2019. Delays aside, the wait has been worth it. It's suuuuuper cool. Definitely a place you should check out.
Before going into the food and drink, I have to talk about the entertainment.
The Lounge has seven Swing Suites simulators, five of which are in private rooms while the other two are in the main arena—open for all to see. These rooms are equipped with a simulation system of technology-enabled sports entertainment, which features more than a dozen games and KTV.
Games, for individuals or multiplayer, include golf, a driving range simulation and more than 80 virtual golf courses from around the world, football, American football, carnival games, and even zombie dodgeball, all on the big screen.
The open Swing Suites are suitable for 10 people, and room rates start from ¥388 per hour. Private Swing Suites can accommodate 6-20 people and start from ¥488 per hour. All minimum 2 hours per booking. There's also a minimum spend during peak hours on food and drink. More details on their mini-program at the bottom of this article.
Then, there's the mini-golf course in the main room. It's a 9-hole game, suitable for 2-4 people. It's designed by one of the world's most prominent mini golf designers, Zachary Pullman, and is inspired by Chinese calligraphy and Chinese landscapes of rice fields and bamboo forests.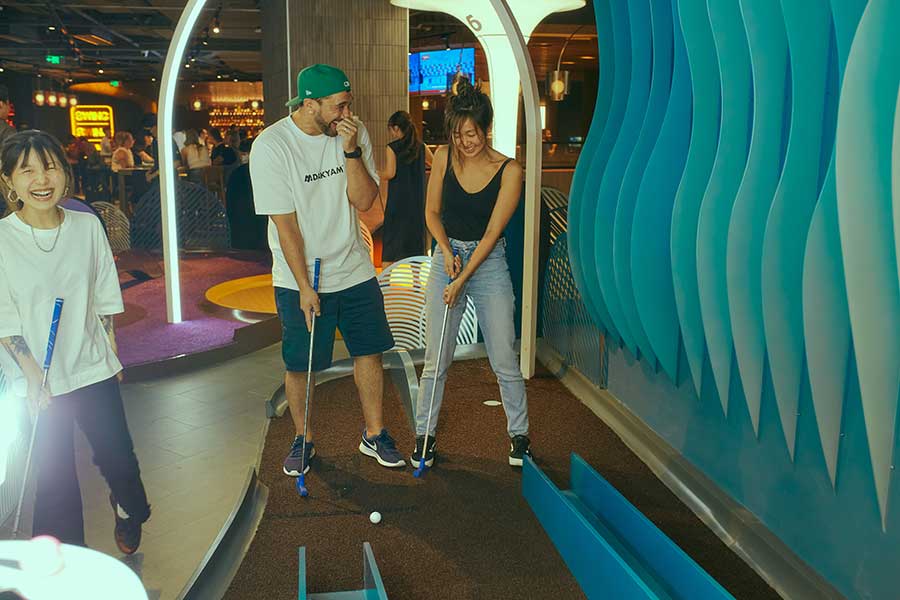 I have never played mini-golf before, but I can say it is much fun. It's suitable for ages 6 and up, so you can even bring your kids through. Detailed pricing is in the mini-program below.
Food & Drink
The Pan-Asian inspired food menu is courtesy of chef Danyi Gao, co-founder of Shake restaurant and bar. It's a good mix of snacky foods, easy-going appetizers and hand-held bites that are easy to share, as well as some heavy-hitting mains. And it's all pretty darn tasty.
Aside from the premium dishes like the seafood tower and high-quality cuts of steak, you could get a good feed for about ¥150.
Here's what to expect:
As for cocktails, Colin Tait, bartender at Shake, is the one behind the drinks program. He's also done a similar Asian-inspired riff on classics cocktails, and these signatures are well-priced, ranging from ¥78-88.
In addition to cocktails, there's also draft beer and bottled beer from ¥48, wines from ¥68/glass, ¥248/bottle, and a number of spirits that fall under many of the Swing Suite drink packages.
Plus, Topgolf also has some pretty cool custom drinks, including "Eagles," three collaboration ready-to-drink cocktails by PAO, and a "Topgolf 3 Putt Lager" brewed by Beast of the East.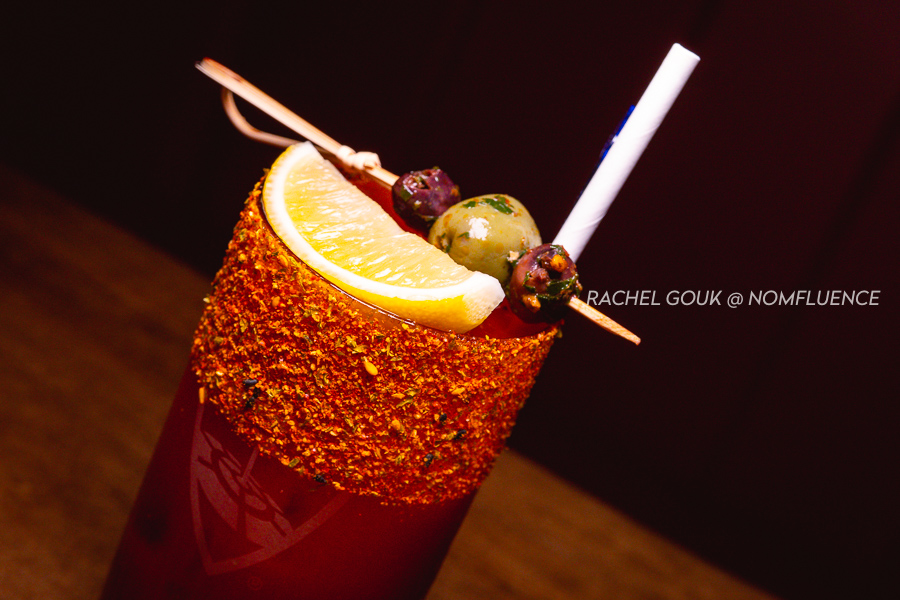 In Summary: Excellent Indoor Entertainment
I can't iterate enough that this is a cool destination. It's already quite popular for team building events since soft opening earlier this month. Plus, the food and drink is good, and it's all priced well. Get a bunch of friends to join in on a Swing Suite or have a go at mini-golf.
Lounge by Topgolf is doing a bunch of new member deals on its slick mini-program. Scan the QR Code below to register and peruse their offerings.
Scan to book a spot at Lounge by Topgolf
---
Lounge by Topgolf
Address: 2/F, Central Plaza, 227 Huangpi Bei Lu, near Wusheng Lu 中区广场2楼, 黄陂北路227号, 近武胜路
Tel: 63357102
Hours: Sun-Thu, 11:30am-midnight; Fri-Sat, 11:30am-2am