Caminetto is a modern Italian bistro with a local twist, led by chef-patron Kelvin Chai, former executive chef at Mercato.
Keep reading for Nomfluence Readers Deals!
About Caminetto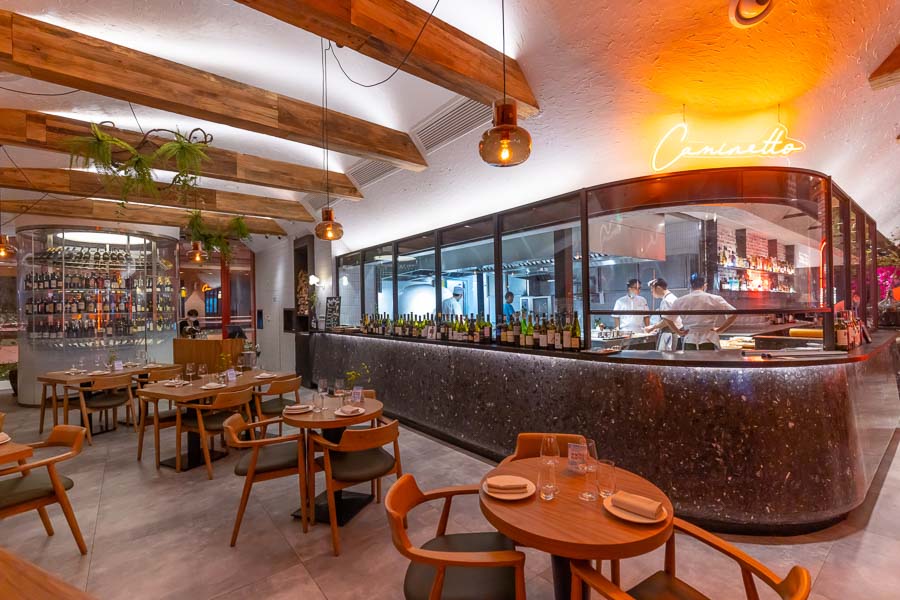 Caminetto is located within The Roof, the new "red building" in Xintiandi. The restaurant is stylish and spacious with a semi-open kitchen, wine cellar, and outdoor seating.
There's also a private room towards the back and a fully stocked cocktail bar. It's a cozy, casual space.
It's led by Shanghainese chef-owner Kelvin Chai, who has been cooking for over a decade, most recently at Mercato, and has traveled extensively throughout Italy. He's one of the few in the new generation of talented Chinese chefs. Caminetto is his first independently run restaurant in Shanghai.
The Food: Fresh Pastas & Pizzas
The food at Caminetto is Italian at its core, but chef Kelvin has given some of the dishes a local twist, inspired by his childhood memories and Chinese ingredients. These influences are subtle, like the spicy shrimp and celery pizza, the cabbage with the halibut, or the fermented chili that goes with the pan-roasted chicken.
The specialties here are wood-fired pizzas and pastas, which are made fresh daily, and locally sourced, organic seasonal vegetables.
Here's what to expect from the menu: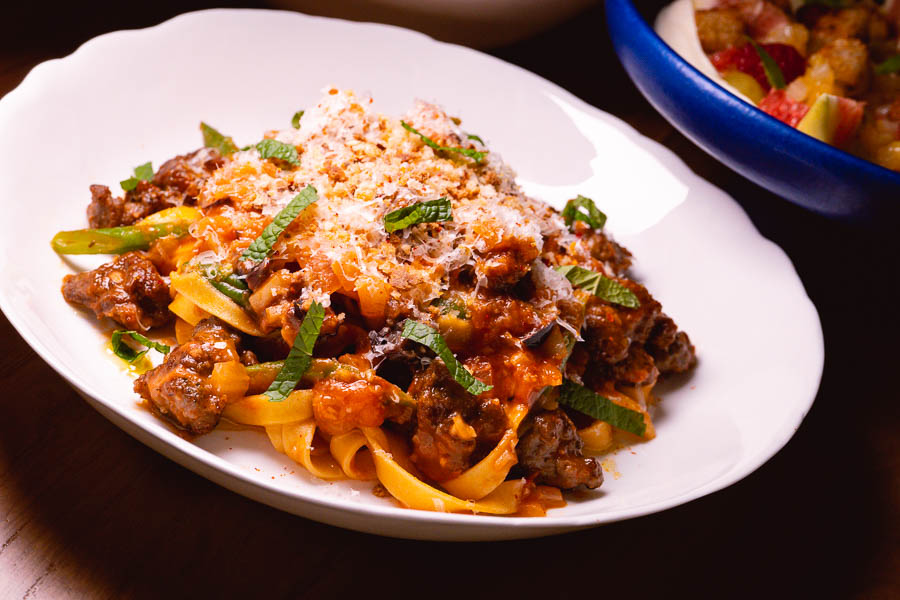 Caminetto also has a curated wine selection featuring mostly regional Italian wines, but also French and organic wines, and of course, the premium stuff like Ornellaia. Wines by the glass start from ¥75, bottles from ¥330.
Brunch: Eggs, Pastas & Wine
They've also just launched brunch. It's a short and sweet menu of eggy mains, pastas, and pizzas; a la carte from ¥58-¥168.
And there are also specials on bottles of wine, starting from ¥199 per bottle.
In Summary
If you haven't attempted making fresh pastas at home before, I'll have you know it takes time and patience. (And boy can it get messy.) I really do enjoy the fresh pastas that Caminetto has to offer and would recommend it, same goes for the pizza. Suitable for date nights and brunch on the terrace.
Caminetto will be adding lunch hours soon.
Nomfluence Readers Deals
The deal below is valid from now until November 7, 2021 for Nomfluence readers. Applicable for brunch and dinner.
Get 10% off your food bill at Caminetto.
---
Caminetto
Address: 1/F, 458 Madang Lu, near Jianguo Dong Lu 马当路458弄, 近建国东路
Tel: 17126677323
Hours: Mon-Fri, 5:30pm-10pm; Sat-Sun, 12pm-3pm, 5:30pm-10pm (10pm last order)