BOR Eatery is a casual dining restaurant that revolves around a seasonal chef-driven menu led by Danish chef Kasper Pedersen. A gorgeous open kitchen takes center stage, drawing diners into the chef's natural habitat.
Seeing as chef hails from Denmark, the food has a Nordic effect. However, having experienced the pigeonhole of cuisine labels at Pelikan, Kasper is adamant about removing said limitations.
And so, BOR is a new beginning for the team. While it does have Nordic DNA, it is flexible, and allows Kasper to experiment and to throw a few curve balls without getting reprimanded by nitpicking diners.
The Food
Kasper makes full use of a dry-aging fridge and a Josper grill, cooking starters and mains over the fire and treating prime cuts of beef with aging.
The menu starts with canapé-sized finger foods like the Josper grilled baby corn (¥32), served with brown butter, corn dip, and crunchy toasted buckwheat.
Appetite stimulating plates like beef tartare (¥80) with pickled mustard seeds, tomato, and fresh herbs, served with fried sourdough stand alongside French Boudeuse oysters (¥198/half-dozen) on the shell. A simple plate of grilled sardines (¥68) is brought to life with a sauce of almonds, parsley, and lemon.
A fun take on the Danish hotdog (¥58) elevates the much-loved street food with a refined touch. Laden with "everything", these mini hotdogs are unsurprisingly tasty. Though, one might guess this dish largely caters to homesick Danes. Personally, I would focus my attention on other dishes during my next visit.
Two fried and cubed scallops (¥80) are tossed in a salad of grapefruit with salted caramel sauce. It's summery. My gripe is that the citrus tends to overpower the smoky scallop.
I'm a big fan of the following dishes.
One of the highlights is the radicchio (¥90), imbued with the smoky aromas from the Josper grill and draped over with thin sheets of salty Serrano ham. At the center is creamy burrata cheese. Olive paste for added taste and toasted buckwheat for crunch.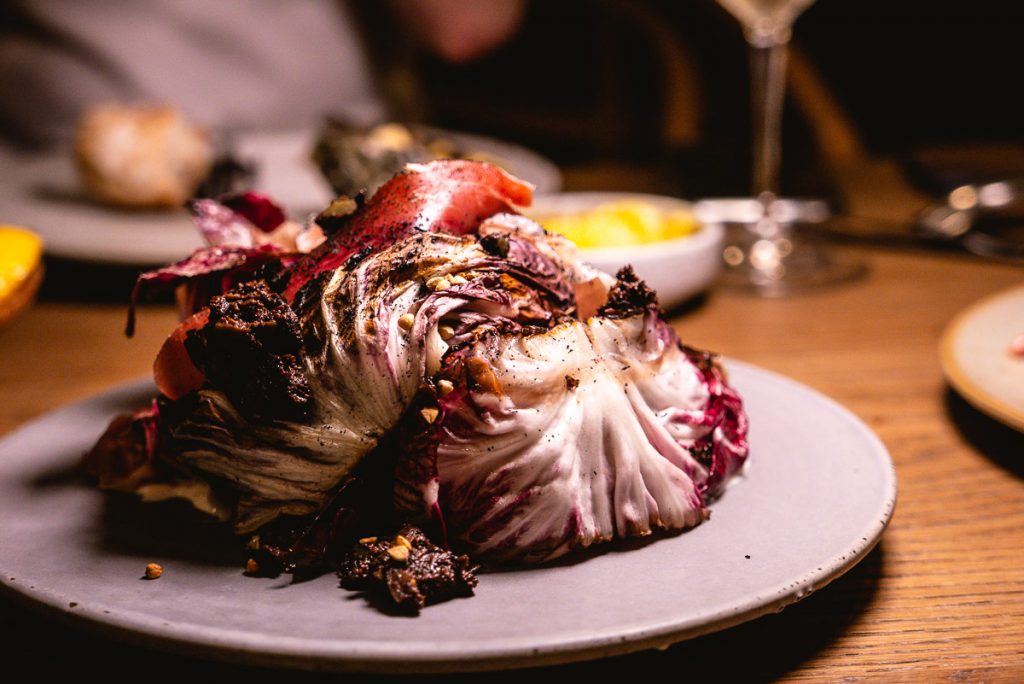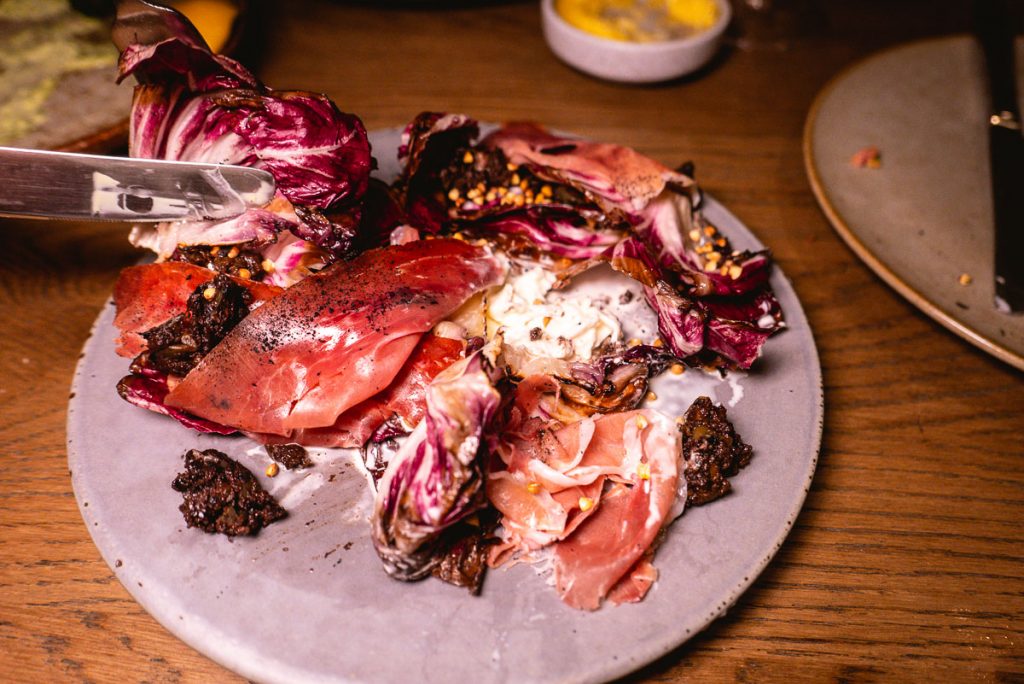 The hot smoked salmon (¥188) is a must-order. It is sugar cured for two days, then hot smoked and finished off on the grill, creating layers of sweet, savory, and smoky. Be sure to polish off the charred skin, too. The grilled jiaozi skins to wrap with pickled mustard seeds and dill pickles are a playful twist, but those dry out quick, and its coarse texture takes away from the salmon.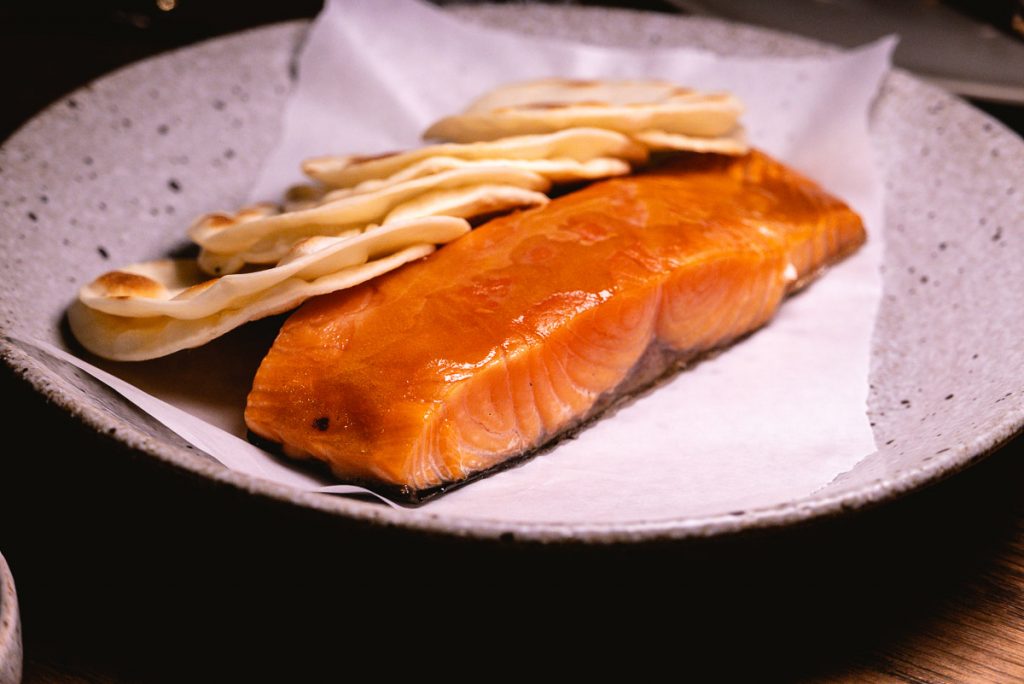 Smoked for four days and then braised for six, the BBQ smoked pork ribs (¥160) is then fat-rendered in the Josper, allowing the sweet and tangy barbecue flavors to seep into the meat. Sour apple, pickled mustard seeds, and shallots cuts the richness.
The charcoal grilled beef oyster blade (¥238) comes with an equally-sized pool of brown butter hollandaise. It sits above a delicious black pepper glaze, accompanied with char-grilled asparagus.
Sides of note include a romaine salad (¥38) with black sesame and salted anchovy dressing. It's simple and satisfying.
Pillowy gnocchi (¥65) are completely submerged in onion cream, garlic salsa verde, and dill oil. Shavings of dried and smoked duck and a few circles of garlic shoots for depth and spice.
For dessert, there's the honeycomb (¥60) with honey ice cream and milk jelly, a crowd favorite at Pelikan that survives by way of popular vote.
The chocolate mousse (¥60) is so rich it glues your mouth shut. Chocolate sorbet and dark chocolate for layers. You'd want to have successive scoops of this dessert.
The bright salted raspberry sorbet (¥50) is a lighter option, ladled over with smooth pine nut oil.
Cocktails start from ¥75 and they have plenty of wines. Mikkeller draft beer for ¥60.
In Summary
BOR is a more mature version of Pelikan, but still casual and easy-going. Plus, it is plenty interactive as Kasper makes time to introduce as many dishes to each table.
I've always been a fan of Kasper's cooking, and once they iron out kinks like fine-tuning dishes and efficiency of service, I'll find myself back often.
Lunch to start in August.
---
BOR Eatery
Address: 2/F, Number 11, 322 Anfu Lu, near Wukang Lu安福路322号11栋2楼, 近武康路
Tel: 62667909
Hours: Daily 5:30pm-late, Sat-Sun 11am-4pm