C Pearl is a seafood and oyster restaurant in the Pudong Century Link, a new mall in Pudong harboring countless eateries and a basement level food court of local stalls.
Eating in a mall in Pudong doesn't inspire enthusiasm. But if Michelin's three-star rating of "exceptional cuisine, worth a special journey" means anything, it is that we can and should travel out of our comfort zone—across the river to a mall, up an elevator, and into a fine establishment for good food.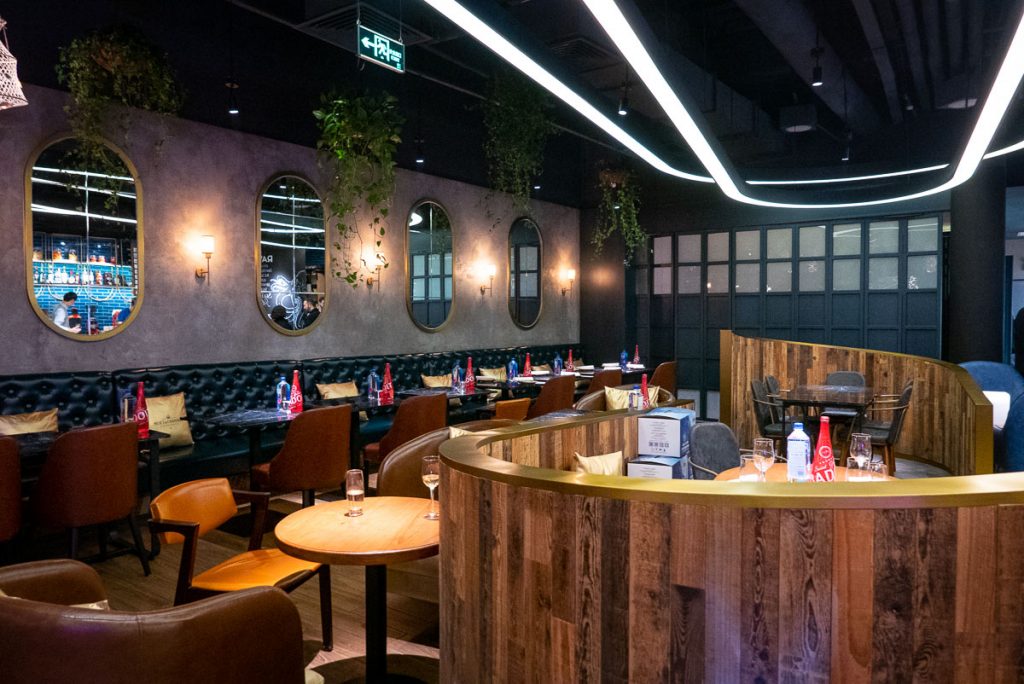 C Pearl isn't Michelin three-star, nor is it one-star. It is, however, an excellent restaurant that serves exceptional food. For those of us who live on "right side of the river," it's worth the journey. For those who are in Pudong, it's one you can bookmark.
The people behind C Pearl
It's led by Elijah Holland, the former head forager for Noma in Australia and is operated by the Oysterlicious Group, who also run Osteria and The Plump Oyster. (Noma is a Michelin two-star restaurant in Denmark by celebrated chef Rene Redzepi. They ran a temporary location in Australia for 10 weeks in 2016.)
You'd think there's not much to forage in a city like Shanghai, but EJ has scrounged and gathered, and has put together a collection of herbs and edible plants that grow on the rooftop space of Botanik, a weather-appropriate pop-up showcasing EJ's craft.
The idea of foraging and eating what you grow is idealistic for this city, but the team's belief and conviction to succeed in that idea is contagious—you'd want to believe it is possible, too.
Chef de cuisine Joshua Moroney runs the show at C Pearl' as EJ is busy with upcoming projects.
About the food
C Pearl is less foraging and more seafaring. Their DIY spirit appears in the form of house smoked meats and fish, and house made kombuchas, teas, and a dizzying array of pickled vegetables. The charcuterie and bread are all made in-house.
Their calling card is fresh, live, local and imported seafood, smoked and fired food over their charcoal grill and wood fired oven. And while they pit themselves as a seafood and oyster restaurant, the meats are just as strong.
The food at C Pearl is not difficult to understand and it's very easy to appreciate. Anyone could walk in and they would find it approachable.
To start
The charcuterie platter (¥80/155) is a sight to behold.
It's a butcher's block of house-smoked meats, a testimony of their craft. A parade of lomo pork loin pumped with aji red chili, celery infused smoky bresaola, mustardy duck prosciutto, duck salami colored black with squid ink, and pickled chilies sets the tone at the start of the meal.
The smoked salmon pastrami (¥65) is a follow up. Thick slices fleshy, taut salmon with delightfully smoky undertones are served with lemon and chive cream and toasted brioche.
The menu has an imposing selection of oysters, from Vancouver Fanny Bay (¥39/piece) to Irish Fat Bastard (¥49), and French Pink Tarbouriech (¥99).
The beer battered oysters (¥90/two) are a one-two punch of savory, sweet, ocean spray umami. The dollop of Bloody Mary mayo and fat crystals of sea salt accentuate the experience.
The herb-crusted garfish (¥70) with sauce gribiche (emulsified hard-boiled egg yolks with oil, finished with capers, parsley, chervil and tarragon) is a more delicate appetizer, lightly crisped with flaky meat.
Aged beef tartare (¥60) is non-traditional, and serves diced dry aged sirloin with sesame seeds, chives, and cured quail yolk. The condiments do takeaway from the fresh meat flavor. Puffed beef tendon for crisp.
For theatricality, the Live Mushroom Log (¥95) is brought out on the log and fired table side, snipped and dusted with kimchi powder. Live New Zealand clams (¥155) are pillowy tender, tossed in sumac and sweet cherry tomatoes.
I could skip the salads and pastas. The pastas are made fresh in-house, but have a less than desirable texture—limp.
There is a simple explanation: local preferences steer the wheel.
Of the pastas, the highlight might be the sea urchin pasta (¥195) with cordycep mushrooms and salmon roe— smothered in velvety sea urchin for wow factor—but it's really the lamb neck ragu (¥95) with sage pasta and pecorino that wins over with rich, complex flavor.
The mains
The whole squid (¥90) is a showstopper. Perfectly cooked, the squid comes stuffed with spinach, garlic, and sour accented fermented potato. It's unusual, and presents an inventive combination of flavors.
Equally enjoyable is the whole turbot (¥140) with garlic, lemon oil, and chervil. It's a succulent and flaky fish, charred over the grill and flavor-sealed.
A favorite is the king fish cutlet (¥130) with sauce matelote and escabeche. The flesh is firm, fleshy, and juicy. It's almost like a steak.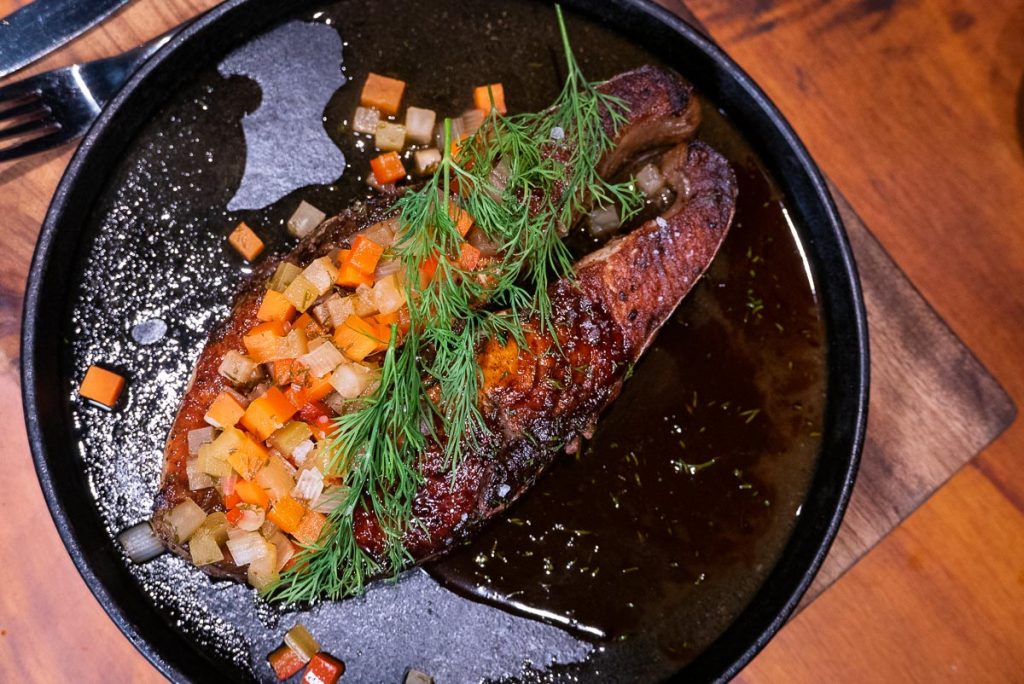 Speaking of steaks, the T-bone M4 Wagyu Steak (¥650) is a knockout. The chunk of meat is encased in lard to age, cracked open and then grilled. It's 500g of meat, which comes with a moreish sweet potato dauphinois, rich oyster cream, and a light spread of Dijon mustard.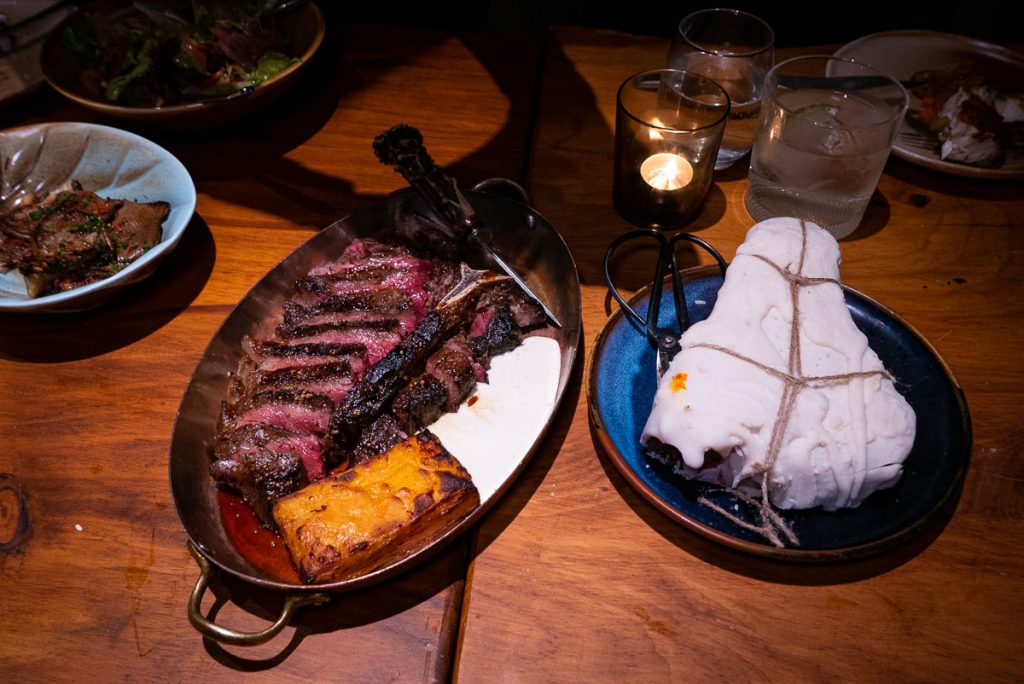 The sweets
Dessert isn't my strong suit. I'm very picky, usually aiming for lemon/citrus inclined sweets or ice creams. Here's what C Pearl has on offer:
In summary
C Pearl is for those who are curious about unconventional flavor combinations, a learning experience that you don't have to go to a fine dining haute cuisine sort of establishment. And for those living in Pudong, it's a solid Western option.
---
C Pearl
Address: 008, 5/F, Century Link Mall, 1192 Century Avenue, near Weifang Lu 世纪大道1192号世纪汇广场5楼空中花园008铺, 近潍坊路
Tel: 50391597
Hours: 11:30am-10pm