Three new restaurants. ZUP Pizza Bar for Chicago's tavern-style pizza, yoshoku "Japanese-western" food at Rumor, and brunch at cozy cafe and bar Empty Jar.
---
ZUP Pizza Bar
Address: B205, 2/F, 291 Fumin Lu, near Donghu Lu富民路291号2楼B205, 近东湖路
Tel: 13730752073
Hours: 5pm-11pm (soft opening)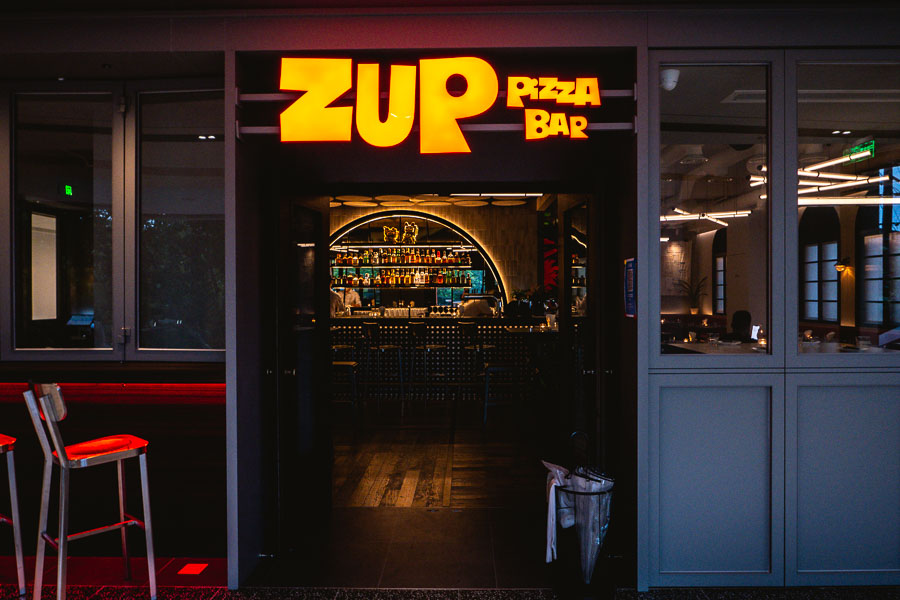 This one is a long time coming. ZUP is a pizza bar that specializes in Chicago-style grid-cut tavern-style pizzas, brought to you by Wayne Hou (Nonna Ruth pop-ups) and Lee Tseng (Boxing Cat Brewery, Liquid Laundry).
The thin-crust tavern-style is the pizza of choice for Chicagoans, rather than the loaded, extra thick deep-dish pizza. It is so named because it gained popularity in bars, as the crispy square-cut pizzas proved a convenient and tasty snack that kept patrons happy as they enjoyed their libations. That said, ZUP aims to evoke the same bar / late-night vibe with a dimly lit dining room and mood-setting playlist.
There are 11 pizzas on the menu currently, all tavern-style 14-inch grid-cut pies. They're thin, crispy, and oh-so good. (I could totally finish a whole 14'' by myself.) Plus, they also do some hella tasty appetizers and bites to share.
They'll also do an Upside-Down Sicilian, a thick crust pizza that's more like a foccacia, but with an uber crispy bottom and even crispier sides. It's cheese first, then toppings. Only available on Fridays and Saturdays after 10pm, limited quantity.
As for drinks, draft beer starts from ¥45, classic cocktails from ¥55, and wines by the glass from ¥60.
ZUP Pizza Bar says they're still in soft opening, but damn, I believe they're ready. Go forth, eat pizza!
---
Rumor
Address: 208 Xinle Lu, near Donghu Lu 新乐路208号, 近东湖路
Tel: 15821685722
Hours: Daily, 11am-10pm
Just a couple paces away from ZUP is Rumor, a tiny café brimming with character that does yoshoku, a style of Japanese cuisine influenced by western/non-Japanese food. The best example of a yoshoku-style dish is a hamburger steak served over rice. Other yoshoku classified dishes include tonkatsu and Japanese curry, which they also have at Rumor.
It's a small and cozy space with old school banquettes and retro décor. There are a few tables on the tiny spot of outdoor space too.
The menu is simple with about a dozen dishes. The hamburger steak is the signature. These fluffy housemade oblong patties (200g) are served with rice or buttered toast with a variation of sauces from the peppery demi-glace to one with sea urchin and foie gras.
As for the pork katsu, it's pretty tasty, but with a breading that is thicker than I'd prefer. It's drenched with a tasty Japanese-style sweet curry.
Coffee starts from ¥28, teas from ¥35.
It's straightforward, unfussy food. As for dinner, they do stock wine, but the menu isn't diverse enough to make it a dinner destination in my opinion. Still, it's affordable and satisfying, and good for the nearby working crowd or for when you're really craving this kind of food.
---
Empty Jar Cozy Hub
Address: B-102, M+ Plaza, 850 Xikang Lu, near Xinfeng Lu西康路850号马利M+园区B-102, 近新丰路
Tel: 19102137680
Hours: Tue-Sun, 11:30am-11pm
Empty Jar Cozy Hub Gin & Wine is a café and bar located in M+, a small complex that's filled with numerous F&B outlets. It opened late last year, but hasn't really taken off until now.
Walk into the complex towards the flight of wanghong stairs (hey, whatever works) and Empty Jar is on the left. The interiors are simple if not humble. Most desirable, especially now that the weather has cooled, are the two al fresco seats. Plus, the compound is dog-friendly.
The food is casual Western with a healthy take, highlighting many vegan and gluten-free dishes. They also have a slow-cooked beef brisket shakshuka and a hefty breakfast plate with fish instead of sausage. It's all very well executed and affordably priced. The dishes feel very "clean". Although I felt full after the meal, I didn't feel heavy. Also, service is excellent.
They serve an all-day brunch menu and dinner; some dishes overlap.
Wines are mostly natural or organic, and the selection rotates seasonally, glasses start from ¥68 and bottles from ¥330. And like the name suggests, they serve a wide range of gin & tonics, starting from ¥66 a glass, as well as house signature cocktails from ¥88.
Good for casual lunch/brunch and easy-going dinner if you're in the neighborhood.