Update: Maison Lameloise Shanghai was awarded one Michelin star in the Michelin Guide Shanghai 2020.
---
Maison Lameloise Shanghai one of the newest restaurant openings. It's located on the 68th floor of China's tallest building, the freshly minted Shanghai Tower. It's French, it's fine dining, it's the only other location of its French original, one that has received laudations of the highest European standard.
I ate there, and we'll get to that, but first, some background.
About Maison Lameloise
The OG Maison Lameloise is in Chagny, Burgundy. The restaurant has been maintaining its heritage for almost a century (established in 1921) and is deemed an institution of French gastronomy.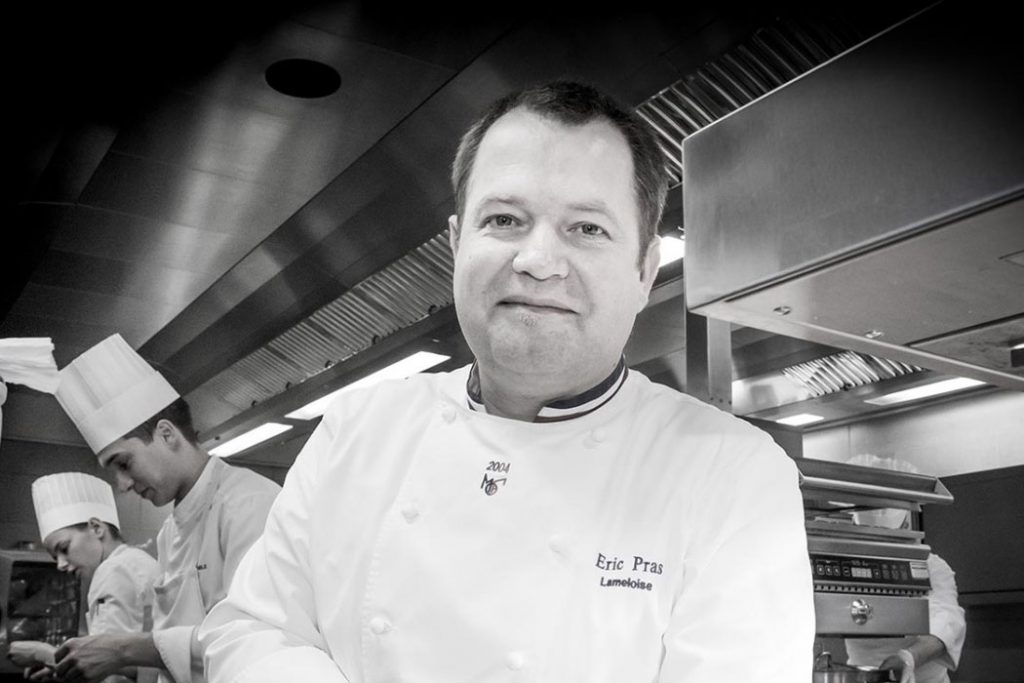 Eric Pras is the chef who is now keeping this national treasure on course. Joining in 2008, he succeeded from third-generation chef Jacques Lameloise only a year after, and maintaining the Michelin 3-star rating, a rare feat seeing as the reins were just handed over.
Enter Executive Chef Yann Klein, the captain of Shanghai's Maison Lameloise. He's from Alsace, and like Pras, entered the kitchen at a young age and spent his youth running full tilt through the rigors of French culinary arts—Institut Paul Bocuse and a minimum number of starred restaurants to break him in.
He joined Maison Lameloise in May 2012, working alongside Eric Pras. Joining him are three other colleagues: Restaurant Director Pierre Lafargue, Pastry Chef Guillaume Gautier, and Chief Sommelier Maxime Duval. All of which have trained and worked in Chagny and will carry forth that level of hospitality.
[Unfortunately due to time constraints, I was unable to go during dinner. I would have loved to try the chef's signature Duo of Langoustine, pictured above. That matters little, as I will be back soon, because lunch was an ambrosial feast. If that sentence isn't a clear enough indication, here's the disclaimer: many descriptor words lie ahead. ]
Lunch at Maison Lameloise Shanghai
The meal starts with a flurry of amuse bouches.
The parade of appetizers is a quick display of their culinary finesse—green bean mousse, red wine sausage sandwich with gherkin butter, and a tartlet of trout tartare.
The bite that follows, escargot and butter in squid ink breading, flaunts their expertise. The thin breading holds a warm mixture of butter and escargot together. One bite. It bursts in your mouth, releasing melted butter and tender escargot. You want to savor the moment. Food like this ruins me for future eating.
Next, a classic Burgundian dish. The "Oeuf Meurette" is a signature appetizer at Maison Lameloise in Chagny. The meurette sauce is a concentrated base of red wine, stock, and vegetables, seasoning and technique. It's served with a poached quail egg. It's got a delicate touch and a full bodied, deep flavor that travels far beyond what you would expect.
And then only do the actual lunch courses start. (We order one of each from the 3-course lunch so we can try more, obviously.)
A snail consommé and confit octopus is served in a thin tart with seasonal vegetables. The garlic mousse and licorice broth gives it depth, making the tender pieces ever so enjoyable.
The petit serving of half cooked salmon and smoked salmon pales in comparison. It's the lighter option, and comes with green and white asparagus, quinoa, confit egg yolk, orange granite, and herb juice. It's well executed, but loses to the complex snail and octopus.
The cod entree is a league above the salmon. Steamed and served with celeriac and spheres of bomba rice, the cod is drizzled over with a rich clam mariniere sauce perfumed with parsley and saffron. It is an unexpectedly luxuriant dish, and balances the freshness of the fish and the headiness of the sauce very well.
The lunch highlight at Maison Lameloise Shanghai is the Yellow Chicken. A roasted breast and confit leg, bronzed to a sticky sweet finish on the skin, tender meat with flavor through and through. A minute more in the oven and it would have been too much. Served with grassy artichokes, gratinated pasta with comte, and whole grain mustard.
Pre-dessert is a cup of tapioca and pineapple sorbet. It's refreshing, kind of like the Michelin chef version of a pina colada.
The Chocolate & Blackcurrant is one for the chocolate fiends. The velvety waves of chocolate are sandwiched between soft cacao biscuits, joined with a confit of blackcurrant with ginger. It's perhaps too rich for my palate.
I may not be a big dessert fan, but I am a big lemon dessert fan. So I was expectant when I saw the Lemon & Jasmine on the menu.
An egg-sized ball of lemon mousse is served with almond biscuit, lemon sorbet, and jasmine granita. It's as bright and sunny as it looks. It is divine. It's what lemon dessert lovers like myself enjoy.
At this point, I'm fuller than I'd like for a working day lunch. Then, they bring out the petit fours.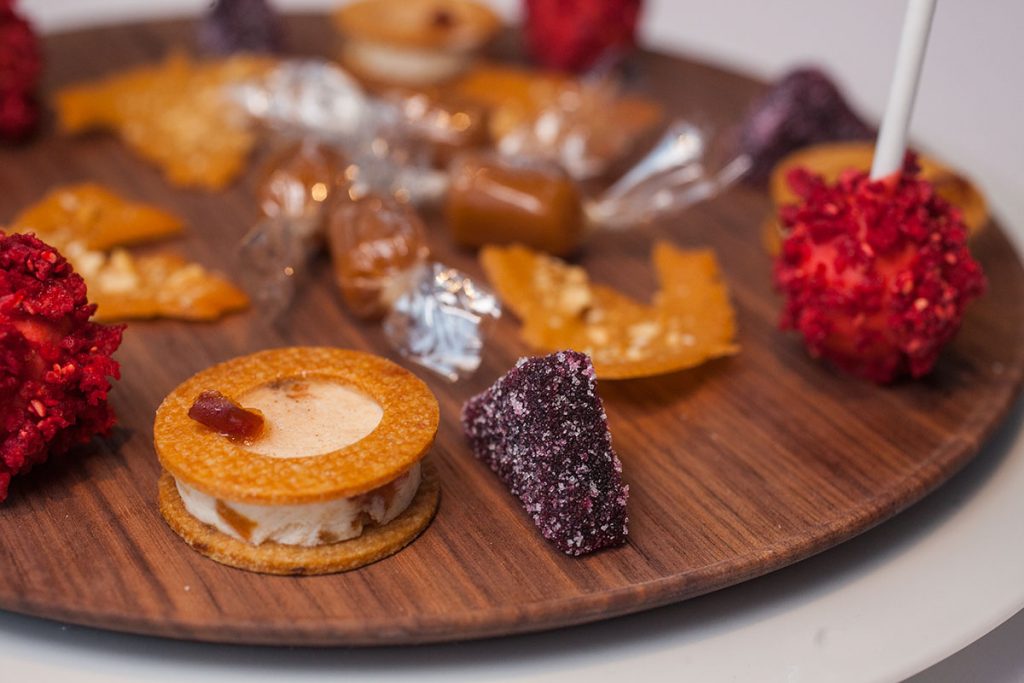 K.O. Maison Lameloise 1-0 Me.
The Environment
Seating wraps around the outside so everyone gets a view, while the kitchen takes up the inner ring of the restaurant. There are a few elevated platforms leading up to larger group tables, maximum 10.
Stained glass partitions, faux stone tiles, and heavy carpets. I'm not sure I understand the fabric hanging overhead…unless it's there to block out the sun, which we were told, can be very harsh. They'll be adding curtains.
It's not the most up-to-date in terms of décor. It is very clear that more thought was put into the food, cutlery, and wine selection. But I guess the night sky and view will compensate with wow factor.
How Much Does It Cost?
Lunch 3-course ¥488
Dinner 3-course ¥1,688; 4-course ¥2,088
Grand Menu ¥2,588
Plus 15% service charge
I didn't get to see the wine menu.
With prices like those, it's clear that they're targeting a certain clientele, which is not unlike the Chagny Maison Lameloise—honeymooners, anniversary couples, and hardcore fine dining gourmands sing praises of the experience.
Those with fat wallets and corporate cards will be the first to jump at Maison Lameloise Shanghai, followed by those looking to celebrate a special occasion. The dinner experience would be marvelous to say the least.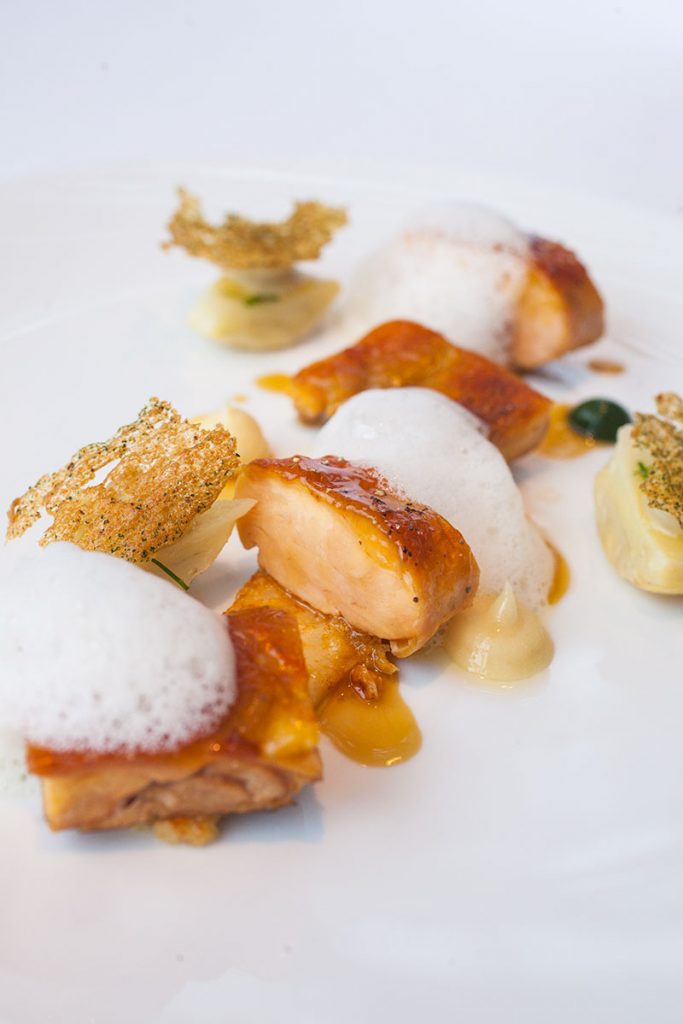 OMG that was a long read so let's get to the summary:
The execution and technique is unmistakable. It is clear that the big boys from France are in town. Each leaf, dehydrated garnish, foam or droplets of sauce are calculated and precise, adding depth, accents, and character to the dish. It's not just aesthetics.
Maison Lameloise delivers on excellence. If they keep with this consistency, they will be heading for the Michelin guide.
Of all the hyped up openings, this one lives up to it.
---
Maison Lameloise Shanghai
68/F, Shanghai Tower, 478 Lujiazui Huan Lu, near Yincheng Zhong Lu, 陆家嘴环路478号上海中心68楼, 近银城中路
Tel: 68816789