Fat Pho, as its name suggests, deals in the Vietnamese staple of pho and street food favorites. It's hailed as a hip-n-trendy chain that is lauded for its tasty noodle soups, consistency, and affordability.
About Fat Pho
Fat Pho opened in January 2020, and despite it being a really difficult time to kickstart a new brand, it succeeded with flying colors.
There are currently nine locations in Shanghai, three in Hangzhou, and one in Chengdu. Each store sports its own design and theme, ranging from an almost club-like space to one that's inspired by old train cars.

Spaces are very visually appealing! Plus, at the bigger locations like the flagship at Fengsheng Li on Maoming Bei Lu, there's even room for a DJ. (Yeah, they also host DJs on the weekends.)
The Food
Fat Pho's menu features some of the best of Vietnamese street foods and noodles, but mainly pho, which they take great pride in.
Essentially what makes a good pho is good broth that is freshly made and clean tasting, good quality beef, sliced or in meatball form, and good noodles that have spring and texture. Everything else is just window dressing IMO. Though, some would argue that the Sriracha adds magic to the broth… I'm all about the original flavor of the soup.
Fat Pho makes their broth fresh daily and in-house. Despite the number of locations, they do not employ a central kitchen (so the broth is never frozen), nor do they use pre-packaged powders (much to the offense of the co-founder when I asked).
It's also worth noting that Fat Pho uses fresh noodles, a tailor-made recipe produced in a factory and delivered daily. It's slightly thicker and springy than the dried store-bought ones.
The broth is made by boiling then simmering 50kg of angus beef bones per pot of stock for a minimum of 12 hours.
Massive vats of beef stock gently cook to reduce cloudiness, and impurities are skimmed as soon they arise. The result is a clear and clean tasting broth that's beefy and seasoned.
The entry level pho is ¥55. But the one everyone ends up ordering is the combination beef pho (¥65), which has thinly sliced beef, meatballs, beef tendons and tripe.
Fat Pho takes the beef game up a level by offering M6+ and M9+ beef, the latter being the most luxe version of pho out there.
Here are some of the other dishes: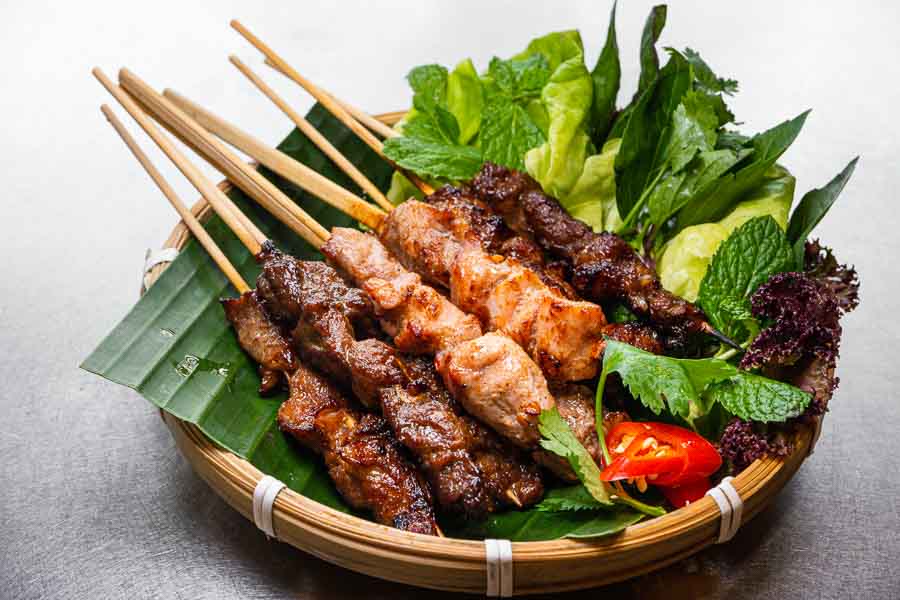 In Summary
It's relatable (noodles and street food), tasty (good broth), and affordable (entry level pho is ¥55). What more do you need for a feed?
Fat Pho's locations are usually rammed during lunch and dinner. But that quickly subsides once the peak hour is up. Also available via delivery.
Dining Deals
By the way, that super luxe M9+ Rangers Valley Wagyu Beef Pho I was raving about? It's now available for ¥128 with a drink.
The deal runs from now until December 31, 2023; available in store at all locations except at SWFC and Xintiandi Plaza venues. You'll need to get on Dianping to claim the deal, but just ask your server and they'll show you how.
---
Fat Pho Locations
Jing'an: Bldg 1, Fengsheng Li, 245 Maoming Bei Lu 茂名北路245弄丰盛里1号
Tel: 62483537
Hours: Sun & Mon-Thu, 10:30am-9:30pm, Fri-Sat, 10:30am-11:30pm
Huangpu: B2, Xintiandi Plaza, 333 Huaihai Zhong Lu 淮海中路333号新天地广场B2层
Tel: 53098725
Hours: Daily, 10:30am-9:30pm
Putuo: 2/F, Bldg 3, Foodie Social, 1143 Xikang Lu 西康路1143号鸿寿坊3栋2楼
Tel: 62677655
Hours: Daily, 10:30am-9:30pm
Minhang: LG149, MixC, 1599 Wuzhong Lu 吴中路1599号万象城LG层149
Tel: 54299628
Hours: Daily, 10am-9:30pm
Xuhui: 1/F, Ascendas Plaza, 333 Tianyaoqiao Lu 333天钥桥路333号腾飞大厦1楼
Tel: 54652378
Hours: Daily, 10am-8:30pm
Hongkou: LG42, Ruihong Tiandi, 181 Ruihong Lu 瑞虹路181号瑞虹天地太阳宫LG层LG42号
Tel: 65151757
Hours: Daily, 10:30am-9:30pm
Pudong: B107, Pudong Kerry Center, 1378 Human Lu 花木路1378号浦东嘉里城B107
Tel: 58341668
Daily, 10:30am-9:30pm
Pudong: B105, SWFC, 100 Shiji Dadao 世纪大道100号上海环球金融中心B1-B105号
Tel: 50862011
Hours: Daily, 10:30am-8:30pm
Yangpu: L3-44, Hopson One, 1099 Xiangyin Lu 翔殷路1099号上海五角场合生汇3楼L3-44
Tel: 55958050
Hours: Daily, 10:30am-9:30pm
Hangzhou: B216, B2, MixC, 701 Fuchun Lu 富春路701号万象城B2层B216
Tel: 0571-81395899
Hours: Daily, 10:30am-9:30pm
Hangzhou: L401, Kerry Center, 385 Yan'an Lu 延安路385号嘉里中心L401
Tel: 0571-86939539
Hours: Daily, 10:30am-9:30pm
Hangzhou: L179, MixC, Liangzhu Jiedao良渚街道城北万象城L179WB号
Tel: 0571-87178599
Hours: Daily, 10:30am-9:30pm
Chengdu: L1-12-1, 45 Chunxi Lu Beiduan 春熙路北段45号L1-12-1号
Tel: 028-81189388
Hours: Mon-Fri, 10:30am-10pm; Sat-Sun, 10:30am-10:30pm