Hakkasan Shanghai is serving an 11-course Chinese New Year menu that checks all the boxes for lucky CNY foods and Hakkasan signatures, available now until February 19.
If you're hanging around Shanghai during Chinese New Year or want to sample this menu after, I highly recommend it.
How Much is the Menu?
The 11-course set is ¥1,288 per person plus 10% service charge, minimum booking two persons. Another set is also available for ¥888, with wok-fried tiger prawns instead of abalone and lobster.
For the price, I have to say it's a lot of high quality product, cooked with finesse, skill, and care, and is absolutely worth it.
Chinese New Year Set Menu at Hakkasan
The set starts off with their most iconic signature dish, the Crispy Duck with Imperial Caviar.
It's a magical combo of crispy duck skin, duck meat, briny roe, and salty-savory hoisin sauce on a steamed bun. You can't go to Hakkasan and leave without eating this. It's absolutely divine.
(It's available on the a la carte menu for ¥688 for half a duck, and a whole duck plus a second course is ¥1,288. Great deal here with the set!)
Dim sum is the next course. The menu has now three bites instead of four, but they've kept the star of this medley—the oyster fa cai siew mai, a little purse of wagyu beef topped with rehydrated oyster and "fa cai" seaweed. The dried oyster brings back memories of Cantonese soups from home (KL).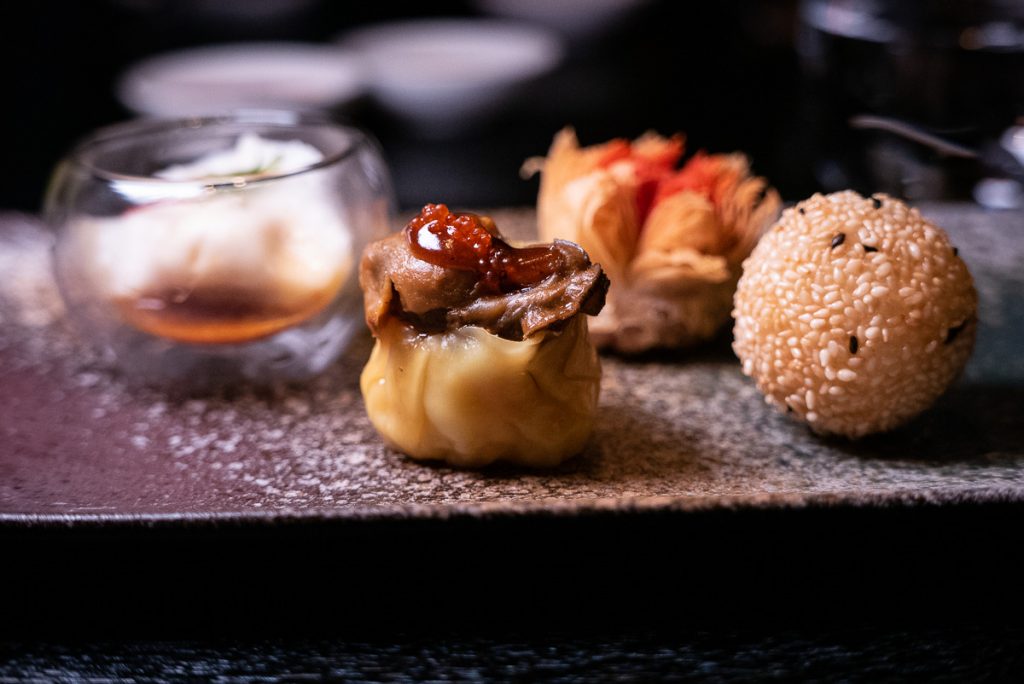 Next is a crab soup with fluffy egg whites. It's a little sour but not at all overpowering and the delicate slivers of crab are moreish. Egg and crab a little sour but not over powering. It's like a warm hug in the winter.
One of the best bites is the whole Chilean abalone glazed with truffle sauce, served with lightly blanched broccolini. The abalone is so tender, velvety, and umami-rich it's enough to make me blush. There's just something about shellfish like this that's so sensual. Also, you'd want to finish off that sauce.
The set continues its steady pace of premium CNY-appropriate dishes with grilled Australian lobster topped with spicy bottarga sauce.
One of my favorite Cantonese dishes is steamed grouper.
Preserving freshness and natural flavors of seafood is a huge part of Cantonese cuisine, and the chef's duty to the product is to maintain that quality so you can appreciate its delicate texture. House soy sauce to taste and that's it. Plus, it's Chinese New Year, so you have to eat fish. (鱼 Yú sounds like "surplus"; eat it so that you may have some leftover $ from last year.)
Another Hakkasan staple is the pan-fried Australian Angus rib eye beef. Fried with chili sauce and leek, the beef is tender, supple, and juicy. It's a crowd pleaser. (Black Pepper Australian Rib Eye is ¥288 on a la carte.)
A menu is never complete without some vegetables. Next dish is asparagus with sugar snap peas, black fungus mushrooms, and yam.
Fillers always come at the end of a Chinese meal, and you'd want to save space for the fried rice with "lap cheong," a sweet, smoky sausage that's common in south China, Hong Kong and Southeast Asian Chinese cooking. Wokhei (breath of work) adding its smokiness into the rice.
The dessert, "Wealth Pot", presents layers of brittle biscuit, soft cake, mandarin sorbet, and soy caramel in a tiny bundle.
And For Dessert:
The Fortune Macaron ends the meal. It's wrapped with "fortunes" and well wishes penned by renowned lyricist Vincent Fang Wen Shan. His claim to fame is working with superstar Jay Chou.
Hakkasan For Any Occasion, Really.
Hakkasan is a machine. It's a beast.
A long-serving in-house team who live by the same meticulously high standards of its international counterparts closely monitor their service and quality. Which is probably why it's packed every night and is neck-and-neck with Mr & Mrs Bund as one of the most successful restaurants on the Bund.
Even if you're not going for the CNY menu, it's always a great place for entertaining, dinner dates, impressing, and enjoying good food. (Private rooms aplenty.)
---
Hakkasan Shanghai
Address: Bund 18, 5/F, 18 Zhongshan Dong Yi Lu, near Nanjing Dong Lu 中山东一路18号5楼, 近南京东路
Tel: 63215888
Hours: Mon-Thu 5:30pm-12:30am, Fri-Sat 11am-1am, Sun 11am-11:30pm