Sponsored by Khan Chacha

Khan Chacha is a modern Indian restaurant that does a fusion take on Indo-Persian cuisine, marrying curries and heady spices with Western dishes. Don't turn away! Keep reading! It's way more interesting than it sounds.
Indo-Persian Cuisine at Khan Chacha
The first location of Khan Chacha opened in September 2019 in Westgate Mall. A second location followed in February 2021 in the Parkson mall on Huaihai Zhong Lu. (That's directly across from where Five Guys is located.) And they've just updated the menu with some new dishes.
(Both openings flew under my radar. Having just discovered this restaurant, I consider it "new"!)
If you're unfamiliar with Indian food, there are some defining differences between northern and southern Indian cuisine. Northern Indian tends to use more butter and cream, breads like chapatti and roti are more commonplace, there is a strong Arab and Persian influence, lamb/mutton are staples, and the spice is more intense. Not to mention the use of the tandoor clay oven. Southern is lighter, dishes use more coconut (freshly grated and steeped to extract the milk), curry leaves are also prominent, rice is more common, and there's more seafood (closer to the ocean) and vegetarian dishes.
Khan Chacha's chef patron Jibin Arjunan hails from the south and spent time in the north of India, and not only does he feature both hemispheres of Indian cuisine, but he also adds his culinary experience from French cooking school into the mix, and borrows inspiration from 17 years of growing up in Qatar. Lots of spice meets re-imagined dishes.
What's On The Menu
So what happens with you combine all those cuisines? Here are some of the dishes on the menu to give you an idea.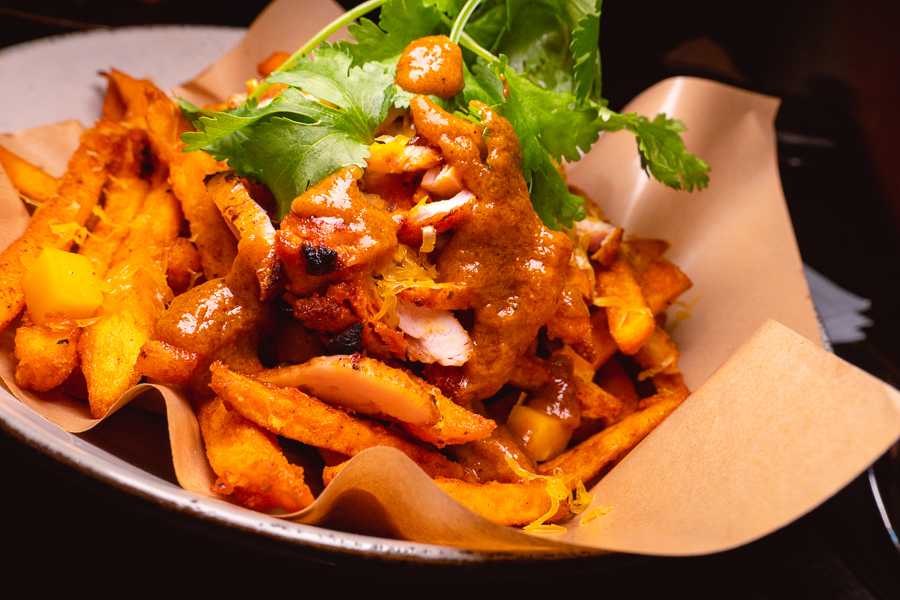 In Summary: It's New & Exciting
The curries are much more distinct, at least from what I've had from other restaurants in Shanghai. One way to put it is that the curries are "fuller" and heady with fresh spices. I was pleasantly surprised. Some dishes are exciting, like the Hasselback potato—you take a simple ingredient and make it great with a unique sauce—and the butter chicken is fantastic.
Not everything was a favorite for me, but Khan Chacha has legs. There's plenty to explore for both novices and fans of Indian food. Plus, there's even a section for Persian food. I'll have to save that for another visit.
Favorite dishes: Butter chicken, three cheese naan, The Khan's Festive Sikandri Raan, Hasselback Aloo Dum, Kheema Ghotala, Kolhapuri Champ and the tiramisu.
There are two locations of Khan Chacha. The new location is in Parkson—fastest way is from the Shaanxi Nan Lu entrance/elevator. Don't let the mall location deter you. It's worth trying. Also available via delivery.
---
Nomfluence Readers Deals
Get 10% off when you book via the link below.
---
Khan Chacha
Parkson: 8/F, 918 Huaihai Zhong Lu, near Shaanxi Nan Lu 淮海中路918号8楼, 近陕西南路
Tel: 68808885
Hours: Mon-Thu 11am-2:30pm, 5pm-9pm; Fri-Sun 11am-3pm, 5pm-9pm
Westgate Mall: Unit 501, 1038 Nanjing Xi Lu, near Jiangning Lu 南京西路1038号梅龙镇广场501室, 近江宁路
Tel: 62185018
Hours: Mon-Fri 11:30am-2:30pm, 5pm-9pm; Sat-Sun 11:30am-3pm, 5pm-9pm