Now that travel restrictions have eased up, it's time for a trip to Hong Kong!
Book a stay at the iconic Mandarin Oriental, Hong Kong and enjoy up to 15% off rooms with the "Travel Again" package, get exclusive benefits over Chinese New Year with the "Festival Celebrations" package, and enjoy club benefits with "Club Escape."
Details below and on the Mandarin Oriental website!
A Historical Property: Mandarin Oriental, Hong Kong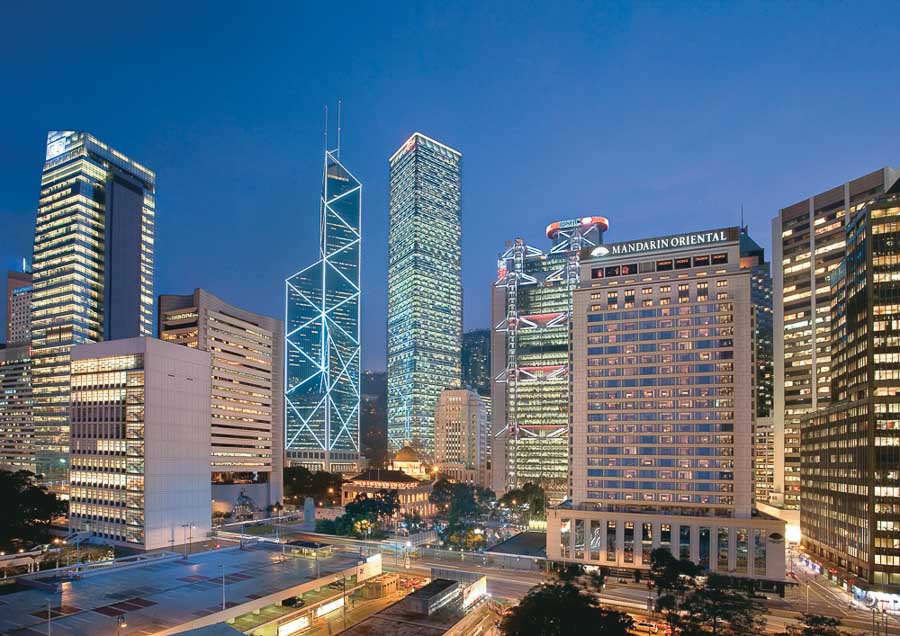 The Mandarin Oriental, Hong Kong is a historical landmark and the epitome of contemporary luxury and oriental heritage. When it opened in 1963, it was the tallest building on Hong Kong Island, standing at 27 storeys. This is the brand's flagship property, and it will be celebrating 60 years of excellence in 2023.
It underwent a soft refurb in 2020 to transform the upper floors of the hotel, giving the legendary Man Wah restaurant a new look, and to introduce Japanese izakaya and bar The Aubrey and The Mandarin Club, a 6,200-square-foot club lounge.
Built on the former site of the colonial Queen's Building in the heart of Central, Mandarin Oriental, Hong Kong boasts a terrific location with convenient access to shopping, entertainment, historical areas, and public transportation.
The hotel has 494 guestrooms, 9 restaurants and bars, The Mandarin Club lounge, three floors dedicated to Mandarin Spa, an indoor swimming pool, and a 24-hour fitness center.
A night in any of their suites is the ultimate luxury stay, which also includes access to The Mandarin Club. The highlight of staying in a suite is most certainly the bathtub, which has a view overlooking the harbor or city.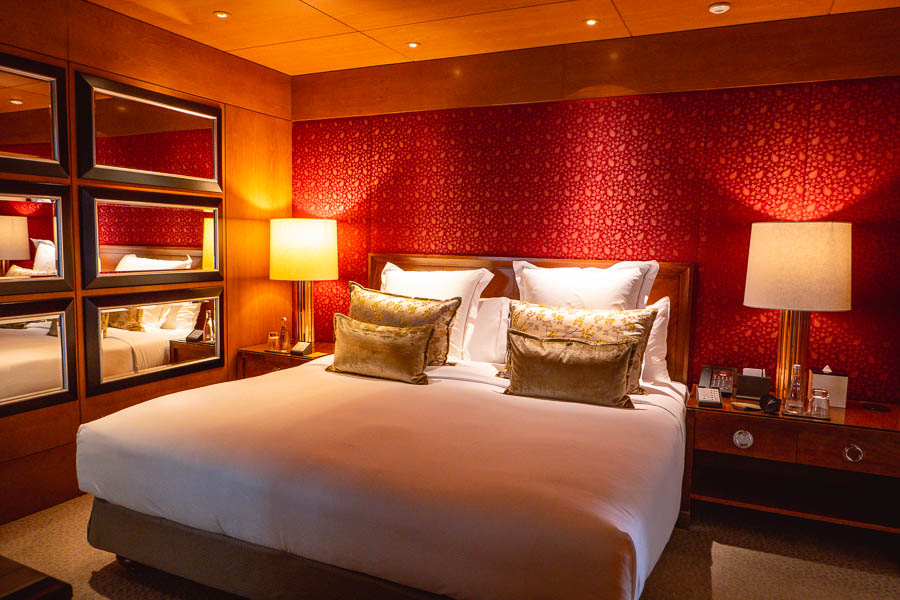 The Mandarin Club benefits include welcome cocktails, complimentary coffee, tea, non-alcoholic beverages, and snacks, as well as breakfast, afternoon tea, and evening cocktails. It also includes complimentary pressing of two garments, and complimentary non-alcoholic mini bar beverages.
Eat & Drink at MOHK
The Mandarin Oriental, Hong Kong boasts nine superb restaurants and bars, two of which hold Michelin-star accolades, Mandarin Grill + Bar and Man Wah. You're spoiled for choice! Though, if you had to choose, it would be the starred venues, The Aubrey, and Clipper Lounge for the famed afternoon tea.
Mandarin Grill + Bar, a 14-year running Michelin one-star restaurant, serves contemporary adaptations of grill classics, featuring impressive cuts of meat and seafood alongside a crustacean bar that runs the length of the restaurant.
Then there's Man Wah, also a one-star restaurant. Refined luxury, fantastic service, and excellent Cantonese cuisine.
I stopped in at Man Wah for the lunch set, of which the highlight was a jumbo-sized wok-fried prawn in supreme broth. The prawn was not only the size of a fist, but superbly fresh, plump, and springy, served with a rich broth.
Next door to Man Wah is The Aubrey, an eccentric Japanese izakaya. The newest dining outlet at MOHK, The Aubrey opened in February 2021 to much acclaim. The venue boasts stunning interiors and offers three distinctive bar experiences, The Main Bar, a four-person Omakase Cocktail Bar, and The Champagne and Sake Bar.
On the menu are elevated izakaya dishes like wagyu sandwiches, bone marrow and wagyu fried rice (excellent), sushi, and house made tofu, created by Chef Yukihito Tomiyama. Delicious stuff.
The Aubrey also has a highly lauded drinks and cocktail program, crafted by by Devender Sehgal, that centers on shochu, sake, and Japanese ingredients.
Even if you're not staying at MOHK, I highly recommend trying The Aubrey and Man Wah.
Venture to Clipper Lounge for the legendary afternoon tea. Fondly referred to as "Hong Kong's sitting room," this social destination as been hosting long-established social and business rendezvous since its conception.
As for other establishments, there's The Krug Room, a 12-seater dining experience, Café Causette for contemporary all-day dining, Captain's Bar for drinks and live jazz, and The Chinnery for traditional British fare and whisky.
Finally, there's The Mandarin Cake Shop, a go-to for local residents when it comes to sweet treats. The 1963 Mandarin Cheesecake is the one to pick up, as well as the rose petal jam as a souvenir.
Book Now
Scan the QR code to book directly via the Mandarin Oriental, Hong Kong official mini-program.
Or visit the website here.
They have a few on-going packages, including up to 15% off, additional benefits at the club lounge, and kick backs on dining credit.
---
Mandarin Oriental Hong Kong
Address: 5 Connaught Road Central, Hong Kong
Tel: +852 2522 0111