I'm fluffing up my recipes up a notch. This time, I turn the spotlight on seafood, featuring four recipes below made with arctic char, scallops, and mussels.
These recipes are done in collaboration with acornfresh, an online grocer that has just launched their English store on WeChat.
About acornfresh, online grocer in Shanghai
acornfresh emphasizes sustainable and traceable sourcing, food safety of their premium quality products, and transparency.
All the certifications—granted by a number of international food safety and quality authorities—and information about the fisheries and farms are all highlighted in each of the product descriptions on their store.
They also supply some of the best restaurants in Shanghai and nearly a dozen Michelin-starred restaurants in China, including Shanghai's Ultraviolet, L'Atelier de Joël Robuchon, and Jean Georges.
acornfresh Shopping Cart
Arctic Char (280g) ¥89
Canadian Cooked Blue Mussels (907g) ¥89
US Scallops (500g) ¥369
On The Menu
Oven-Roasted Arctic Char with Beurre Blanc
Miso-Soy Roasted Arctic Char
Pan-Seared Scallops, White Asparagus
Mussels, White Wine & Shallots
How To Cook Arctic Char
I have two flavor profiles for arctic char, one of Asian influence and the other a citrusy beurre blanc. I prefer to oven-roast, but if you don't own an oven, pan-searing works just as well.
About Arctic Char
Arctic char is also anadromous like salmon (it even looks, smells, and tastes like salmon!), migrating from northern lakes to saltwater to spawn. But, instead of dying afterward like its salmon cousin, the char can live for 25 years.
Arctic Char is farm-raised in Iceland, a country that practically invented seafood sustainability. The Arctic Char has an extremely low feed conversion rate—1.2kg of feed to create 1kg of char—and is farmed at a facility that is powered by renewable, geothermal power. Like salmon, char is rich in Omega-3 fatty acids, has a oil-rich flavor, and is very easy to cook.
Recipe: Miso-Soy Glazed Arctic Char
Ingredients: Miso-Soy Sauce
3 tsp soya sauce
1 tsp miso(Available at Avocado Lady!)
½ tsp salt
2 tsp ginger juice
2 cloves garlic, finely minced
Pre-heat oven at 220 degrees celsius.
Instructions:
1. Mix all the ingredients for the miso-soy sauce in a bowl.
2. Prep the arctic char. Gently wash the fish and then dry off with kitchen towels. Salt the skin with half a teaspoon of salt.
3. In a large non-stick pan (or cast iron pan), add olive oil and heat until you see smoke rising. Gently lay the fish skin side down into the oil and fry for 2-3 minutes.
4. Meanwhile, prepare your baking tray. (I put tin foil over for easy clean up.) Grease the surface with olive oil.
5. Carefully remove the fish from the pan and lay it skin side down on your baking tray. Coat the flesh with the miso-soy sauce.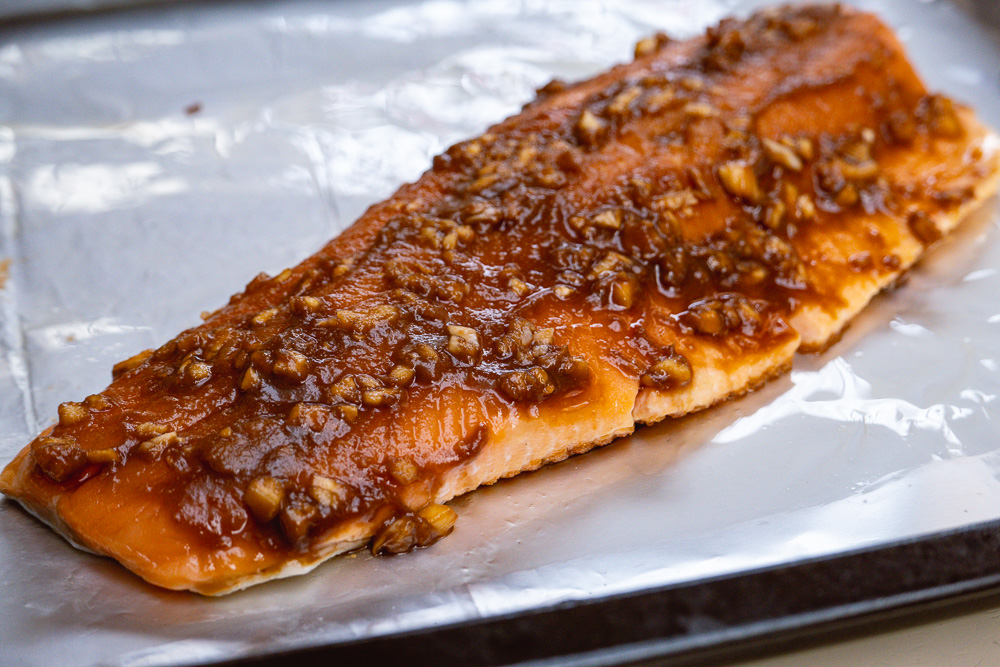 6. Grill (top burners only) in oven for 10 minutes at 200 degrees celsius. Remove from oven and serve immediately. (The skin will still be crispy but it cools down pretty quickly.)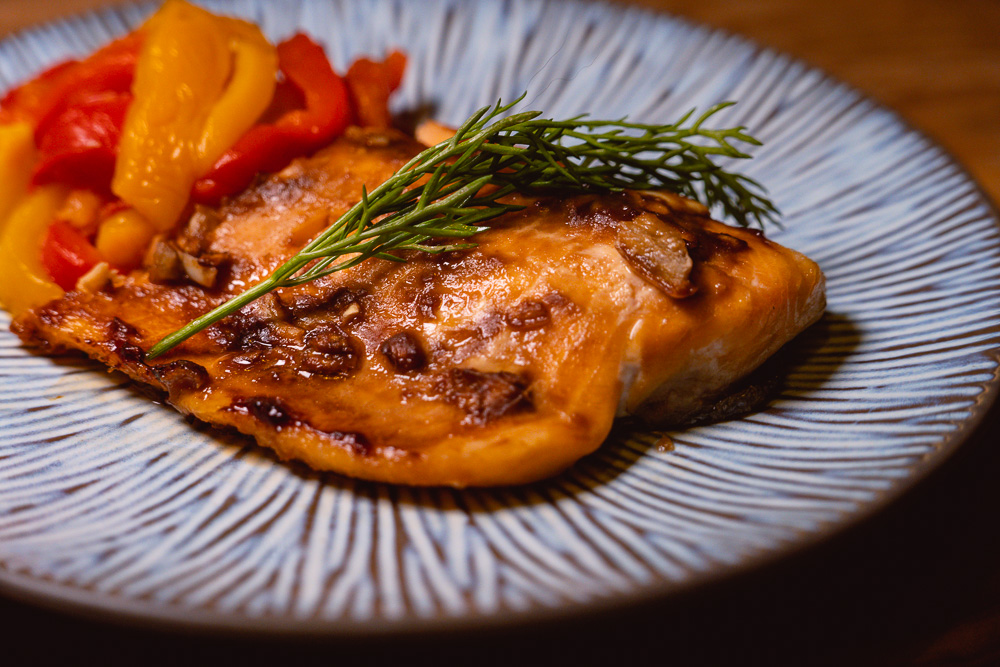 Suggested side dish: Roasted peppers. Roast whole peppers in oven for at least 1.5 hours (200 degrees celsius) until blistered. Let cool and gently peel skin off. Slice into strips and add a dash of balsamic vinegar.
Alternatively, you can pan-fry the fish. After you coat it with the sauce, pan-fry with skin side up first (5 minutes), then flip it to crisp the skin side (3 minutes).
Recipe: Oven-Roasted Arctic Char, Beurre Blanc
This is more a recipe for beurre blanc, really. Ever since I learned how to make this sauce (it's pretty easy) I can't stop using it. Why is it so addictive? Butter.
Ingredients: Beurre Blanc
2 cups dry white wine
1 finely minced shallot
½ freshly squeezed lemon
150g chilled butter
½ tsp salt
pinch of black pepper
Instructions:
1. To make beurre blanc, boil white wine, shallots, and lemon juice until the liquid has reduced to a syrupy consistency. Reduce heat to low. Then add butter and whisk constantly. Add salt and black pepper to taste. That's it!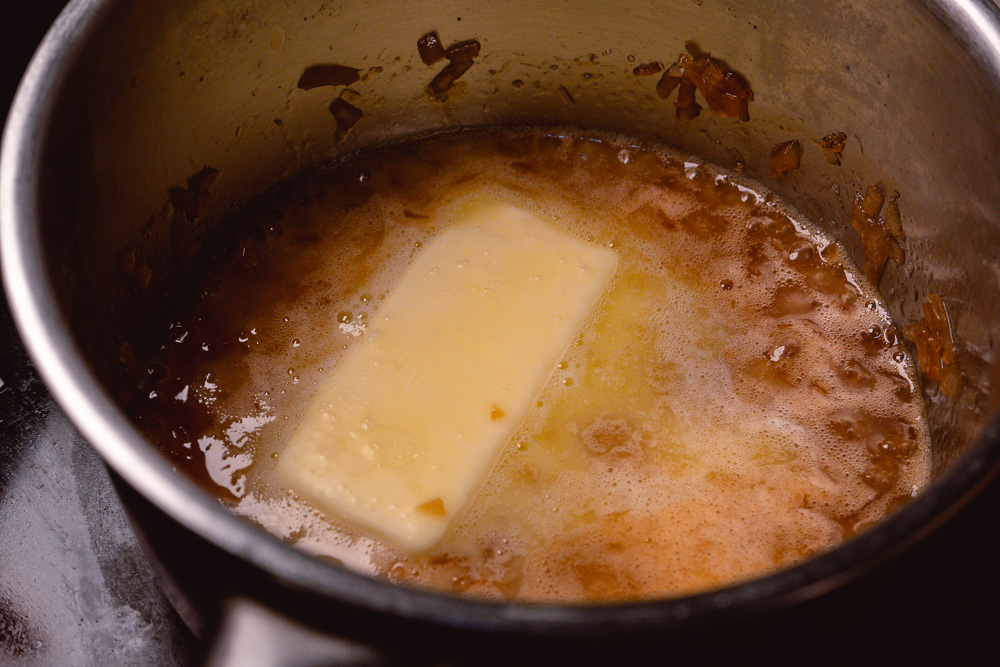 2. Preparing the fish is much like the recipe above. Pan-fry the skin side, then season the flesh with a pinch of salt and a few thin slices of lemon before you put into the oven.
3. Serve fish with beurre blanc sauce on the side or over the fish.
Suggested side dish: home fries.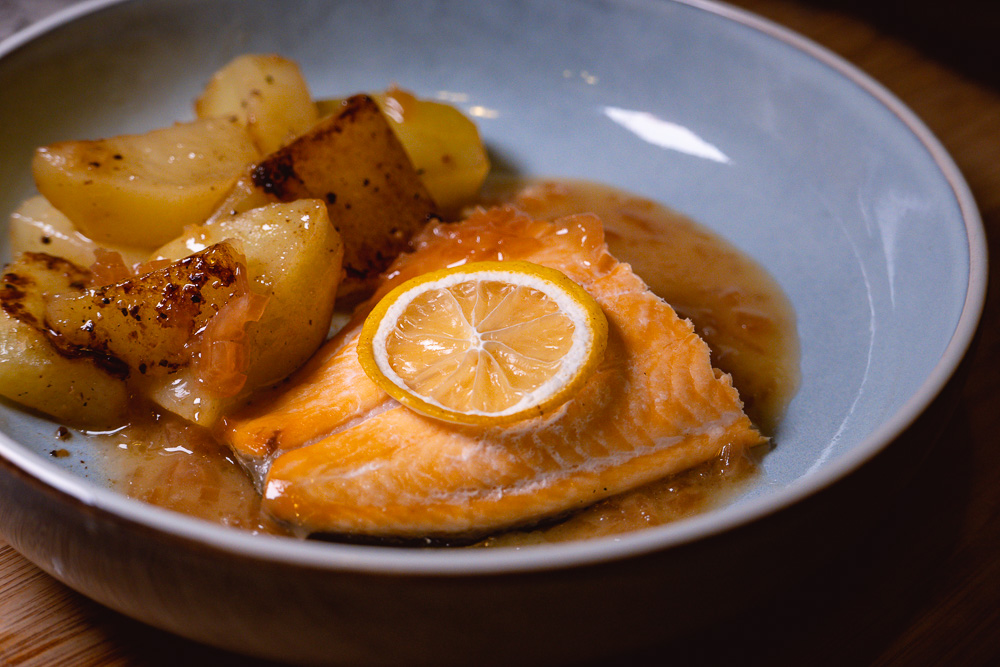 How To Cook Pan-Seared Scallops With White Asapargus
This is my take on a dish that I see often at restaurants in Shanghai. Pan-seared scallops, paired with asparagus—in this case, white asparagus because it's in season right now—and usually garnished with a few crumbs of crispy bacon.
About The Scallops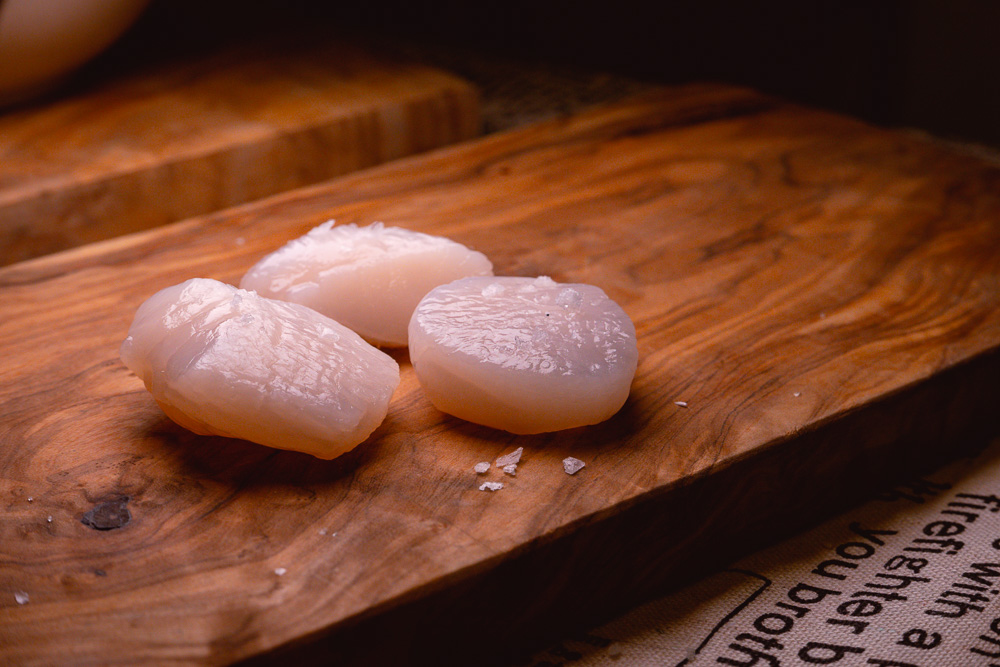 These are 100% wild scallops harvested from the ice-cold waters off the Northeastern coast of the US. Unlike most store-bought products, these are "dry" scallops, meaning they do not have chemicals or sit in sodium triphosphate water, the latter is a preservation method that also adds weight to the scallop. acornfresh scallops are roughly 40-60g a piece, each bag is 500g, which is around 10 scallops.
Recipe: Pan-Seared Scallops, White Asapargus
This is an easy recipe. You don't want to over complicate scallops with outlandish sauces—it's a treasurable product and should be prepared as "clean" as possible.
Ingredients:
Scallops
Bacon
White Asparagus
Sumac powder
Butter!
Instructions:
1. Peel/clean asparagus. I use a peeler to shave off the fibrous outer layer from the stem.
2. Fry bacon and white asparagus together. No oil needed—the rendered fat from the bacon is enough. Remove and set aside after cooking for 5-7 minutes.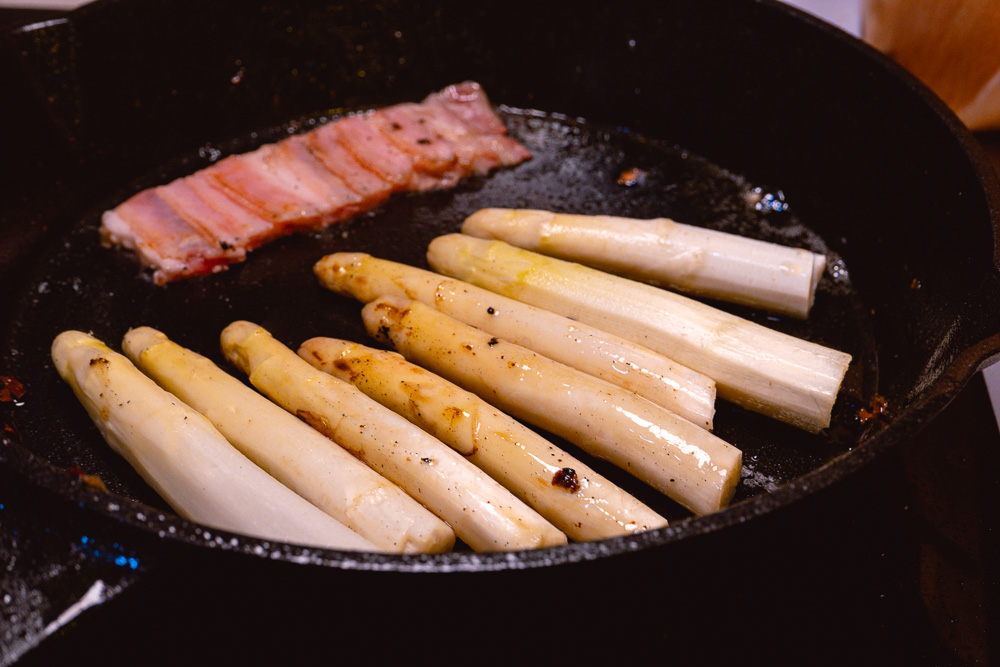 3. Lightly salt scallops. In a cast iron pan, add a little olive oil and heat the pan on medium-to-high. Place in the scallops and add in some butter. Cook until the surface is lightly browned/golden. (Be careful not to overcook them!)
4. Plate white asparagus and scallops. Give it a light dusting of sumac powder, a lemony powder made from sumac berries.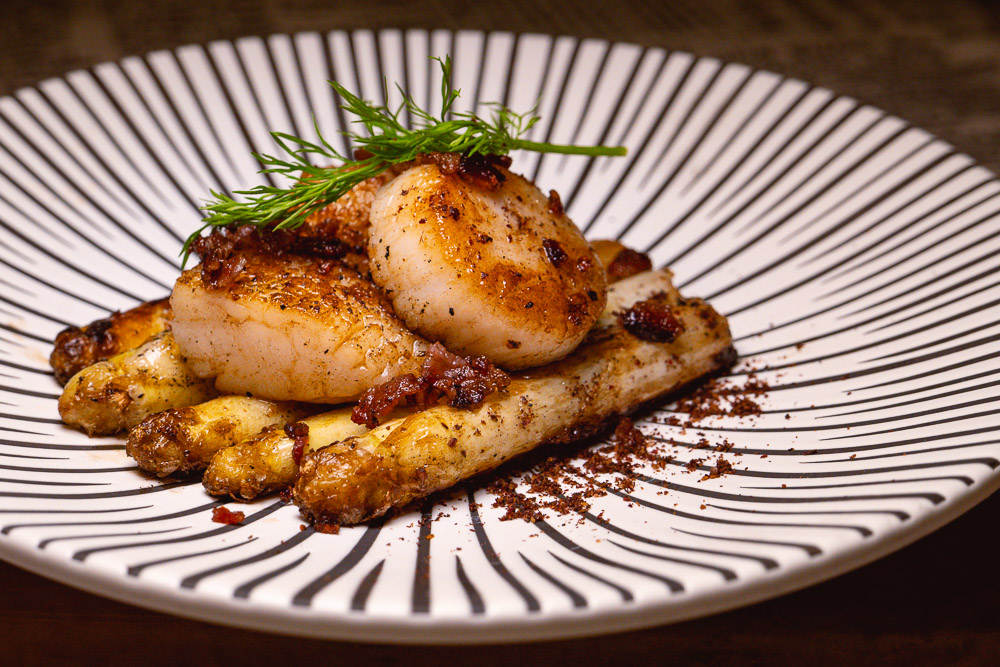 How To Cook Mussels
This is another classic. And it's ready in 10 minutes! All you need is a large stockpot.
About The Mussels
These Canadian blue mussels are from Mussel King, a family-owned business founded in 1978, which controls every step in the development of its mussels, from seed to packaging. The mussels are processed as soon as they are harvested, immediately cooked and frozen.
(Shipping fresh, unfrozen, uncooked mussels is a tricky task. The only way to do this is to have mussels be in constant PH and temperature controlled water tanks, or via cold chain. These two ways are very costly and increase the price of mussels.)
Recipe: Mussels, White Wine & Shallots
The mussels from acornfresh are very easy to cook, and they even have instructions on the bag. Defrost the frozen mussels in your fridge (overnight) or defrost in room temp away from direct sunlight. If you decide on the latter, you MUST cook and consume the mussels right away.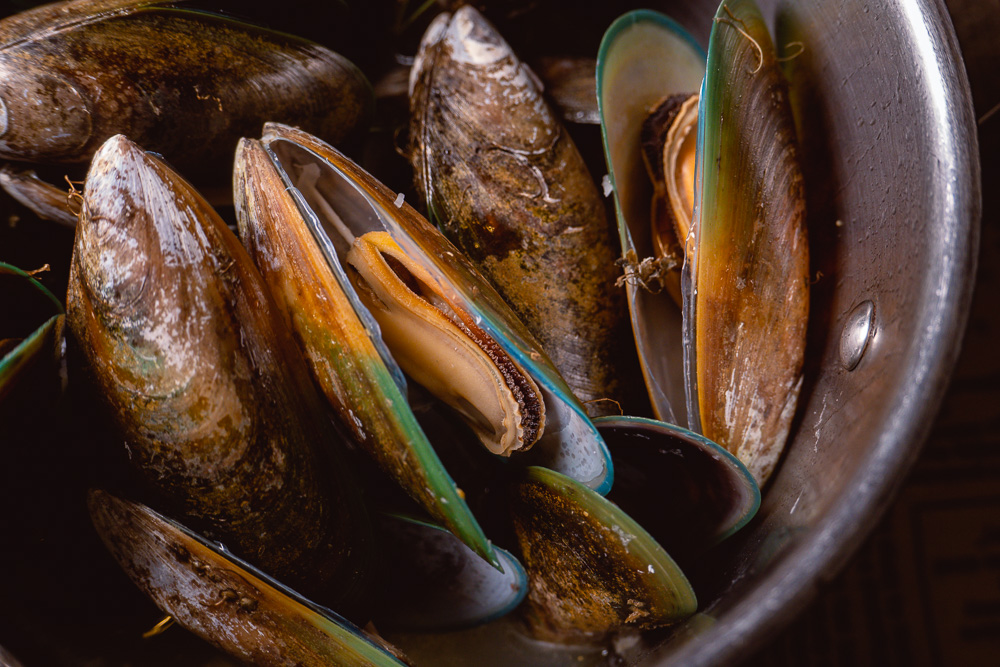 Empty the contents of the bag into a pot or large saucepan. DO NOT throw away the water! This is delicious stock, water from within the mussels during the cooking process.
Ingredients:
1 bag of mussels
1 tbsp unsalted butter
1 cup of white wine
1 shallot, finely diced
1 clove garlic, finely diced
Instructions:
1. In a large stockpot, add in white wine, shallots, garlic, and water from the bag of mussels. Bring it to a boil. Add in mussels and cook for 8 minutes. Stir contents while cooking. Serve in a deep plate. (Recommend sourdough bread to soak up the luscious stock.)
2. If you're unable to finish the stock, save it for soup the next day. But you must refrigerate it as soon as possible. Stock, especially seafood stock, is a petri dish for bacteria. Do not leave out stock longer than four hours, even in room temperature.
Shop with acornfresh!
acornfresh has just launched their WeChat mini-program English store!
They're also running a cooking competition—Time to unleash your inner chef to win a dinner for two at Michelin three-star Ultraviolet!