Arch by Taste Buds is a collaboration between mixologists Daniel An of Atelier and The Antique and Vincenzo Pagliara, formerly ZUK Bar, Sukhothai.
Arch is a cocktail bar that plays on east-meets-west drinks and ingredients, is invested in distillates (I'll get to that in a bit), and also serves food that is chiefly Italian with a focus on pastas.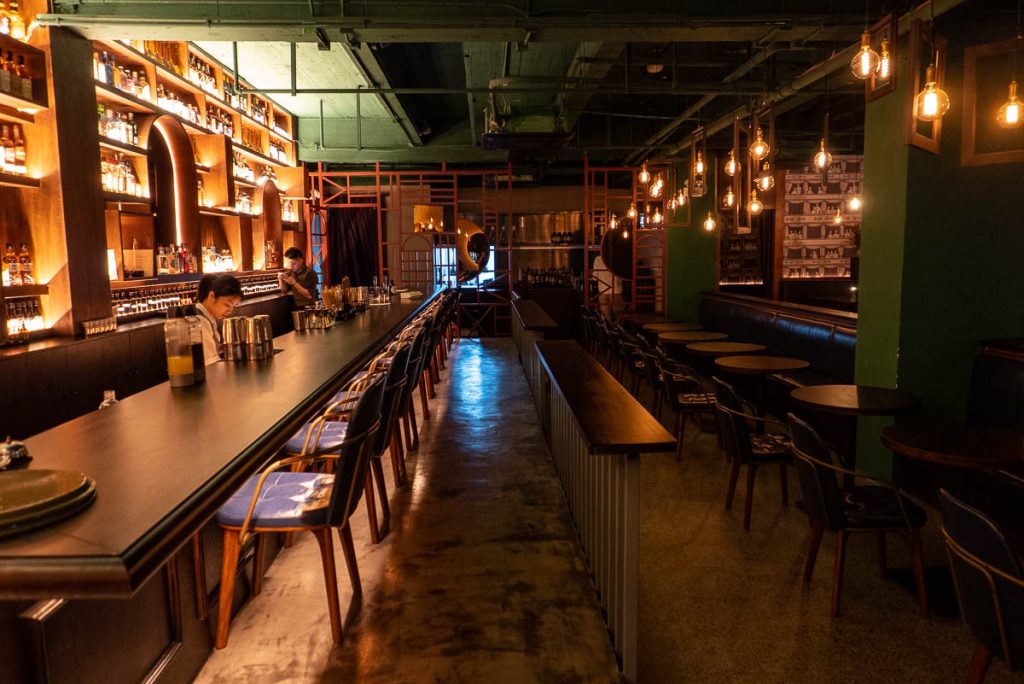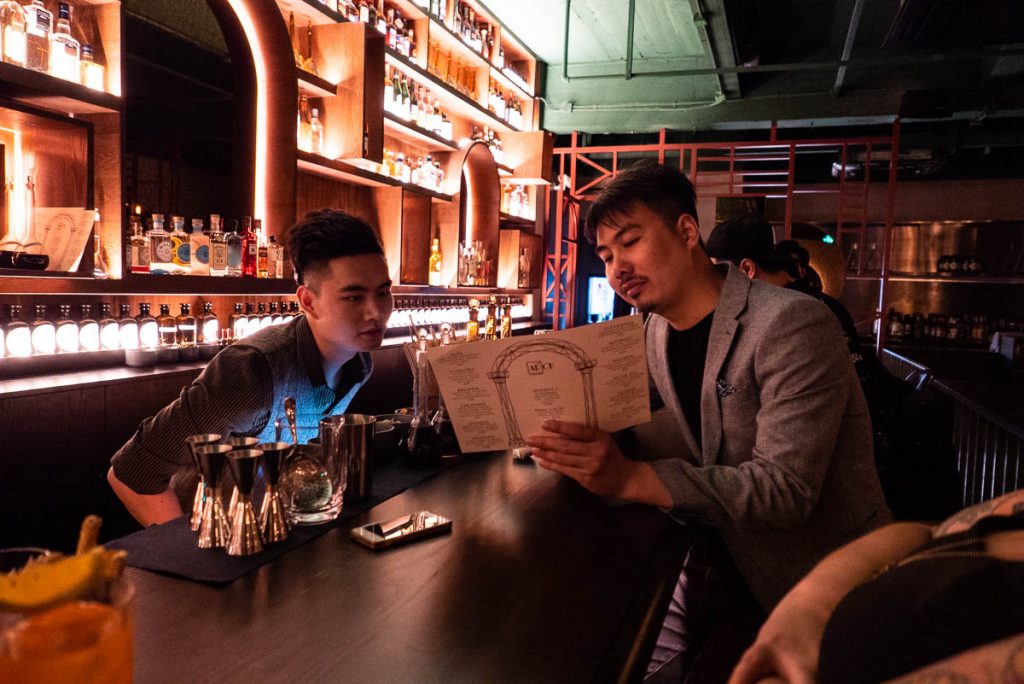 Mad Science Behind the Cocktails
Cocktail culture is constantly reinventing itself, and as of late, stirring things up with complex infusions by way of new tech and equipment. Arch is one of a handful of cocktail bars in Shanghai employing such methods, utilizing a rotovap to make distillates.
Err, What's a Rotovap?
A rotovap or rotary evaporator is mostly used in science labs for the removal of solvents by evaporation. Liquids are heated under low pressure, vaporizing and condensing the gas into a separate vessel, creating a clear, condensed, concentrated solution.
Example: if you run carrot juice—bright orange with pulp—through a rotovap, the result is a clear liquid, or "distillate" of concentrated carrot. For cocktails, it makes the drink smooth, light, and allows for more robust or playful combinations. The spectrum is vast—you can convert almost anything into a distillate.
The use of the rotovap for food and drink is not new and you could do this all manually, but it pays to make multiple small batch distillates without any heavy lifting. Plus, those distillates last forever, and the walls at Arch are lined with them.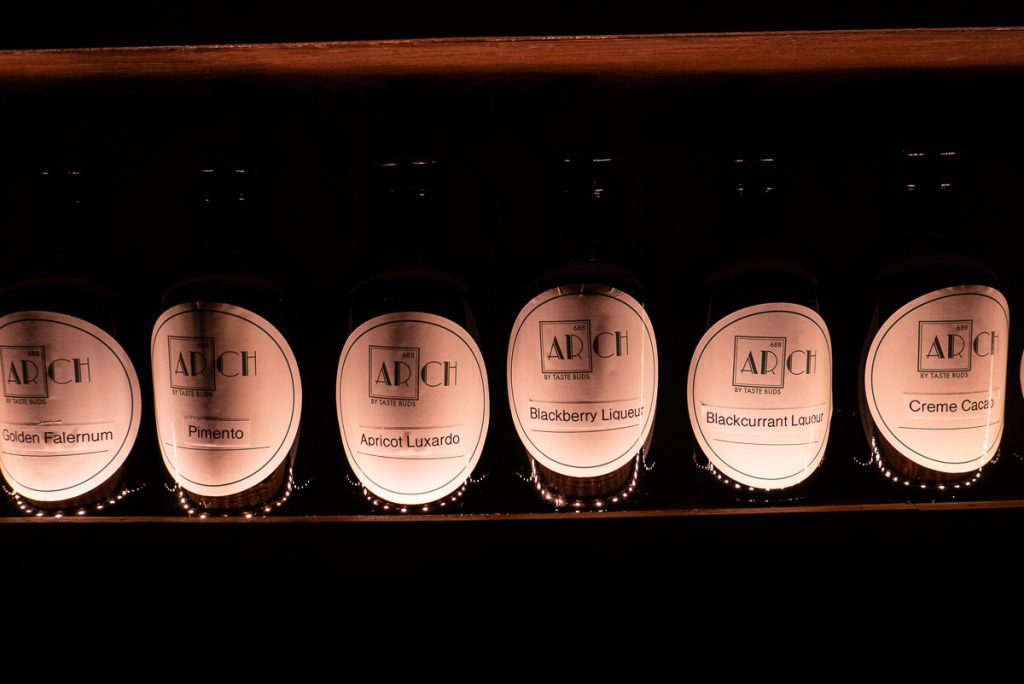 Signature cocktails (¥85-120) are split Asia and Italy, and see ingredients like turmeric, coriander, ginseng, and hawthorn on one side, and cedarwood, beetroot, olive oil, and basil on the other. The center of that menu is where the two sides come together.
Aperitivo Hour
In addition to those, Arch is pushing aperitivo culture via another bar counter within the space. All aperitivo drinks are ¥65 everyday from 5-9:30pm, after that its ¥85. These are all mostly low ABV drinks.
Here are three:
The Bloody Mary is [enter over the top superlative here]. Truly, it's great. It's super spicy and peppery, just how I like them. It's the espresso of cocktails and wakes me right up. It uses carrot infused vodka, fino sherry, tomato, and pepper, and is garnished with a dense, sticky ball of black garlic.
On the flip side, there's the Jasmine & Grapes, a clear, effervescent and flowery drink made with carpano dry gin, jasmine, Fernet Hunter, and prosecco.
The Campari with barbecued orange is inspired by a Garibaldi (Campari and orange, in simplest terms), but is more smoky and smooth, garnished with a torched orange.
Don't Pass On The Pastas
Arch is drinks-first, but definitely try the food, specially the pastas. Most pastas are made fresh in-house, served al dente/cooked to traditional Italian preference, and paired with excellent sauces, ragus, and braised meats.
The Casarecce (¥78) with braised veal and Parmesan cheese is the clear winner for me. The chewy, screw-like pasta is a perfect match for the tender veal.
A crowd favorite is the pillowy soft Gnocchi (¥78), drenched in a thick pesto and blue cheese sauce.
Others include the Bucatini Amatriciana (¥58), coated in a deep red sauce with chunks of salty bacon, Orecchiette (¥68) with a deliciously rich lamb ragu and pecorino, and flat, wavy Paccheri (¥88) tossed in a saffron-based sauce and laden with seafood.
There are also plenty of small bites. The Deep-fried Ox Tripe (¥78) is a highlight. Strips of tripe are lightly coated in pepper and spices, and are extremely tender. It's not a traditional bar snack, and I appreciate the robust choice. The Slow Cooked Octopus (¥88) is equally tender, great flavor, and charred.
A simpler bar snack is the Spiced Chicken and Sweet Potato Chips (¥58)—fried chicken and chips, can't go wrong there.
They even have main courses that jump to a high of ¥880 for an M5 Rib Eye with truffle pepper sauce, but that's perhaps too splurgy an item for a bar.
In Summary
Go for the pastas and hit that aperitivo hour, stay for those funky concoctions.
---
Arch by Taste Buds
Address: 688 Shaanxi Bei Lu, near Kangding Lu 陕西北路688号, 近康定路
Tel: 13818021597
Aperitivo: 5-9:30pm
Hours: 2pm-3am