Lion's flashy, brash, and slightly confusing tagline "exotic Cantonese cuisine" is certainly eye-catching, but it's an obscure definition for what it is, when in fact, it's more Nanyang than Cantonese.
Nanyang cuisine came about when the Chinese migrated to countries like Malaysia, Singapore, Thailand, and Vietnam, and integrated their foods with local dishes, spices, and ingredients. To summarize, it's the kind of "original" Chinese food from Southeast Asia (or some will argue South China) that you can't get anywhere else. So you'll have curries next to chicken rice, satay alongside spice-laden fried noodles, pepper crab, and dim sum.
When I think Nanyang, I don't think Cantonese, but trying to explain the above to diners can be difficult. So "exotic Cantonese cuisine" it is.
Lion, a restaurant by Sense 8 Group
Located in the quieter section of Xintiandi, Lion's neon red façade is impossible to miss. The dark entrance framed by the imposing crest logo leads to a stairway of splendid antique stained glass lights that takes you upstairs to dining room and bar, which are all shrouded in the same red, hellish glow.
The music is louder than I'd like, and the space all too flashy for my enjoyment. But that's not a bother for the clientele, of which half are look like Crazy Rich Asian types. High ceilings, heavy drapes, expensive collectible furnishing, artwork by acclaimed artist Chen Man, and a lively video playing on loop of a slender beauty walking through the restaurant to the soundtrack of a guy vigorously banging away on a Chinese drum.
Opened by the Sense 8 Group, it has the same pizazz as its other venues, Sense 8 and Peacock Room. It's opulent, glamorous, and just over-the-top enough.
Nanyang Cuisine, When Southeast Asia and South China Converge
As a Malaysian, and one who's spoken to the Malaysian chef, we both agree that what is served here can't be considered as authentic.
We would love for it to be so, but the strong flavors are difficult to accept, especially for newbies. With Xintiandi rent, authentic and contemporary meet in the middle. That said, some of the dishes are exceptional, and some, while not authentic, are solid dishes.
3 Must-Try Dishes
The Pan-Fried Otak-Otak Roll (¥52) is by far the best. The Otak-Otak is made with fish paste and is perfumed with thin strips of lime leaf (originally betel leaf) and spices. The roll is wrapped and cooked in banana leaf. It is a most admirable contemporary representation.
Runner up is the Baked Stringray (¥248), coated in a sweet licorice sauce, and served with fresh lime to squeeze. I was told to eat the bones. Err. Don't do that. Scrape the flesh lengthways off the bone. You don't need that crunch killing the texture of this venison of the sea.
The Crispy Chicken with Nyonya Sauce (¥116) is a crowd pleaser. Nyonya sauce is not limited to just one recipe, FYI, and this version is a tad sweeter. I could polish off this plate with a bowl of rice.
Other Dishes
What can I say about the Grilled Iberico Pork with Satay Sauce (¥118)? The sauce is splendid and it's a waste of Iberico. I'd split these into two dishes.
Stir-Fried Crab with Black Pepper Sauce (¥321) is there and people will order it.
Wok-Fried Prawns with Pumpkin Sauce (¥107) is another crowd pleaser.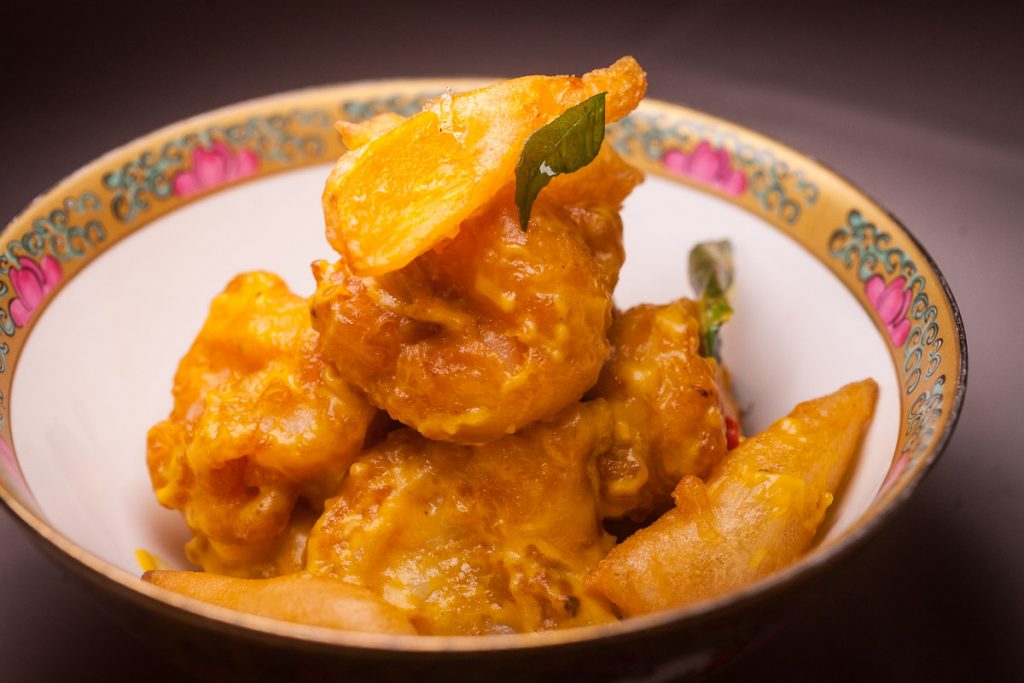 Steamed Bullfrog with Ginger (¥118) is served with vermicelli noodles, which sit at the bottom of the plate, soaking up the sauce. The sauce is a magic trio of Cantonese essentials—ginger, garlic, and scallion. Typically this combo is reserved for razor clams, but frog legs are a more economical option. Would definitely order this again.
Braised Beancurd with Seafood and Vegetable in Pumpkin Sauce (¥108) is made for sharing.
Wok-Fried Dragon Beans with Sambal (¥65) is standard, but could be more pungent. (Read: international clientele.)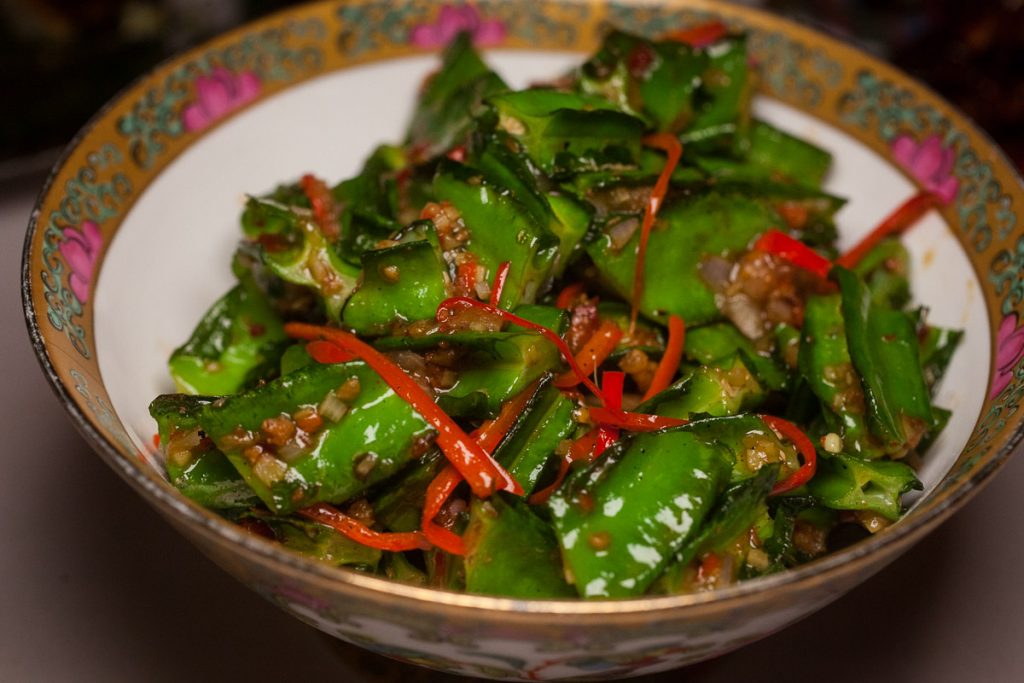 The Black Sesame Dumplings with Coconut Broth (¥52) is not my favorite. It's hot coconut soup and in line with Cantonese desserts—watery, hot, sweet, and too filling. I did finish the fleshy coconut meat, though.
Service was on point, for my hosted table and from what I could see from the tables around me.
Do we need exotic Cantonese cuisine?
Lion is good, but not my favorite for Nanyang food in Shanghai.
But I like what they're trying to do.
Lion is doing something quite unique, and they appear to be outperforming everyone in the category of contemporary Chinese/contemporary Southeast Asian.
In terms of controlling the balance between modernizing dishes and not offending people, providing an entertaining space, keeping good service, and maintaining ambience, they're ahead.
For more cuisines to grow and become popular, they had to start somewhere. And for Nanyang cuisine, riding along with Lion's "exotic Cantonese" tagline is just one way for it to come full circle.
---
Lion
Address: Bldg 2-3, Xintiandi South Block, 123 Xingye Lu, near Zizhong Lu 兴业路123弄2-3栋, 近自忠路
Tel: 52396777
Hours: 11:30am-2:30pm, 5:30pm-midnight