Here are three cheap Chinese restaurants in Shanghai. Featuring a decade-old cheungfun shop, a new Cantonese barbecue restaurant called Tak Lung Siu Mei, and a fast-paced noodle joint called Xun.
---
Chi Zi Ji 香港池仔记肠粉王
Address: 150-1 Xiangyang Nan Lu, near Nanchang Lu襄阳南路150-1号, 近南昌路
Tel: 64338308
Hours: 10:30am-10:30pm
Chi Zi Ji has been operating on Xiangyang Nan Lu since 2008. The specialty here is cheungfun or changfen, Cantonese steamed rice noodles. It's a typical dim sum dish, but it's also as much a staple as any bowl of noodles in the south of China and in other parts of Southeast Asia.
On the menu are a dozen cheungfun options wrapped with everything from shrimp to corn and BBQ pork, a number of congees and rice dishes, deep-fried snacks, and stir-fry. The menu is both in English and Chinese.
Lunchtime at the restaurant is chaotic. It's more war zone than eatery.
Peak hour sees a perpetual line of people waiting for tables and for takeout, laminated picture menus strewn across the cashier counter or being passed to the back of the line. Whole families, tourists, office workers, and grandmas with elbows of steel huddle in the center of the cramped shop and rush for any open seat like a survival game of musical chairs. Tickets in hand, patrons wait expectantly for their plates of slippery noodles.
The cheungfun are pretty good. I say that modestly: I do not think it the most amazing plate I've ever had, but it's pretty good.
Skip the rice dishes, though. Sustenance is about all they provide.
It is currently ranked #7 on Dianping's "Hot Cantonese Restaurants in Xuhui" list. Alipay and cash only, no WeChat Pay. It's also available via delivery on Ele.me, searching for "池仔记".
---
Tak Lung Siu Mei 得龙烧腊 – This venue has closed.
Address: 422-423, 4/F, East Block, Raffles City Changning, 1195 Changning Lu, near Kaixuan Lu长宁路1195号, 长宁来福寺广场4楼东区422-423, 近凯旋路
Tel: 63159555
Hours: 11am-10pm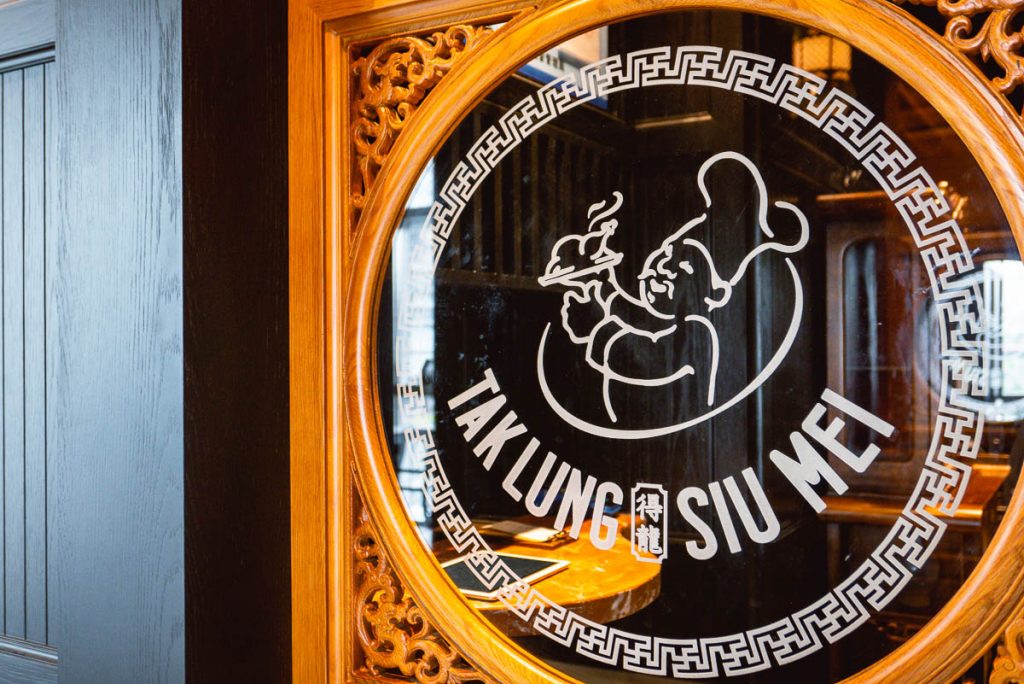 FCC Group (Sense 8, The Peacock Room) has just opened Tak Lung Siu Mei, a fast casual Cantonese restaurant that specializes in roasts and barbecue in the Raffles Changning mall.
To ensure the authenticity of their Cantonese barbecue, they've employed a master chef with 20 years of roasting experience in Hong Kong.
The result is fabulous.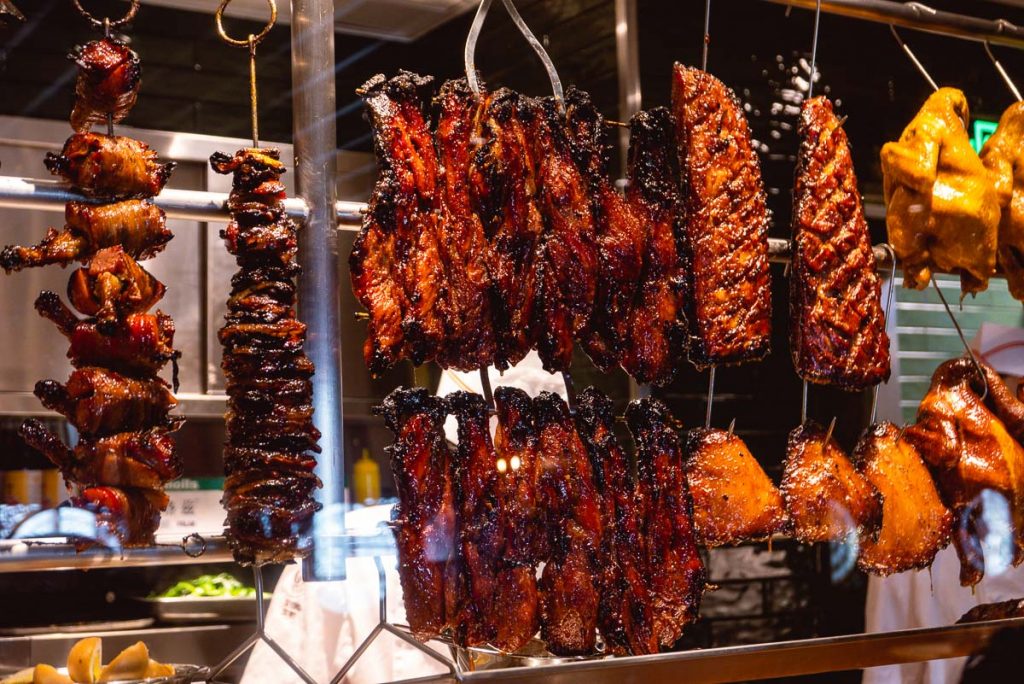 For people working in the offices directly above, it's a godsend. Most of the barbecue comes with option for rice or noodles, priced at ¥48 to ¥78.
No English menus. So here are picture descriptions with the Chinese names for reference to help you order: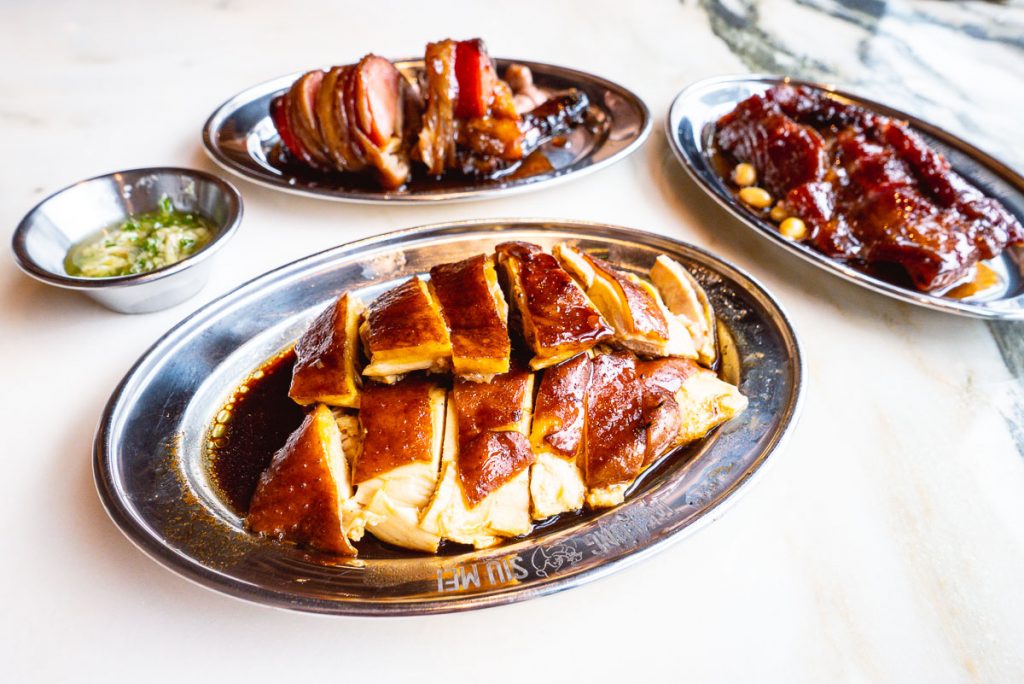 I would go out of my way to eat here, but seeing as it's available on Ele.me, it is likely I'll do delivery instead.
Favorites: Barbecue pork, roast duck, roast chicken, tripe.
---
Xun Noodles 虞面斋常熟野蕈
Address: 691 Beijing Xi Lu, near Shimen Er Lu 北京西路691号, 近石门二路
Tel: 62723963
Hours: 10:30am-3pm, 5pm-8:30pm
Xun Noodles is a fairly new noodle shop specializing in Shanghainese fare. It opened in May, and it's very popular.
The signature is the crab roe and shrimp noodles 蟹粉虾仁面 (¥78). These extra thin gummy noodles come drenched in crab roe and peeled shrimp, a few strands of young ginger as garnish. Crab roe noodles are quite popular. How do these fare? Pretty tasty, but not mind-blowing and not cheap.
Opt instead for the plain soup noodles 人面 (¥12) and a fried pork chop 生煎大排 (¥17).
If you were looking for an affordable lunch option in the area, this would be it. Local noodle restaurants in Shanghai are a dime a dozen, but this one is very clean. It's not really something I'd go out of the way for (again), but at least the noodles are good and I can enjoy them in a clean, air-conditioned space.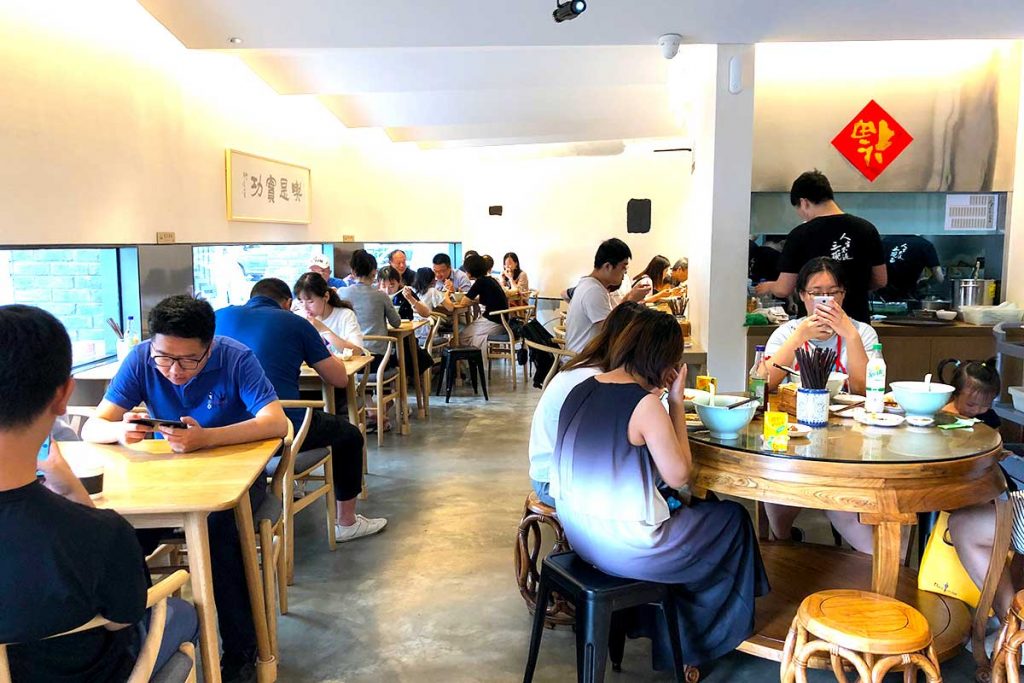 Menus only in Chinese. Here's a workaround: Dianping and order by the photos.