Sensational seasonal restaurant Botanik by Eljiah Holland held its last service on September 1, ending its run indefinitely. In its wake, the beautiful rooftop garden has been re-birthed as events space Plump Garden, launching with an autumn pop-up, PERCH by The Nest.
About PERCH by The Nest
PERCH is a pop-up dining experience led by the creative culinary and bar team of The Nest, namely chef Freddy Raoult on the bites and mixologist Michael Chen on the drinks.
The pop-up will run every Thursday to Saturday evening from September 12, until the end of autumn or as long as weather permits.
Dinner will be a 10+ course degustation menu (¥688) with optional beverage pairings (¥288). Maximum seating is 20 people per evening for dinner. Walk-ins are welcome for a la carte dishes and botanic-forward cocktails and natural wines.
The following is an excerpt from the press release:
PERCH will broadly follow The Nest tradition of Nordic and Russian influences. The Nest's "Far North country cuisine" also draws inspiration from the "farm-to-table" philosophy, whereby foods from the sea, beach, forests, sky and fields are hand-selected and prepared to highlight their own unique freshness and beauty. With PERCH, Chef Freddy now also has the veritable "garden of eden" of Plump Garden at his fingertips. 
We are also sourcing some special ingredients from China for this pop-up experience—yak, juniper, betel, buffalo milk, Yunnan pigeon, marigold, geranium, and ants (yes, edible ants), to name a few.
Details on how to make your reservation at the bottom of this article.
---
About Plump Garden
Plump Garden stands as one of the most unique destinations in Shanghai. It is a free-format space for events, guest chef pop-ups, and private events. Sheltered by pruned hanging gardens and lush edible herbs, the rustic, back-to-roots rooftop garden is an oasis of greenery, one that is truly coveted in this concrete jungle of a city.
In addition to hosting PERCH, the space will entertain guests with a number of events from wine tastings to chef's tables.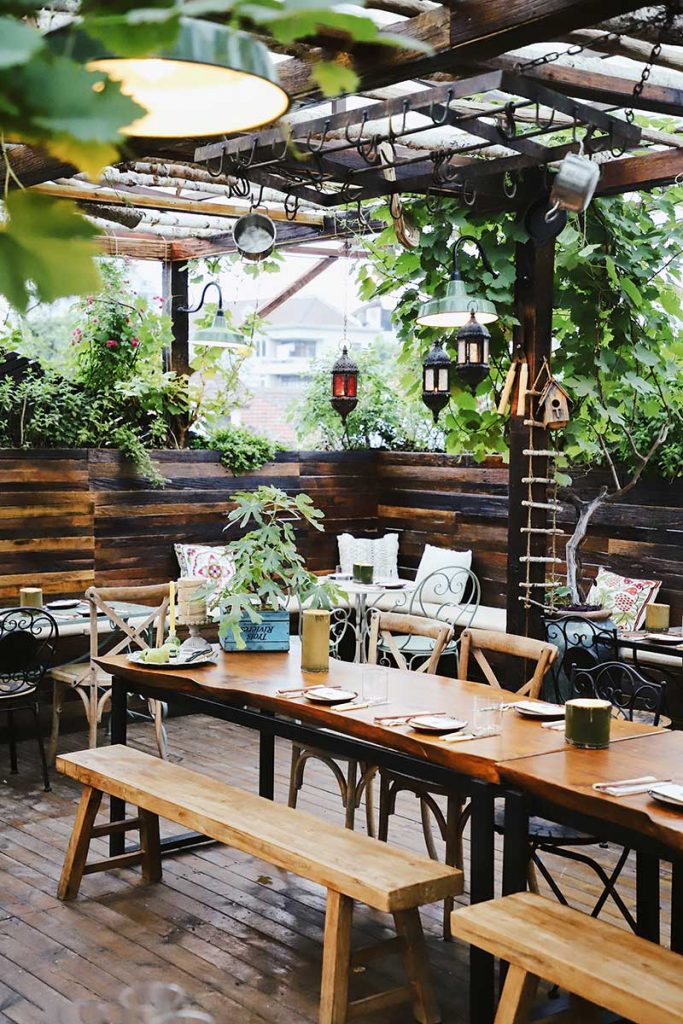 Upcoming events at Plump Garden
September 18 – Go Natural
A day of natural wine and snacks. Special prices on a great selection of natural wines by the glass and by the bottle, snack menu to accompany.
September 22 – Oysterlicious Oyster Open Day
Oysterlicious Group is throwing an Oyster Open Day at Plump Garden. Entry is ¥100, which gets you six oysters! Additionally, premium oysters are buy-one-get-one. Other foods will also be served, alongside a selection of natural wines by the glass/bottle, and gin & tonics. The event is on Sunday, September 22, from 12-5pm.
More details coming soon. Add "botanikshanghai" on WeChat for more info.
Plump Garden is also open to take booking requests for birthday parties and private events. For inquiries, email
---
PERCH by The Nest
Address: 4/F, No. 301, 169 Jianguo Zhong Lu, near Ruijin Er Lu 建国中路169弄301号4楼
Hours: 6pm-11pm, Thursday-Saturday
Reservations, add WeChat: The_Concierge-2015
Plump Garden
Address: 4/F, No. 301, 169 Jianguo Zhong Lu, near Ruijin Er Lu 建国中路169弄301号4楼
Tel: 18616326327
Bookings for events, add WeChat: botanikshanghai