Sponsored by Head in the Clouds

Head in the Clouds is an all-day brunch café and bistro that opened in April this year on the border of Jing'an and Changing district.
(While the address says Zhenning Lu, it's actually on Dongzhu'anbang Lu, on the corner of Zhenning Lu.)
It takes residence in the space that used to house a Southeast Asian restaurant and Fennel Lounge, a long-running cocktail bar/restaurant.
The very same operators saw the changing of the times and took charge, overhauling the space into a bright and airy café bistro with an all-day menu to command the attention of ritualistic brunch goers.
About the Brunch
The brunch is extremely popular, mostly a local crowd. It's been strong since the opening and weekends are usually packed, a triumph perpetuated by the hordes of pretty picture hunting Dianping commenters. The 7,000+ photos on Dianping are a testament to the self-sustaining cycle of business.
The brunch menu is textbook—variations of the Benedicts, other eggy mains, buttery polenta, breakfast fry-ups, yogurt bowls, salads, and burgers.
A staple of the weekend is the Salmon Benedict (¥78). Two poached eggs coated in thick hollandaise sit atop salmon gravlax, spinach, and multi-grain bread, dollops of lemon gel for zest and pickled shallots for a bite.
The Croissant (¥78) is an eye-popper. Light, fluffy scrambled eggs spill out from the thin layers of pastry, while cubes of pan-seared foie gras and umami-rich porcini give it a lux touch.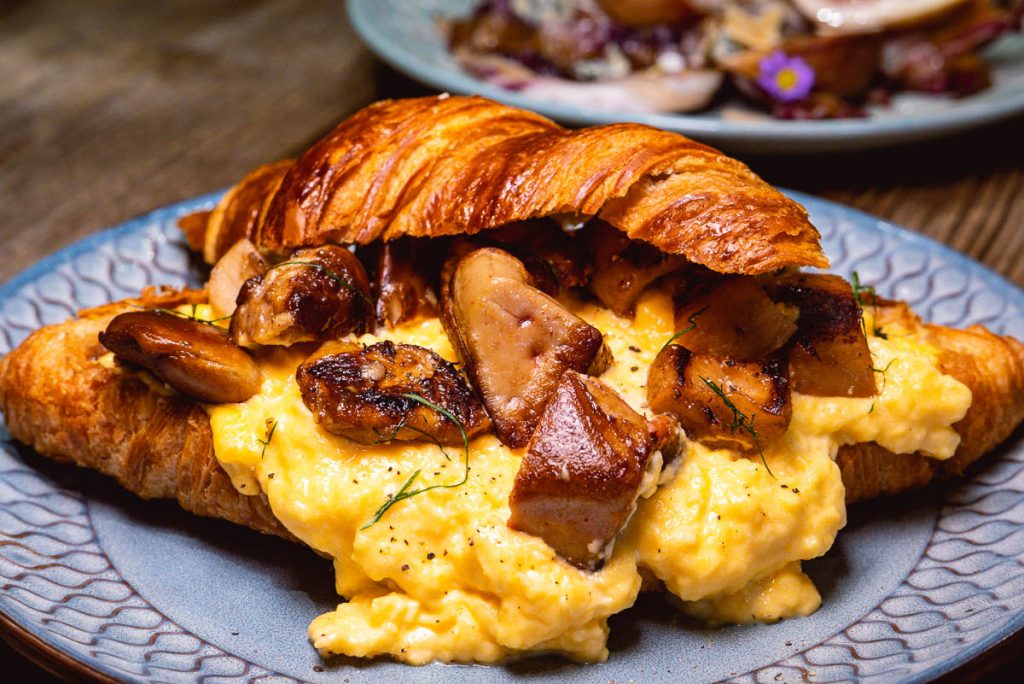 They also have a handful of sandwiches and burgers. I have an inextinguishable obsession with burgers and can say with certainty that the Beef and Chili Burger (¥98) is worth praise.
This is a massive serving of beef patty, a layer of slow cooked beef chili, and melted yellow cheddar cheese with sour cream, jalapenos, and deep fried leek for crunch. Add ¥28 for fried polenta and parmesan cheese dip.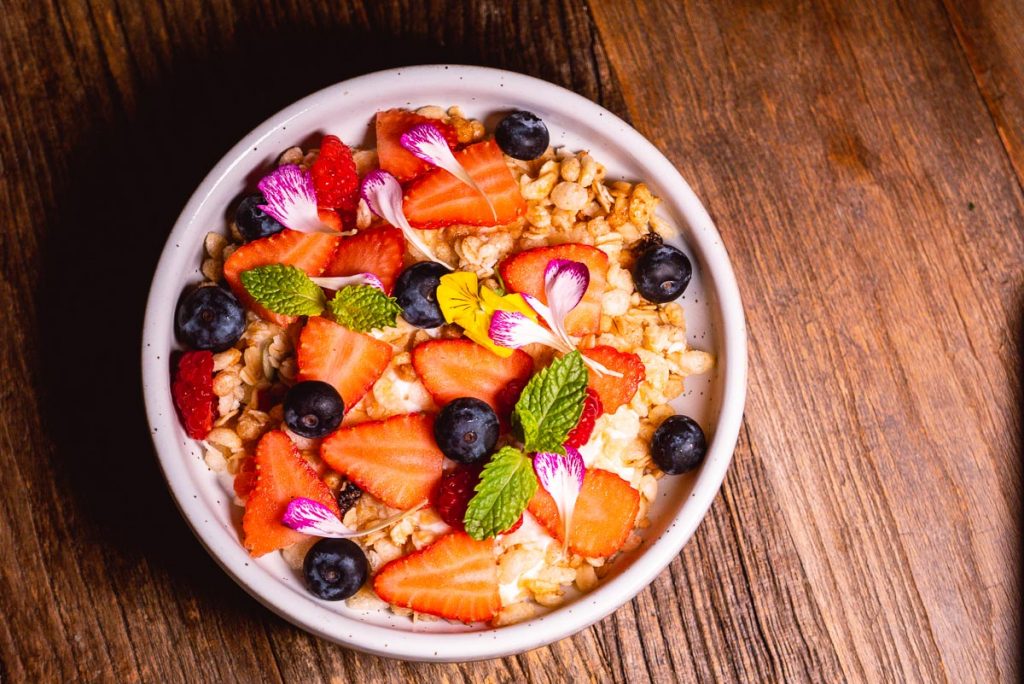 Dinner Time: Bistro Fare
The bistro dinner menu launched in August, and it checks the same boxes as brunch: well executed, affordable, and nicely plated. A selection of fan favorites and dinner-appropriate dishes from the brunch menu remains available through the evening.
Start with the Signature Bites (¥78), three jars of pickles and olives—mixed olives and peppers, mushrooms, and radish, baby lotus, and young bamboo. The mushrooms in particular are extremely addictive, also available on its own for ¥25.
Pair that with Rye and Cereal Bread (¥28), which comes with nori French butter to spread.
Don't miss the Burrata (¥88), served with tomatoes, bergamot gel, and shiso. It's a simple dish, one that easily pleases.
To follow is a Prime Beef Tartare (¥128). Despite its traditional look, the diced beef hides bits of spicy, zesty kimchi. It's a welcome twist. Rice crackers come in place of bread.
If it's pasta you're looking for, try the Paccheri (¥108). Fat tubes of al dente pasta smothered in a thick tomato-based sauce with chunks of slow-cooked beef.
Of the entrées, the Wagyu Beef M7 (¥198) is a highlight, served with gremolata sauce, potato, arugula, pickles, and tomato. It's meat done well.
Another cut is the Berkshire Pork Chop (¥258), served with a dressing of browned butter, olives, capers, and peppers.
The Drinks
Most of the drinks largely cater for a non-alcoholic brunch crowd, including coffee, outrageously fancied up sodas and hot chocolates, and fresh juices.
On the ABV front, it's mostly wines, which start at ¥45 per glass or ¥198 per bottle.
In Summary
The food may not be a revelation, but it's well executed and competitively priced. It's a neighborhood restaurant, one that's welcoming enough and worth trying.
---
Head in the Clouds
Address: 217 Zhenning Lu, near Yan'an Xi Lu 镇宁路217号, 近延安西路
Tel: 33531773
Hours: 10am-10pm