Three new offerings around town. Tomatito serves up some excellent tapas (plenty of them vegan and delicious) and seafood, O'Mills Light does low-carb and gluten-free pizzas, and chocolate brand KESSHO launches their single origin cacao ice cream.
---
Tomatito – Tapas & Seafood
Address: Infinitus Mall, 3/F, W08-10, 168 Hubin Lu, near Jinan Lu 湖滨路168号无限极荟购物中心3楼W08-10, 近济南路
Tel: 62598671
Hours: 11:30am-2:30pm, 6pm-10:30pm
If you've been following chef Victor Vieira's posts during lockdown, you might have noticed him trialing some of Tomatito's new dishes at home. New bites at the Spanish restaurant are true to its "sexy tapas" moniker, featuring a fantastic heart of palm salad, luxurious seafood dishes, and plenty of delicious vegetarian tapas.
All dishes below are new, unless otherwise specified.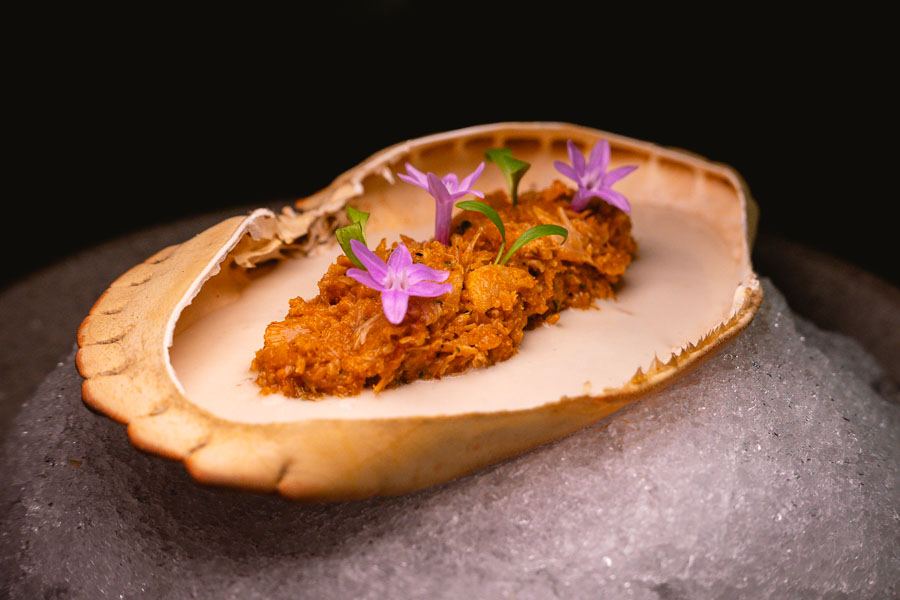 Highly recommend trying the Mumbite, Mushroom Taquitos, Palmito, Vieira, and Crab in the Mangrove.
---
O'Mills Light – "Keto" Pizzas
Address: Xingfu Li, 381 Panyu Lu, near Xingfu Lu 番禺路381号幸福里, 近幸福路
Tel: 62379299
Hours: 8:30am-10pm
O'Mills Light Brunch & Bistro is, as the name states, a lite iteration of bakery and restaurant O'Mills. It opened early this year in Xingfu Li, and serves a wide variety of low-carb, plant-based, and keto options like bowls and salads, vegan dishes, and by using ingredients like flaxseed powder and almond flour. It's a cozy space, and they have a dog-friendly patio.
New on the menu are "light keto pizzas" and summer salads. There are five keto pizzas on the menu, ranging from ¥88 to ¥158. The base is made using only almond flour, making it low-carb and gluten-free. Though, the toppings don't make these pizzas keto, just keto-esque.
The texture, well, obviously isn't the same as O'Mills' sourdough crusts. It's like shortbread-meets-pie crust, a little dense but served thin. As for the size, it's more of a personal pan.
---
KESSHO – Single Origin Cacao Ice Cream
Shankang Li: No. 104, Bldg 3, 358 Kangding Lu, near Shaanxi Bei Lu 康定路358号3幢104室, 近陕西北路
Tel: 62889128
K11: B104, 300 Huaihai Zhong Lu, near Madang Lu 淮海中路300号B104, 近马当路
Tel: 19121856263
Hours: 10am-10pm
Technically not a new menu, but the new chocolate ice creams from KESSHŌ is definitely worth mentioning. KESSHŌ is a boutique chocolatier that prides itself on being a bean-to-bar brand by making their chocolate treats with single origin cacao beans.
The brand was established in 2019 by Liang (also the founder of Pantry's Best) and Mark Huetsch, opening its first store in Shankang Li, followed by one in K11. They've even won some awards, most recently Cacao of Excellence 2021 Gold Award for their use of beans and International Chocolate Awards 2021 Silver Award for their 58% Tanzania milk chocolate.
In addition to chocolate desserts of bonbons, bars, cakes, tarts, and designer chocolate gift boxes, KESSHŌ now has chocolate ice cream. Just in time for summer, KESSHŌ's Cacao Voyage is not only an icy treat but is also flavor journey through their single origin cacaos.
The box set (¥192) holds eight cups of ice cream (80g/cup) and features four flavors, made with 70% Tanzanian, 58% Tanzanian, 90% Ghanaian, and 70% Ugandan cacao beans.
I've managed to try the 70% Tanzanian and the 90% Ghanaian, both luxuriously rich with bold chocolate flavor. It's quite unique and few are doing chocolate ice creams of this quality in Shanghai. Treat yourself or gift it to friends who are ice cream/chocolate lovers.
The boxes are available for purchase on KESSHŌ's WeChat official account / mini-program and at both stores, Shankang Li and K11.