Ice cream, gelato, soft serve, and frozen yogurt—every turn of the winter season brings a new wave of shops slinging the icy, sweet treat.
Here is a near-comprehensive list of much-loved and most popular places for ice cream in Shanghai.
Gelato Dal Cuore
Gelato Dal Cuore's excellent quality gelato has spawned some serious gelato addicts. If I lived closer, I'd be there daily. Known for its Instagrammable gelato peaks, funky seasonal and sometimes one-day only specials, theirs is one of the best in town, all made onsite. Local touches like Oolong and Sichuan Peppercorn alongside classics of Salted Caramel and Amarena Cherry. ¥32/double scoop, ¥45/triple scoop, to-go tubs available.
Favorites: Chocolate or Fig and Mascarpone.
Luneurs
Luneurs Boulanger & Glacier is a French bakery and ice cream shop that opened to great fanfare. The counter display of baked goods, streams of strong quality coffee, and artisan ice creams are all cause for their success. That, and their devotion to providing quality products. Luneurs' second location is due to open any day now.
Limited flavors available, including Earl Grey and sorbets for single scoop ¥25 and double ¥35, and soft ice cream "au lait" for ¥35. Favorites: Dark Chocolate and Salted Caramel.
Buco
Buco is an ice cream window attached to Gemma. There are eight flavors, including hazelnut, chocolate, seasonal sorbets (non-dairy) of fig, peach and strawberry. Single scoop for ¥25, two for ¥40. Favorite: pistachio. Pro-tip: Sign up as a Popolo Group member on WeChat, the restaurant group does kickbacks with their point collection system.
Gracie's Ice Cream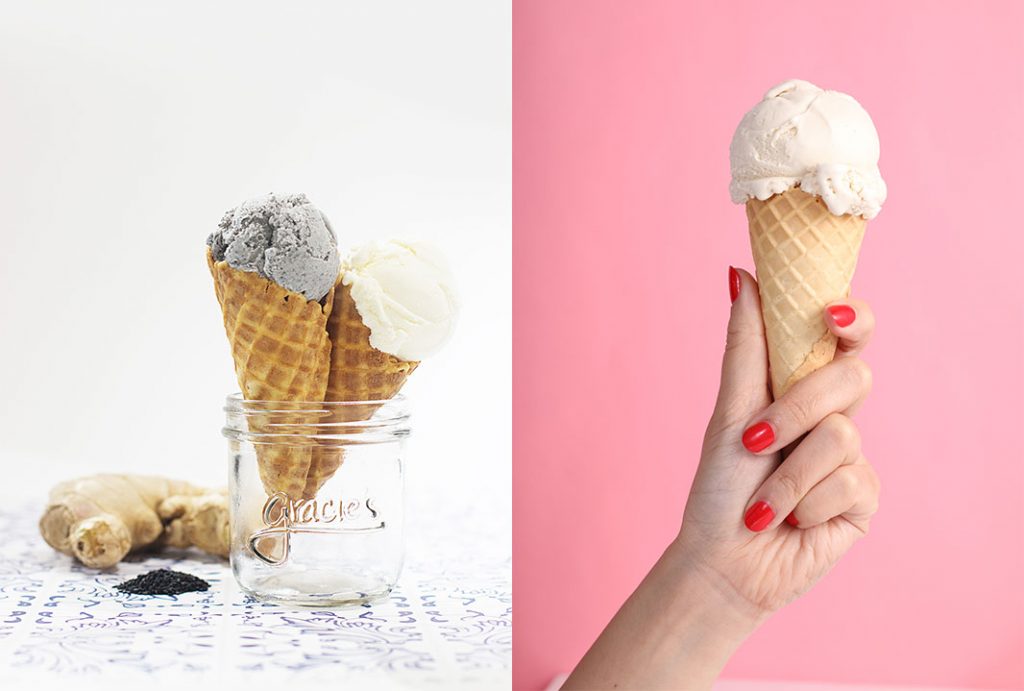 Gracie's Ice Cream is the longest running artisan ice cream shop in Shanghai, run by the same people behind Al's Diner. They stock classic American flavors and creative combinations like Rocky Road, Earl Grey, Black Sesame, and more. They also release seasonal specials like Gorgonzola, Pumpkin Spice, etc. This year's specials: Coffee & Cream, Peanut Butter Nutella Cookie, and 7 Layer Chocolate Bar.
¥30/single scoop, ¥50/two, ¥68/pint. Also available for delivery on Sherpa's. Pick up liter tubs and takeaway cups at Al's Diner on Xiangyang Nan Lu and at Homeslice Found 158.
The Cannery
Feeling like brunch and want something sweet to whet your appetite? Go for brunch at The Cannery and cap your meal with one of their housemade ice creams. ¥48 per can. Favorites: Strawberry and Salted Caramel.
Together
Ice creams and sorbets from pastry chef Kim Melvin, who also does the desserts at The Commune Social. ¥38 for a single portion, or ¥148 for a table portion for six people, served in cones or cups. Favorites: salted caramel ice cream and lemon and sweet basil sorbet.
CinnaSwirl
This is a classic summertime pop-up turned staple. The cinnamon sugar and cream cheese ice cream first appeared as a seasonal offering, but has now become an integral part of the cinnamon roll shop's offerings. Other flavors sold too, including vanilla, strawberry cream, salted caramel peanut, and After Eight mint chocolate. ¥30/single scoop, ¥50/double. Served in a cup or waffle cone for additional ¥5.
Spoooon
Located on Yongkang Lu, Spoooon does frozen yogurt, plain yogurt and fresh Greek yogurt with all the toppings of nuts, sweets and fruits. I actually like their Greek yogurt the most—it's way cheaper than the store bought variety, and according to them, it's made fresh. Their frozen yogurt is pretty good, too. Froyo is ¥18 per cup sans toppings.
Strictly Cookies
Get your ice cream cookie sandwiches all year round at Strictly Cookies. Good Lord, these are sinful. They have six flavors on offer from chocolate chip with vanilla ice cream, brownie and cookie dough, cinnamon bun with CinnaSwirl ice cream and more. Ice cream cookies start from ¥40 a pop, or you can get four mini ice cream sandwiches for ¥40, each are a fourth the size of a full one. Available at Love Concept Cafe, as well.
Bonus
A tiny seasonal pop-up no longer, the original Bonus has moved from being next to the Avocado Lady to across the street in the old Little Catch space. Their other permanent venue on Ruijin Er Lu is still going strong, plus does delivery. Expect a mix of bold favorites like salted caramel, affogato, and Earl Grey tea, but also some weird ones like salted egg yolk and black pineapple. Flavors rotate. ¥25/single scoop and ¥35/double.
Moppet Ice Cream
This is more of a Shanghai secret. Maria Olivia M. Castro has been making her homemade salted caramel ice cream for years now, delivering to those who crave it. She uses premium products with cream imported from France and homemade caramel. It's ¥90 for half a liter and ¥180 for one liter. Free delivery within the city center.
Hunter Gatherer
Healthy restaurant Hunter serves frozen yogurt at Hubindao Open Kitchen, Taikoo Hui, and Yanping Lu. Their froyo is made with certified hormone-free milk from California cows, imported from the US, promoting zero-fat and active cultures that are good for gut health. Current seasonal flavors: Ginger Up with Earl Grey tea, miso syrup and mint, Milk & Honey with salted caramel sauce and crushed honey comb, and Sweet & Salty with coffee sea salt. All ¥38.
GROM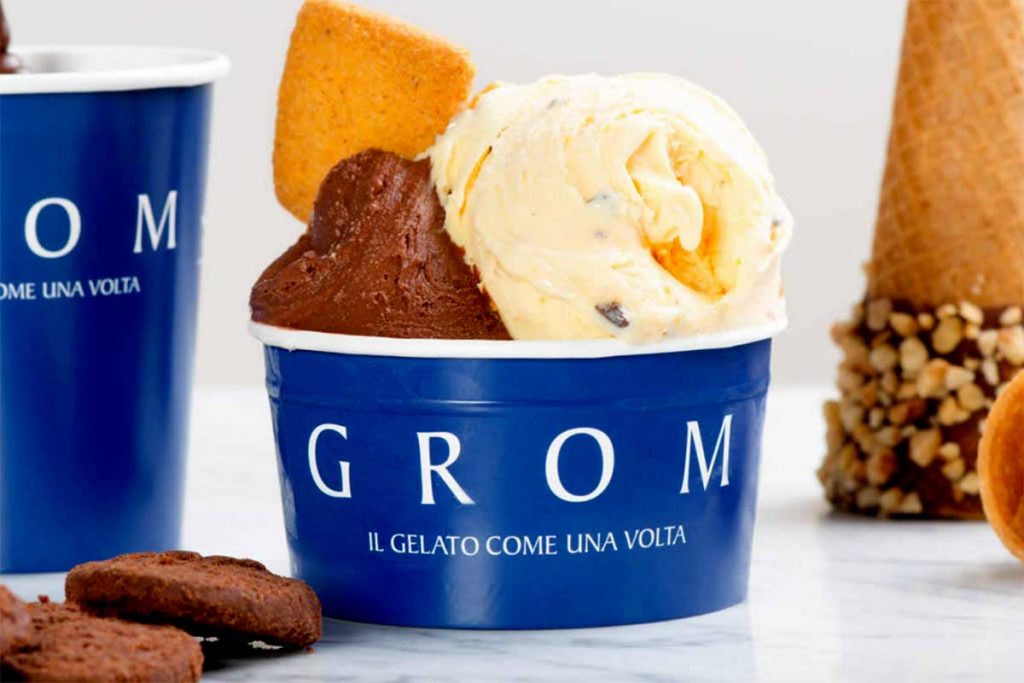 GROM, Italy's much-loved international gelato chain just opened a flagship store in Shanghai in Jan 2019. If it's a nice day, you can bet there will be lines. ¥39/small, ¥49/medium, ¥59/large. Get the pistachio or hazelnut, top it with whipped cream ¥5.
De Medici
If you find yourself on the Bund, there's De Medici. Traditional gelato flavors from pistachio to hazelnut and chocolate, but also combos like lemon, mango, and a prized amarena. Single ¥25, double ¥35, triple ¥50. Plus, they also serve coffees.
Shake Shack
Ok, so the concretes, especially the chocolate brownie one at Shake Shack is really good. I wouldn't advocate for it otherwise. One day, when there aren't any lines, stop in for the Chocolate Custard Concrete (¥39/single, ¥58/double) with toppings of Al's Baking Co. brownie, fudge sauce, chocolate chunks, and cocoa powder.
Flying Flamingo
Flying Flamingo is the Willis Group's own brand of ice cream. They serve it at Mr Willis, Bang, Henkes, and La Strada. Best place to have it is probably Henkes, which has a huge outdoor seating area, perfect for brunch.
Lost Bakery
Lost Bakery has an ice cream window, too. Single scoop ¥30, double ¥50. Flavors: Mango jasmine, white peach and lemon verbena, pear and vanilla, apple and cinnamon.
Photos of Gracie's, De Medici, GROM, Hunter Gatherer, and Strictly Cookies provided by venue.
---
Directory
Bonus (Wulumuqi Lu)
Address: 243-3 Wulumuqi Zhong Lu, near Wuyuan Lu 乌鲁木齐中路243-3号, 近五原路
Tel: 13764212399
Hours: 11am-9pm
Bonus (Ruijin Lu)
Address: 39 Ruijin Er Lu, near Nanchang Lu瑞金二路39号,近南昌路
Tel: 13661692904
Hours: 11am-10pm
Buco
Address: 20 Donghu Lu, near Huaihai Zhong Lu 东湖路20号, 近淮海中路
Tel: 33565118
Hours: 11:30am-midnight
Cinnaswirl
Address: 32 Yuyuan Dong Lu, near Changde Lu 愚园东路32弄, 近常德路
Tel: 13817173245
Hours: Mon-Thu 8am-7pm, Fri-Sat 8am-9pm
De Medici
Address: 17 Yan'an Dong Lu, near Sichuan Nan Lu 延安东路17号, 近四川南路
Tel: 13918605469
Hours: 11am-11pm
Gelato Dal Cuore
Address: 600-9 Shaanxi Bei Lu, near Xinzha Lu 陕西北路600-9号, 近新闸路
Tel: 61481388
Hours: 12pm-9pm
Al's Diner (Gracie's)
Address: 204 Xinle Lu, near Donghu Lu 新乐路204号, 近东湖路
Tel: 54651259
Hours: 9am-midnight
GROM
Address: 772 Nanjing Xi Lu, near Shimen Yi Lu 南京西路772号, 近石门一路
Tel: 52980278
Hours: 10am-10pm
Henkes
Address: Reel Mall, 1/F, 1601 Nanjing Xi Lu, near Changde Lu南京西路1601号1楼, 近常德路
Tel: 32530889
Hours: 10am-10pm
Hunter Gatherer Open Kitchen
Address: B1/F, 150 Hubin Lu, near Songshan Lu 湖滨路150号湖滨道购物中心B1层E04, 近嵩山路
Tel: 53530605
Hours: 10am-10pm
Hunter Gatherer (Jing'an)
Address: 135 Yanping Lu, near Wuding Lu 延平路135号, 近武定路
Tel: 52281860
Hours: 10am-10pm
Hunter Gatherer (Taikoo Hui)
Address: HKRI Taikoo Hui, LG1, 789 Nanjing Xi Lu, near Shimen Yi Lu 南京西路789号LG1, 近石门一路
Tel: 52668118
Hours: 10am-10pm
Luneurs (Panyu Lu)
Address: 381 Panyu Lu, near Fahuazhen Lu 番禺路381号, 近法华镇路
Tel: 19921436838
Hours: 8am-9pm
Luneurs (Huashan Lu)
Address: 888 Huashan Lu, near Anfu Lu 华山路888号,近安福路
Lost Bakery
Address: 758 Julu Lu, near Fumin Lu 巨鹿路758号, 近富民路
Tel: 62669883
Hours: 7am-9pm
Love Concept Cafe
Address: 68-1 Xiangyang Bei Lu, near Changle Lu襄阳北路68-1号, 近长乐路
Tel: 15721551597
Hours: 8am-9pm
Moppet Ice Cream
Delivery: 18601756303
Shake Shack
Address: Unit 02-03, Building 11-13, Xintiandi, 181 Taicang Lu, near Madang Lu 新天地北里, 太仓路181弄11-13号, 近马当路
Hours: Sun-Thu 11am-11pm, Fri-Sat 11am-midnight
Spoooon
Address: 59 Yongjia Lu, near Xiangyang Nan Lu 永康路59号, 近襄阳南路
Tel: 18121256677
Hours: 8:30am-10pm
Strictly Cookies
Address: No. 103, 1166 Yan'an Xi Lu, near Panyu Lu 延安西路1166号103室, 近番愚路
Tel: 15618038503
Hours: 9am-6pm
Delivery: strictlycookies.com
Together
Address: No. 10, 546 Yuyuan Lu, near Zhenning Lu 愚园路546弄10号, 近镇宁路
Tel:52998928
Hours:Mon-Fri 10am-10pm, Sat 11:30am-10pm, Sun 11:30am-4:30pm
The Cannery
Address: 1107 Yuyuan Lu, near Jiangsu Lu 愚园路1107号, 近江苏路
Tel: 52760599
Hours: Mon-Fri 5:30pm-1am, Sat-Sun 11:30am-1am