Browse any "top restaurant in Shanghai" article and you'll most likely find The Commune Social in the rankings, especially lauded for brunch, and for good reason.
About The Commune Social
Since opening in 2013, The Commune Social has been a staple in Shanghai and continues to be a fan favorite.
The brunch is legendary—no reservations (people actually go early or wait for a table) and good value for money with three courses for just ¥188.
Lunch is built around the same pricing and format, so if you want to have a taste and avoid brunch rush, best take advantage of weekdays. As for dinner, it's still a highly recommended destination for those seeking quality and the right ambience.
Despite it's location—not close to much else except other destination restaurants and bars like Cages and UP Shanghai—it has survived being in this quiet part of Jing'an for five years.
The Chefs Behind TCS
Award winning chef Jason Atherton oversees The Commune Social from afar, after all, he's mostly based in London. Previously it was Scott Melvin (now Executive Chef of Edition Shanghai) who was in charge of execution and the creation of new dishes.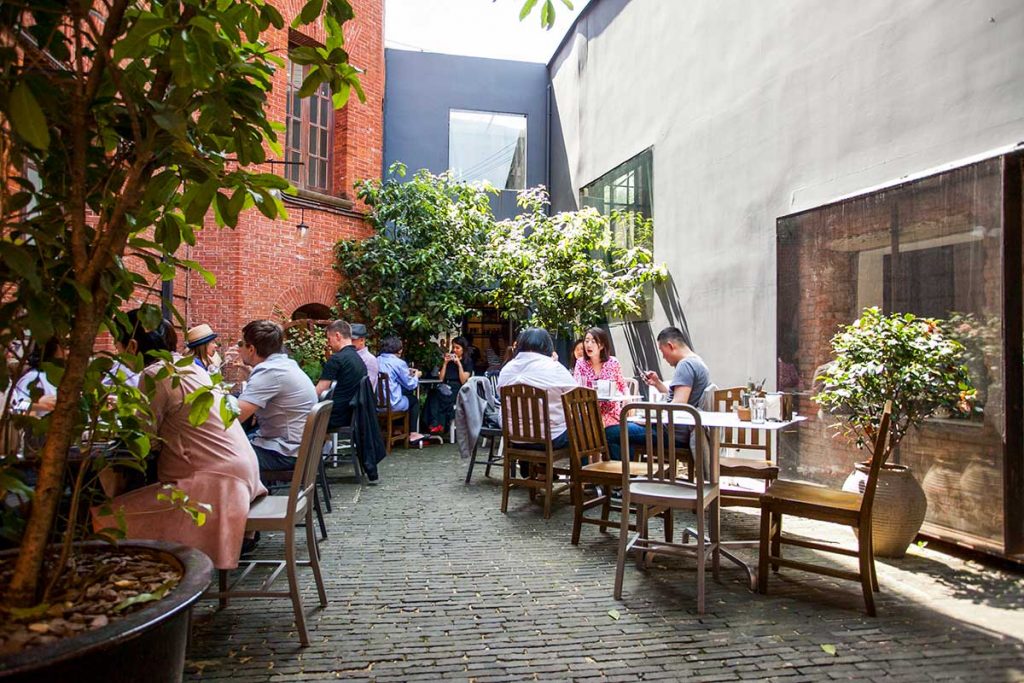 Now joining the team since late 2018 is new head honcho Sergio Dario Moreno, a Spanish native previously from Alma (Bib Gourmand, Michelin Guide 2016). Of course, Pastry Chef Kim Melvin continues to work her magic on the desserts, and has been with TCS since its conception.
I've actually never been for dinner. But what I've had from countless lunches and brunches has been pretty stellar.
What To Eat at The Commune Social
The following are a mixture of new and old dishes, available on the brunch and lunch menus.
Brunch is three dishes for ¥188, add ¥62 for each additional dish, plus some a la carte to choose from. Lunch is priced the same, too.
Tapas and Mediterranean Bites
One of the signatures is the Tongue & Cheek beef empanada (¥98), served with capers, raisin puree and foie gras. It's bigger than it looks—crusty, flaky pastry encases a mix of tender beef tongue and beef cheek. It's a dish you don't want to miss.
Blue cheese croquette (¥58) with Bloody Mary jam and walnuts. Strong flavors, not for those who don't like stinky cheese.
Marinated scallops (¥92), served with avocado, yuzu, green apple, and lime is a treat. Served raw, beautifully presented, and ambrosial to taste. Good seafood in Shanghai is costly, so if deep-sea flavors isn't your thing, this will be lost on you.
Fried bell peppers (¥62) with white anchovies, piperade, goat curd, tapenade. A favorite from the new menu. (Disclaimer: I'm a sucker for the salty, sourness of pickled white anchovies.) Tapenade = olives, capers, and olive oil. Piperade = onion, tomato, and peppers.
The fried egg (¥62) with pita bread, spicy chorizo, yoghurt, roasted pumpkin, and feta cheese is a simple dish done well. It's classic and comforting. It would be nothing without the chunky confit and roasted pumpkin and chorizo.
The grilled zucchini (¥62) with basil quinoa, crunchy candied cashew nuts, feta cheese, and chickpeas is one of a handful of vegetarian friendly dishes at Commune Social. TSC might not have a wide selection of vegetarian dishes, but some make tasty meatless versions.
Beef heart (¥88) with poached portobello, spicy mojo, portobello tartare, and enoki. The portobello lends its earthy flavors to add depth to the dish, coupled with the crunchy, thin slices of beef heart marinated in distinctly Mediterranean seasoning. The enoki is more wow factor than tasty though, and isn't as crispy as it looks.
Other favorites:
Best of Desserts
Lemon meringue with basil sorbet (¥62) is my ultimate favorite at The Commune Social. I'm a sucker for lemony desserts, and contrary to the people's favorite (next dessert), I think this tops them all. A scoop of basil sorbet sits inside the snowball casing of lemon meringue. It's zesty and aromatic.
Of all the desserts, the peanut ice cream (¥62) with red fruit and salted peanut caramel is the most famous. It's a heavy dessert—dense peanut ice cream and a healthy helping of caramel, helpedonly by the pinpricks of acidity from the fruit. For me, it's too much, but those with a sweet tooth would beg to differ.
On the lighter side, the Lemon Posset (¥62) with frozen white chocolate mousse and lavender meringue is as refreshing as the lemon meringue.
The Banofee banana cake (¥62) is an intense dessert. Generous toffee sauce and cream with candied pecans makes it sweet, savory, and luscious.
In Summary
The Commune Social isn't as exciting as the newest haute cuisine restaurant nor is it doing anything fresh and innovative. It is however a good restaurant, with a consistent product, and an eye for maintaining good service.
Try to think of other restaurants that have managed consistency in Shanghai and you'll find only a handful. This city's ever-changing landscape—a revolving door of staff, countless new openings, and the growing appetite of diners—is tough to beat.
TCS stays above that line, and it's an effort that we often overlook.
Good for brunch, business lunches, impressing guests, and desserts.  
Private room for large groups, kid-friendly, terrace seating when weather permits, pet-friendly outdoors for well-behaved furbabies.
---
The Commune Social
Address: 511 Jiangning Lu, near Kangding Lu 江宁路511号, 近康定路
Tel: 60477638
Hours: Tue-Sun 11:30am-2:30pm, Tue-Sat 5:30pm-10:30pm, closed Monday